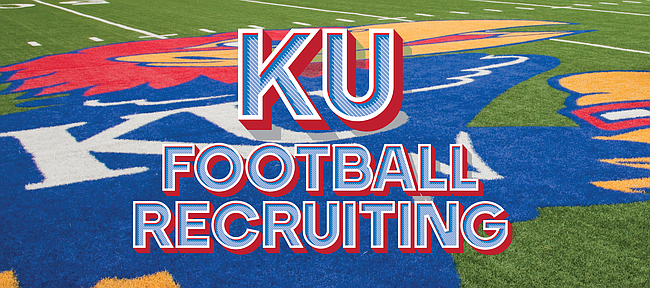 It lasted close to eight months, but as of Wednesday the connection appears to be severed between the first Class of 2020 prospect to commit to Kansas and Les Miles' coaching staff.
Keenan Hambrick, a three-star receiver from Athens, Ala., announced on Twitter his decision to decommit from the Jayhawks.
Hambrick, who initially sent his nonbinding verbal pledge KU's way back in February, described his recruitment at this point as "100% open."
A 6-foot-4, 190-pound prospect, Hambrick thanked Miles in a note accompanying the tweet for giving him an opportunity.
With his announcement, Hambrick became the third prospect this year to back out of KU's 2020 class, joining two other three-star talents, Texas prep receiver Keith Miller III and Louisiana linebacker Kershawn Fisher.
Even with Hambrick's departure, KU's 2020 recruiting class still includes 25 prospects, including one four-star player in Dallas linebacker Brennon Scott and 17 three-star prospects.
All of the recruits currently tied to KU are high school seniors. The earliest any of them can sign and make their commitments to the program official is December.
2020 KU football recruiting class
- Verbal commitments
• Brennon Scott - 4-star LB from Texas
• Duece Mayberry - 3-star CB from Oklahoma
• Jackson Stoefen - 3-star OL from Iowa
• Trevor Kardell - 3-star TE from Missouri
• Will Huggins - 3-star TE from Kansas
• Krishawn Brown - 3-star LB from Oklahoma
• Khari Coleman - 3-star DE from Louisiana
• Garrett Jones - 3-star OL from Michigan
• Ja'Cobee Bryant - 3-star CB from Alabama
• Malik Johnson - 3-star WR from Texas
• Caleb Taylor - 3-star DE from Missouri
• Kenean Caldwell - 3-star DT from Louisiana
• Jaylin Richardson - 3-star athlete from Kansas
• Taiwan Berryhill - 3-star LB from Louisiana
• Lawrence Arnold - 3-star WR from Texas
• Chris Jones - 3-star DE from Florida
• Tanner Hooker - 3-star CB from Louisiana
• Alonso Person - 3-star LB from California
• DaVonshai Harden Jr. - 2-star QB from Kansas
• Luke Grimm - 2-star WR from Missouri
• Tommy Brandt - 2-star OL from Minnesota
• Juan Jarrett - 2-star LB from Ohio
• Nicholas Martinez - 2-star OL from California
• Kyler Pearson - 2-star WR from Oklahoma
• Daniel Hishaw Jr. - 2-star athlete from Oklahoma
- Former commitments
• Keith Miller III - 3-star WR from Texas (flipped to Colorado)
• Kershawn Fisher - 3-star LB from Louisiana
• Keenan Hambrick - 3-star WR from Alabama