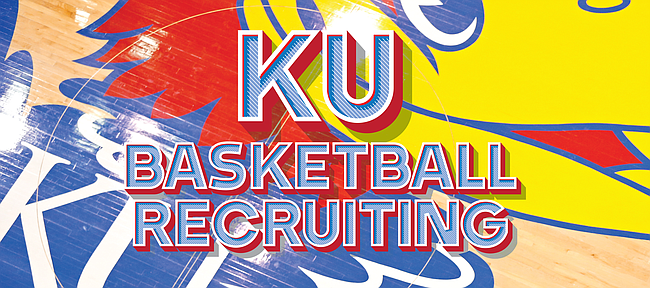 When Tyon Grant-Foster left a popular Lawrence dining establishment following a recruiting dinner in Lawrence on Saturday night, he walked out with longtime friend and current Jayhawk Christian Braun.
At the time, the two knew that, a year from now, they would be teammates.
That news, which Grant-Foster settled on Saturday afternoon, became official Monday morning when he announced that he had orally committed to Kansas and would join the Jayhawks for the 2020-21 season following his sophomore season at Indian Hills Community College in Iowa.
The moment was a long time in the making and was a bit surreal for Sam Ward, a longtime friend of both players who actually introduced Grant-Foster to Braun back in 2015.
"CB, that's my guy," Grant-Foster told the Journal-World of Braun. "We got close my ninth-grade year, his eighth-grade year, and we've been good friends ever since."
Ward, a sophomore guard at the University of Illinois-Chicago, played with Braun at Blue Valley Northwest and was put in charge of welcoming Braun and his brother, Parker, to town after they moved to the Kansas City area for high school.
Having been friends with Grant-Foster "pretty much since birth," it became inevitable that the three eventually would hang out together. That first happened in the fall of 2015 and all three, along with KU freshman Dajuan Harris, have been close friends ever since.
"Their chemistry's going to be so good and they're going to click right away," Ward told the Journal-World during a phone interview Monday night. "They won't have to work on it at all and it's going to be a lot of fun to watch."
Although he saved the more embarrassing stories for himself, Ward told tales of regular dunk contests, hundreds of pick-up games and endless hangouts involving Grant-Foster and Braun during the past four years.
"At Christian's house, he has this goal and it always stays at 7 feet, so we would always have dunk contests and try to dunk on each other," recalled Ward with a laugh.
So who had the best style?
"On a 7-foot goal, it might be me," the 6-foot-3 Ward said. "But I'm going to give it to Christian. On a 10-foot I have to give it to Tyon."
Ward, who played AAU ball with Grant-Foster on Team KC and spent the 2018-19 season at Butler Community College, said there was much more to the newest Jayhawk's game than hammer dunks at the rim.
"Tyon's very athletic," Ward said. "He's long, he can shoot it, he can pass it, he can really do it all. He's best when he attacks the rim because that's when he can really use his athletic ability, but Coach Self is going to make him even better and I'm real excited for him."
Grant-Foster told the Journal-World on Monday that he could play all three guard positions and was hoping to improve his point guard skills before he arrives in Lawrence.
"He's always been able to handle the ball," Ward said. "So he just has to learn the role of a point guard. But he can pretty much play anywhere on the court."
Throughout his recruitment, which blew up to include offers from nearly 20 Division I programs after his first year at Indian Hills, Grant-Foster talked to Braun about Kansas.
"We talked all the time," Grant-Foster said. "And I was just asking him his viewpoint on KU. He was telling me it's the best program in the country. Best history, best coach, everything. He was like, 'If you want to get to that next level, this is the place to be.'"
Now that three of his best friends are on track to become teammates at Kansas, Ward can't help but look ahead to the 2020-21 season, when Braun, Grant-Foster and Harris all will be playing for the Jayhawks.
While Ward called the opportunity the "best-case scenario" for Grant-Foster because of how much help Braun and Harris will provide in his adjustment next season, he said he was glad he still had time to get used to the idea of seeing all three of them on national television on a regular basis.
"It's kind of weird thinking about seeing them on that big of a stage because we just used to hoop in pick-up games around Kansas," Ward said. "But I think Tyon's going to fit in perfect and I think they're going to be a lot of fun to watch."