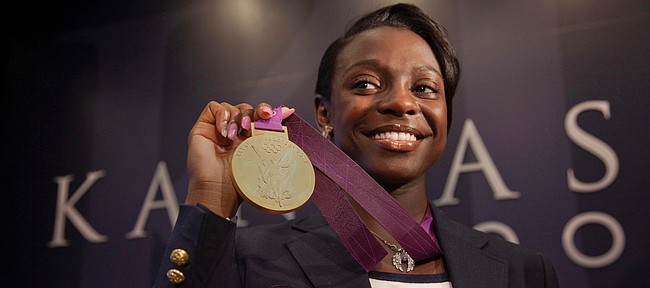 A former University of Kansas track and field athlete who was part of the U.S. Olympic team for the 2012 games in London was arrested in Lawrence early Tuesday morning.
Diamond B. Dixon, 27, was arrested around 1 a.m. in the 1400 block of Massachusetts Street on suspicion of interference with law enforcement and failure to appear, according to the Douglas County Jail booking log.
Few details were available Tuesday morning. According to an email from Lawrence Police Sgt. Amy Rhoads, around 1:05am, "a female was stopped by a Lawrence Police Officer for violating a traffic violation on her bicycle. During the encounter the female refused to identify herself and was ultimately arrested for interference with duties of a law enforcement officer. It was later determined she had an active warrant for her arrest."
Dixon was released on a $500 own recognizance bond about an hour later. She has a court appearance scheduled for Nov. 6, the booking log indicates.
Dixon was a member of the United States 4x400-meter relay team that won gold in 2012. During her time at KU, she won an individual national title and helped the women's team to its first Track and Field National Championship. She is a member of the Kansas Athletics Hall of Fame.
More like this story on KUsports.com