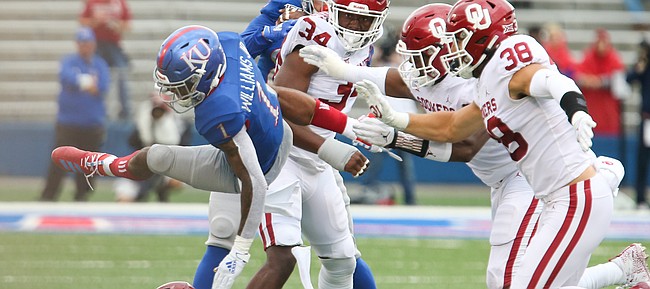 Ahead of the Kansas football team's midseason bye week, the offense didn't perform at a high enough level against Oklahoma to satisfy the Jayhawks.
But they at least saw running back Pooka Williams Jr. start to look like his old self again.
Following his performance, which included a season-high 137 rushing yards and career-high 23 carries, Williams said it marked the first time during his sophomore season that he felt productive from start to finish.
"Yes, sir, and it started with the O-line," Williams said. "Once the O-line got (me) out of the backfield, I've got to make it up for them."
His second 100-yard rushing game of 2019 and the fifth of his KU career included four chunk plays on the ground — rushes of 16, 23, 24 and a personal season-best of 36 yards.
The only thing missing for KU's star rusher was a touchdown.
"He's a stud," KU quarterback Carter Stanley said of Williams. "Obviously very talented. But just the fight and determination and hunger in that kid is unbelievable. I don't know if I've ever seen him run that hard in a game. Those guys are screaming down trying to knock him out of the game because of what he did last year (252 rushing yards, three total TDs at OU)."
Williams' best rushing day of this season to date came a week after TCU bottled him up for just 12 yards on eight carries and a few days after KU officially parted ways with senior running back Khalil Herbert.
"He's an incredible talent with incredible fight," Stanley said of Williams. "I'm really proud of him."
As the KU offense heads into the second half of the season, the Jayhawks (2-4 overall, 0-3 Big 12) will need Williams (74.2 yards per game, 4.9 yards per carry) to trend upward as a rusher in order for the team to stay competitive, and for Williams' first couple of conference games this season (76 yards versus WVU, 12 yards at TCU) to look out of character by the end of the schedule.
Said head coach Les Miles: "I think he's a dynamic performer. We'll continue to see ways to get him the ball."
Miles said that before firing Les Koenning and naming Brent Dearmon Koenning's replacement at offensive coordinator.
Williams, nor any of KU's players, have spoken yet with the media since that midseason coaching move, either, due to the bye week.
The Jayhawks return to action on Saturday at No. 15 Texas (4-2, 2-1).