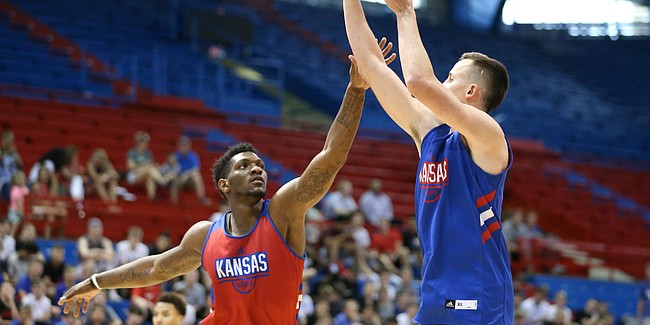 Believe it or not, Kansas basketball coach Bill Self is already talking about playing zone defense.
It's not exactly what you think. Self and his team still want, and plan, to hang their hat on man-to-man defense. But because of the makeup of this year's roster, there already has been more talk about possibly playing zone than at this point in the season during any of Self's previous 16 years at Kansas.
"It's a bad zone," Self said during the Jayhawks' recent media day. "But we've actually put in a zone earlier this year than we have probably at any point in time."
The reason is simple and has everything to do with personnel.
"This past three years we've played small," Self explained during the Jayhawks' recent media day. "Historically, we haven't played small. This year, to put our best players on the floor, we're going to go back to playing big. That doesn't mean we won't play small some, but we'll go back to playing big."
For the past five or six years, if not longer, Self during the preseason has been asked to predict how often his teams would go with big lineups and how often his teams would play small.
While injuries, player development and specific game matchups all factor into the answer, Self said this week that he expected to use Udoka Azubuike, Silvio De Sousa and David McCormack, "and possibly Mitch (Lightfoot)" as the anchors for KU's big lineups roughly 60-70% of the time during the upcoming season.
"Thirty or 40% of the time we'll probably make adjustments and do something different," Self said.
The reason Self used the word "possibly" with Lightfoot, a senior forward who has played just 13 fewer career games than the other three combined, is the fact that Lightfoot could consider redshirting this season instead of playing limited minutes in a crowded front court.
"It's still up in the air with Mitch on what we're going to do this year with him," explained Self, noting that his propensity for playing bigger lineups earlier in his KU career was as much about the style of game and construction of his roster as anything.
"I don't think it's necessarily my favorite way to play," Self said of a big lineup. "Of course, it's not not my favorite way to play. I just think you just try to do and adjust and tweak what best fits us to give us the best chance. What gives us the best chance is obviously getting our best athletes and our best players out there."
While Azubuike, De Sousa and McCormack without question are three of KU's best players, the big key for how often they might be able to play together is how quickly De Sousa can demonstrate his ability to play consistent perimeter defense.
"That'll be a big question on how much we can do it," Self said. "If you're playing a team that basically plays four guards and the fourth guard is 6-8 but can really shoot, that's a different assignment than he's ever had. … He's doing fine. He's just not used to guarding out there."