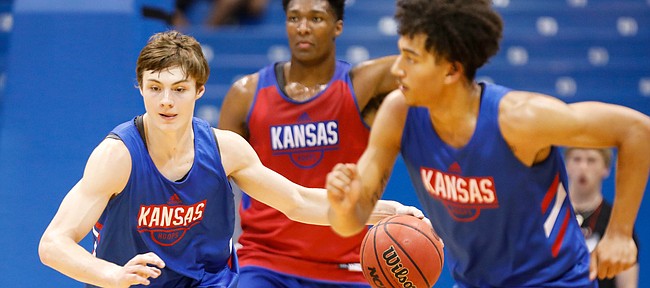 There still is a long way to go before Kansas basketball coach Bill Self settles in on a set rotation and decides which players will play what roles for the 2019-20 Jayhawks.
But after listening to Self talk at the team's annual media day on Wednesday, you'd have to be crazy to think that freshman guard Christian Braun won't be a part of the fun.
"I think he's better than what we probably thought he would be at this stage," Self said of the 6-foot-6 freshman from nearby Blue Valley Northwest High. "Further along."
Photo Gallery
Kansas Basketball Media Day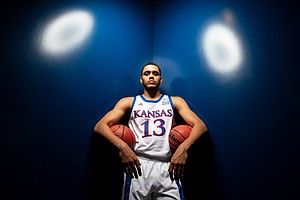 View a gallery of images from Media Day with the Kansas men's basketball team
The reasons for that are plenty, but the biggest is Braun's competitive nature.
Never one to back down from any kind of challenge, large or small, Braun has used his revved-up motor and will to win to impress his new teammates and coaches throughout the preseason.
His physical toughness, on both the perimeter and in the paint, bring great versatility. His shooting touch is one that Self believes should make him "one of the better perimeter shooters on our team." And his full-speed-ahead-at-all-times attitude has made him stand out during pretty much every practice, even on a team loaded with talented players who were ranked much higher than Braun coming in to Kansas.
"He's the best we have at keeping balls alive," Self said Wednesday. "Simple things like that, he gives your team a chance to score off broken plays because he can keep balls alive and things like that."
The official phrase that Self uses to describe Braun is "jack of all trades guy."
And Braun carries himself with the vibe of a player who believes he belongs while stopping short of crossing over into that cocky realm.
His standard line throughout the offseason leading up to his first season with the Jayhawks has been that he'll do "whatever coach needs me to do." And that's from both a positional standpoint — guard, wing, stretch 4 — and the perspective of sacrificing his body to save a possession or selling out to get a stop.
"He's just always ready for whatever it takes," said Braun roommate and KU junior Silvio De Sousa. "I just love his game and I just think he'll be very special."
Added Self: "He's been well drilled, he's a good player, he's got good size and he's tough."
If you've followed Self at all throughout his coaching career, whether while at Kansas or at his earlier stops, you know what that last word means to him.
And while Braun already has made a name for himself with his toughness and hustle plays, Self said he thought the entire roster had shown a similar edge throughout summer workouts and preseason practices.
"I think that we have a good group," Self said Wednesday. "You never know how tough you are until a team sees its own blood; you know, until you get punched in the face and have to focus and see the next play. I think that there is such a big difference between trying hard and competing. Everyone tries hard, but are you able to handle each situation in a way to look next play under pressure? That's competing. And I don't know where this team is on that scale, but I know from a physical and trying standpoint, that we're at the same place as other good teams (we've had here)."