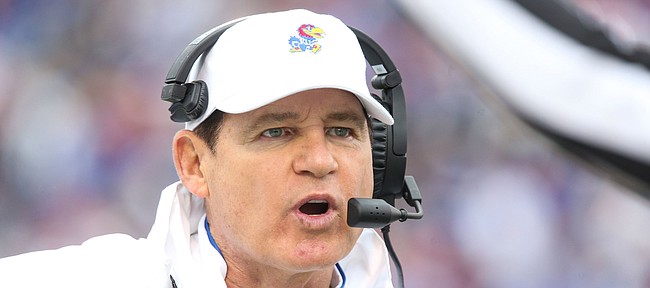 With it being the bye week, Kansas head coach Les Miles does not have his usual weekly press conference.
That means the Big 12 conference call is the only time that Miles will speak this week, which took place one day after he announced a change at offensive coordinator. Brent Dearmon was promoted on Sunday, while Les Koenning was relieved of his duties.
As a result, Miles mostly fielded questions about why the coaching change was necessary after six games of his first year at the helm.
"It just seemed like we peak and valley too often," Miles said. "I just felt like we need a more consistent direction, and so we made the change."
Look no further than KU's 45-20 loss to No. 6 Oklahoma to help illustrate that inconsistency on offense. It marked the third time that the Jayhawks (2-4, 0-3 Big 12) have failed to score more than 20 points during the first half of the 2019 season.
For one particular possession in the first quarter, though, KU did exactly what it had hoped to help keep Oklahoma's high-octane offense off the field. Kansas marched down the field for a nine-play, 98-yard scoring drive to take a 7-0 lead.
The Jayhawks gained positive yardage on all nine plays, which featured fives passes and four runs. It took 5:20 off the clock, marking the team's longest scoring drive of the season in terms of time of possession. It proved to be the only points for KU in the first half, as OU scored 42 unanswered points after that.
"The opportunity to get in the red zone and move the football, it didn't seem like we had any real regular things that we could turn to and gain yardage," Miles said. "We were hit and miss at times."
Through six games, KU's offense ranks 101st in the nation with an average of 22.8 points per game and 102nd in the country with an average 354.5 yards per contest. Kansas ranks 96th in all of college football in offense efficiency.
The Jayhawks have especially struggled in critical situations. Kansas is 11-of-35 on third down during Big 12 play, while ranking 94th in the nation with a 21-of-58 effort on third down this season. KU is also 0-for-7 on fourth down attempts, which is the most attempts in college football without a successful conversion.
While Dearmon has a run-pass-option background, Miles suggested that the offense will look similar following the bye week.
"I think (we will have the) same style of offense," Miles said. "I think hopefully more successful than it had been in the past."
Miles also made it clear that the move was not only necessary to help the on-field product, but to also help in recruiting.
"We get a chance to introduce a bright young name to a guy that might want to be coached by somebody that had that experience," Miles said. "(Dearmon) will have an opportunity to get that offense going. But in any event, when we take the road recruiting, he takes the road to recruiting for us."
Stanley's status
Kansas quarterback Carter Stanley was dinged up during the 25-point loss to Oklahoma. After the game, Stanley was seen wearing a brace on his left wrist during his postgame session with reporters.
But Miles doesn't believe the injury will prevent Stanley from being the team's starting quarterback for the seventh time in as many games, when Kansas travels to Texas after the bye week on Oct. 19.
"I think the open date came at a great time for the entire team," Miles said. "If we were playing this Saturday, he'd be playing."