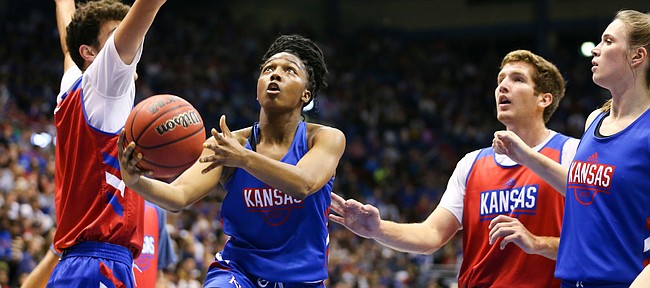 With losing nine players — including seven seniors — from the 2018-19 team, Kansas women's basketball has emphasized filling gaps this offseason.
"This has been a critical offseason for us, dating all the way back to when they reported in June," KU coach Brandon Schneider said at media day Monday. "We're relying heavily on the leadership of our returners, while also trying to quickly develop some of our young players."
Two of those younger players that Schneider expects to step into bigger roles this season are sophomore guards Aniya Thomas and Brooklyn Mitchell.
Both received minutes last season, with Thomas averaging 14.9 minutes per game and Mitchell with 8.8. But this year, Schneider and the backcourt duo look to increase those totals significantly.
"We have really, really high hopes for both of those (players)," Schneider said. "They are extremely athletic, and I think their offensive skill sets (have) really improved."
This year's roster includes six freshmen, meaning returners like Thomas and Mitchell will be crucial to the success of the 2019-20 team.
Because of this, Schneider has met with Mitchell during the offseason to emphasize wanting her to be the team leader this season, a role that Mitchell feels comfortable with.
"I think a big time thing we've worked on is leadership," Mitchell said. "So helping the freshmen transition into leadership roles (has been big). We did the program which helped a lot of us come out of our shells, like Aniya, she's being more vocal."
The program Mitchell referred to was a two-day offseason training program Schneider put the team through for both conditioning and to build team chemistry. It included various activities, such as carrying logs with sandbags as well as working out in the pool.
"It helped us (improve our) mentality and helped us come together in difficult situations," Thomas said. "So like if we're in a game, say we're down like 10, we know how to keep our composure to come back. We just stay together through the whole thing."
"It was a little challenging, but not physically challenging because as (Division I) athletes we're built for whatever," Mitchell said. "But mentally I think it was challenging for some of us. It definitely brought us together."
The duo also hopes to build off the wisdom gleaned from former Jayhawk guards Kylee Kopatich, Jessica Washington and Christalah Lyons.
For Mitchell, Kopatich taught her to "always give it your all," while Thomas said the trio exuded leadership qualities she hopes to bring into this upcoming season.
"So I think going hard in practice helped her transition into games," Mitchell said. "If you go hard all the time, when it comes game time it's going to be easy."
Mitchell also noted the consistency from Washington in and out of practice regarding her jump shot.
But while the duo hopes to replicate the attributes of past veterans, Thomas believes team chemistry has significantly improved.
"I think this team is a lot closer than last year," Thomas said. "I think everybody has filled in the gaps, so we're going to be pretty good this year."
Another wrinkle that makes the 2019-20 team different is that this is the first team since Schneider, entering his fifth season at KU, started in Lawrence that every player on the roster has been recruited by his staff.
"You always plan for some attrition, and you kind of have to have your antenna up a little bit," Schneider said. "Every place I've ever been, once we have the majority of the players that are part of the program being kids that we recruited, we have very little turnover.
"That just is part of the relationship building that takes place in the recruiting process."
Now with Mitchell and Thomas in larger roles and Schneider settling in to a new-look team, Mitchell hopes to bring it all together on the court.
"I think this season (scoring) will be big on me as far as scoring goes and helping my teammates get open," Mitchell said. "So like passing, knowing what spots are for what people and directing them to (the right) spots has been a big emphasis for me.
"Go hard every day and that will definitely transition on the court for me and Aniya."