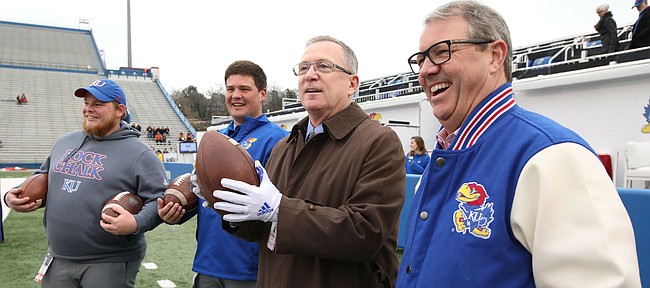 State and federal law is not the best way to change NCAA regulations regarding athletes receiving compensation through endorsements, University of Kansas Chancellor Douglas Girod said.
"Rarely is legislation the best way to fix things," he said. "There are always significant unintended consequences that haven't been thought through. So we'll have to think through all of that."
Girod briefly spoke to the Journal-World on Monday about a new law in California that will eventually allow college athletes to make money off their images, names or likenesses, through endorsement deals with companies, such as Adidas and Nike. The law directly contradicts the NCAA's rules, which generally bar college athletes from accepting compensation outside of the scholarship they receive to attend college.
Girod said that contradiction could complicate how universities will be expected to meet NCAA regulations when one of the largest states is operating on a different system.
"I'm concerned it's going to make a complex environment even more complex," he said. "It's going to confuse the environment. But we'll deal with it."
Girod said he was not sure how it would affect the college athletics landscape, but he thought it could give California and other states that follow in its footsteps a recruiting advantage. Additionally, he said California's law would exacerbate the challenges of managing enthusiastic boosters, who may pay a college athlete a significant amount of money to sign autographs.
"Where's the line there? I think it's going to be really hard to manage," Girod said.
With the California law in place, the NCAA may not allow California universities to participate in its championship tournaments. When asked if he would support such a two-tiered system, Girod said he didn't know if it would be a viable option because it would be a struggle to enforce.
However, he expects other states to explore passing similar laws, or federal lawmakers may even consider making a nationwide law.
"We'll have to see how it plays out," Girod said.
KU has not yet discussed the topic with other Big 12 institutions, but Girod said it would likely be a topic of conversation when the universities meet for a Big 12 retreat later this fall. Last week Big 12 Commissioner Bob Bowlsby told the Journal-World in an email that the law created instability in college athletics.
"The schools in our conference and those throughout the United States seek a national recruiting and national competitive environment that can only be accomplished with fair and uniform rules and policies," Bowlsby said at the time. "The passage of (the law) will negatively impact the universities in California and will undermine the unique American collegiate model that has been an enormous source of opportunity for millions of young student-athletes and many millions of fans."
More like this story on KUsports.com