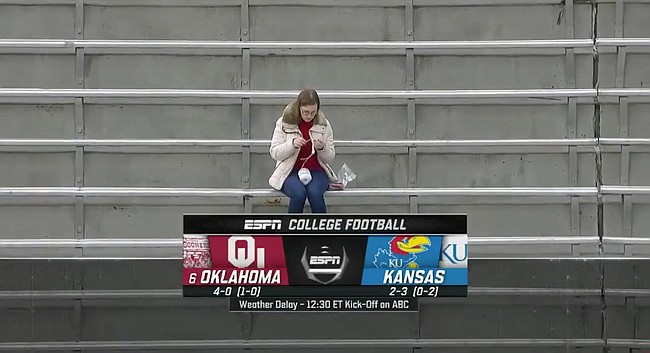 A busy news week for Kansas Athletics continued Saturday, when a video of a woman crocheting before the football game went viral.
"Crochet lady," as she has been dubbed, entertained herself with her hobby before the start of the Kansas-Oklahoma game — and inadvertently entertained the internet as well.
The video, which has been viewed 1.4 million times, depicts a woman sitting alone in the stands at KU's David Booth Kansas Memorial Stadium, entranced with her hook and yarn, the seats of the stadium empty around her.
"College football is ELECTRIC," ESPN tweeted.
The woman, who has not been identified, was crocheting during the weather delay. Clad in a plain red shirt, it's unclear whether she was rooting for the Jayhawks or the Sooners, but many on the internet were cheering for her.
"I wonder what she's knitting," Zack Rohring tweeted around 11 a.m. Saturday. "I really hope they show her again at the end of the game so we can find out. Lol"
(Rohring was quickly reprimanded by commenters who informed him that the woman was crocheting, not knitting.)
One tweeter said the crocheting lady would likely find more entertainment with her project than with the game, which Oklahoma won handily. Another said, "This is KU football personified—in all its glory."
Some even compared "Crochet Lady" to Snoop Dogg, who made headlines this weekend for his performance at KU's Late Night in the Phog, which included money guns and pole dancers — a risque performance for which Kansas Athletics apologized.
"Snoop Dogg one day... Crochet lady the next. Kansas is on one emotional rollercoaster," one person tweeted. Another, "Crochet Lady>Snoop Dog."