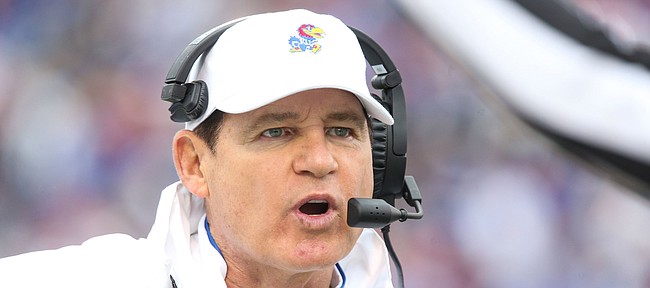 Following a 45-20 loss to No. 6 Oklahoma, Kansas football coach Les Miles had no interest in revisiting the departure of former senior running back Khalil Herbert.
Speaking with media members for the first time since Herbert posted a letter to KU fans and teammates in which he stated he didn't want to leave the Jayhawks when he decided to redshirt, Miles declined to respond to Herbert's claim.
"We're going to concern ourselves with the team and making this team better and talk about the guys that are going to sit down in this room on Monday and work hard to be a better football team," Miles said during his postgame press conference. "I think Khalil is a good man. I think that's evident with the people that enjoy him."
Herbert and members of his family informed Miles and KU's coaches of his plan to redshirt on Sept. 27, the night before the Jayhawks played at TCU. Miles announced Herbert was officially no longer with the program this past Wednesday.
Six days after the running back informed the coaches of his plan, he posted a message on social media that explained he wanted to redshirt this year and return to play for KU in 2020, "not to transfer or to leave my teammates."
Herbert had entered the NCAA's transfer portal as of Friday morning, 247 Sports reported.
"Redshirting had many unforeseen consequences," Herbert wrote in his letter, "that my family and I did not know would result from this decision."
Without Herbert, the Jayhawks ran 23 times with Pooka Williams, who produced 137 rushing yards against Oklahoma. Freshman Velton Gardner again handled second-string running back duties, with three carries and five yards.
Penalties costly
KU was flagged a season-high nine times against OU, resulting in another season-worst, 82 yards lost on penalties.
"Penalties didn't help us in any way today," Miles said. "And we talked about that before I came up here. That's not us. That's not the culture that we want to identify as us. And you can't be selfish. And they'll continue to get that. I didn't like that at all. If there was one thing I didn't like, that was too many penalties that were not necessary."
Three of the flags were for false starts — one apiece on offensive linemen Kevin Feder and Malik Clark, as well as receiver Andrew Parchment.
But there also were personal fouls on Mike Lee and Darrius Moragne for KU's defense. Additionally, Moragne got flagged for a face mask penalty. Another instance of a Jayhawk grabbing a Sooner's face mask occurred when punter Kyle Thompson tried to keep CeeDee Lamb from returning a punt for a touchdown late in the second quarter.
Offsetting unsportsmanlike penalties kept KU from getting docked any yards in the third quarter, when OU's Jaden Davis and KU receiver Daylon Charlot exchanged blows and each drew a personal foul.
KU's other penalties were a pass interference call against Kyron Johnson and a holding flag on Takulve Williams on a kickoff return.
Weather issues
Some morning storms impacted the game day schedule at David Booth Kansas Memorial Stadium.
The Jayhawks canceled their usual home game tradition of "Hawk Walk," which normally entails the players and coaches greeting fans outside of the stadium as they head to the locker room from the team's buses.
Kickoff also had to be pushed back to 11:30 a.m., in order to give players from both teams ample time to warm up after lightning forced them to stay in their locker rooms longer than planned.
Prox still out
For the second week in a row, the KU defense had to play without starting inside linebacker Dru Prox.
The junior Prox, who entered the week leading the Jayhawks in total tackles (39), remained unavailable due to an unspecified injury.
Freshman Gavin Potter once again started in Prox's place. Potter was credited with one tackle against the Sooners.
Senior safeties Bryce Torneden and Jeremiah McCullough finished the loss to OU as KU's co-leading tacklers, with six apiece. Torneden (43 total tackles) now leads the team in total stops for the season.
Defensive end/linebacker Azur Kamara made five stops versus OU, as did sophomore safety Davon Ferguson.
OU loves the road
The Sooners haven't lost a road game in five years.
With their latest victory at KU, they extended their road winning streak to 22 games. It's the longest in college football since Alabama won 21 in a row from 1970-75.