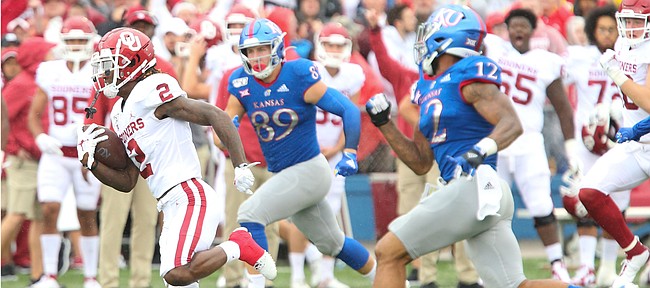 The bloodbath some may have expected Saturday out of a matchup pitting offensive guru and Oklahoma head coach Lincoln Riley, his latest Heisman Trophy-aspiring quarterback, Jalen Hurts, and the No. 6 Sooners against an overmatched Kansas team didn't turn out obscenely gory.
Still, the Jayhawks left David Booth Kansas Memorial Stadium with a 45-20 defeat and feeling as if some missed chances cost them from truly challenging a Big 12 powerhouse.
Although KU head coach Les Miles pointed to some positive moments for the offense, such as Carter Stanley's three touchdown passes, Stephon Robinson's 131 receiving yards and Pooka Williams' 137 rushing yards, clearly 20 points is rarely enough for victory in this conference — especially against OU.
"If we'd have had a cleaner start," Miles said, "it would be a completely different ballgame.
With the Sooners (5-0 overall, 2-0 Big 12) rattling off touchdowns with ease this season and the Jayhawks halfway through Year 1 of their latest rebuild project, KU's offense needed to be as close to flawless as possible.
"It was really going to take consistency," Williams said of keeping up with the Sooners, "and keeping them off the field, which we did in the first half. But the second half we laid off. We didn't put enough points up."
Photo Gallery
Kansas football v. Oklahoma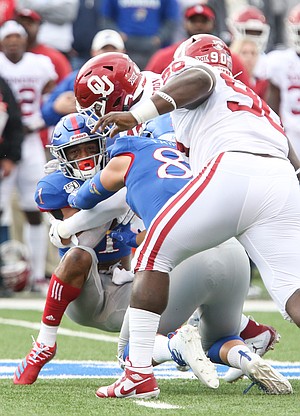 View a gallery of images from Saturday's game between the Kansas Jayhawks and Oklahoma Sooners at Memorial Stadium.
After a crucial last-minute TD in the second quarter for Hurts and company, the Sooners kept bludgeoning KU (2-4, 0-3) in the second half, living up to their reputation as the Big 12's preeminent football program of the past decade-plus. Three of their first four possessions after halftime resulted in touchdowns as Hurts (four total touchdowns, 16-for-24 passing, 284 total yards, one interception) and the Sooners put KU in a 35-point hole a few minutes into the fourth quarter.
It was long before that when the game seemed to swing the Sooners' direction in front of an announced crowd of 34,402.
The first significant blunder for the Jayhawks, who needed as clean an outing as possible in its upset bid, came early in the second quarter, with the game tied at 7.
Miles took an assertive approach on 4th and 2 at OU's 42-yard line on KU's third possession of the game. Instead of punting and hoping for good field position against the powerhouse Sooners, Kansas dialed up a pass play. Stanley hit tight end James Sosinski in the hands, too, right around the yard of gain. But the senior target dropped what looked to be a 1st down.
"It's a catch James has made hundreds of times," Stanley said of the miscue. "And I would throw the same ball 10 times out of 10 and trust him to catch it. It's unfortunate it didn't happen. It was a pretty big play in the game, but I totally trust in James and anyone in this offense."
Sosinski wasn't going to score on that play, just maintain possession for KU, a critical factor versus quick striking OU.
Said Miles: "Tied at 7 with an opportunity to hit a 1st down, and if you go down there and put a little bit more pressure on your opponents, certainly that's an advantage for you. I'm not going to take anything away from the Sooners. They threw the ball extremely well and got completions in big chunks."
On the very next play from scrimmage, the Jayhawks legitimately could have extended their lead on defense. On Hurts' seventh pass attempt of the afternoon, KU safety Mike Lee had six points on his mind.
Lee, who was playing with a cast on his broken right hand, Miles revealed afterward, jumped a throw to CeeDee Lamb. And if the senior defensive back could have held on to the ball, he could have sprinted to a touchdown.
However, KU's takeaway-less streak that had dated back to Week 1 against Indiana State continued — for the moment, until Najee Stevens-McKenzie picked off a Hurts pass in the opening seconds of the fourth quarter. Lee's would-be pick fell out of his arms and went down as a pass breakup.
Document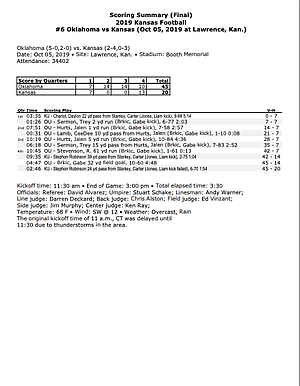 Six plays later OU took the lead for good on a one-yard TD carry for Hurts midway through the second quarter.
Though requested for postgame interviews by various reporters, Lee was not made available afterward. A KU spokesperson said he didn't want to go to the media session.
Stanley was asked about Lee's near interception.
"It was just one of those plays where you recognize how huge it could have been," Stanley said. "Pick six, would've been 14-7, would've been huge. And I talked to him in (the locker room), and I said, 'I already know it was the cast that messed you up there.' I told him how much I appreciate him just playing in the first place. Not a lot of guys if they get an injury like that where your position requires you to use your hands to tackle, make deflections, interceptions — it just says a lot about his character and his fight, as well. It's not like that (dropped interception) was like a huge letdown for us."
To Stanley's point, it wasn't until just before halftime that OU finally created some breathing room.Considering that at one point the Jayhawks had Oklahoma facing 3rd and goal from 48 yards out and 4th and goal at KU's 44-yard line, the final minute and a half of the second quarter couldn't have played out much worse for the upset-hopeful home underdogs.
Following a botched OU reverse that ended with KU safety Davon Ferguson bringing down Hurts for a 23-yard loss, the Kansas defense did its job, forcing the Sooners to punt on 4th and goal, 44 yards away from the end zone.
However, the Jayhawks went three-and-out on offense, with three straight rushing plays, as OU used all three of its first half timeouts after each unsuccessful carry to make sure the Sooners' TD factory of an offense got back on the field.
A facemask penalty against KU on the ensuing punt and 46-yard return by Lamb escorted the Sooners to the KU 10-yard line with more than enough time (31 seconds) to tack on another TD before intermission. OU scored on its first snap of the series, as Hurts hit Lamb, allowing the Sooners to head to halftime up 21-7.
"It's tough in a game like that," Stanley said of KU failing to take advantage when playing relatively well early on. "When you look at it, I think there's kind of three to five plays in that game where if they go differently, who knows. It's tough. But it's all about doing our job and executing moving forward."
Oddly enough, the game got off to a promising start for KU, after a 30-minute delay to the opening kickoff due to pregame lightning in the area. The Sooners hadn't punted on their opening drive all season until Kyron Johnson pressured Hurts on 3rd and 10, forcing the Heisman candidate to rush a throw, which KU defensive lineman Codey Cole III also got a hand on.
KU's offense didn't disappoint with its followup either. Stanley went 5-for-5 on an impressive 98-yard drive, which only included one 3rd down for the massive underdogs. Stanley connected with Robinson twice, Sosinski and Williams once and then dropped a perfect 22-yard touchdown pass over two unknowing OU defensive backs and into the hands of Daylon Charlot for an early KU lead against one of the best college football teams in the country.
However, it turned out that possession would be one of the rare times the Jayhawks' offense (360 total yards, 6.0 yards per play) resembled anything in the same zip code as the well oiled OU machine (545 yards, 8.3 yards per play).
The game looked like it could have been an utter offensive catastrophe had it not been for Williams' play early and Robinson providing chunk plays late.
Stanley finished the loss, KU's third in a row, 18-for-28 passing, for 230 yards, with three touchdowns and no interceptions — 142 of his passing yards and two of his TDs came in the fourth quarter, with the game all but officially decided.
"Some good things. Some not so good," Miles said of KU's performance. "Enough where we lost some opportunities. Still, there's improvement. You can see it. And we'll continue to step toward that improvement."
The Jayhawks have their first of two bye weeks next week, before returning to action on Oct. 19 at Texas.
More like this story on KUsports.com