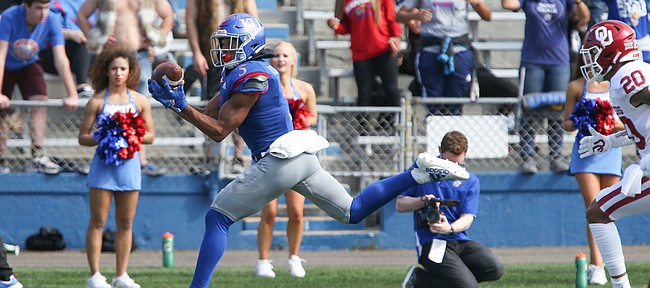 Even under the best of circumstances, Kansas was facing a daunting task when it welcomed sixth-ranked Oklahoma to town.
That is what made KU's decisions at the end of the first half especially puzzling during a 45-20 loss Saturday afternoon at David Booth Kansas Memorial Stadium. The Jayhawks did what no other team could do in 2019 by claiming a lead on the Sooners.
KU (2-4, 0-3 Big 12) then was within one touchdown for much of the opening two quarters, even though OU (5-0, 2-0) had outscored opponents by a 117-27 margin in the first half entering Saturday. For a moment, it looked like the ideal start for the Jayhawks, which is why a sequence late in the first half loomed large in their third consecutive loss.
"Yeah. That certainly didn't need to happen," KU head coach Les Miles said when asked about the end of the second quarter.
So let's take a closer look at each moment from a key stretch late in the first half.
KU burns two timeouts on OU drive
Late in the second period, the Sooners were marching and appeared on their way to adding to their 14-7 lead. On the seventh play of the drive, OU quarterback Jalen Hurts netted a 3-yard gain that was ultimately negated by a holding penalty. It marched the visitors back to KU's 17-yard line with 2:17 remaining in the first half.
Kansas then chose to burn its first timeout. Two plays later, the Jayhawks used their second timeout after forcing a 20-yard loss to push the Sooners back to KU's 48-yard line with 1:31 left in the first half.
Photo Gallery
Kansas football v. Oklahoma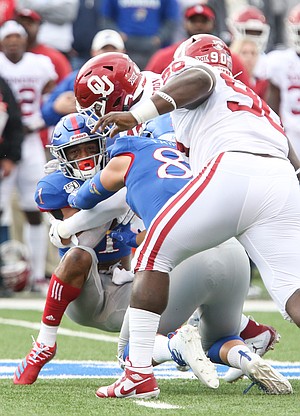 View a gallery of images from Saturday's game between the Kansas Jayhawks and Oklahoma Sooners at Memorial Stadium.
While the thought process was obviously to give Kansas time to score before halftime, it also allowed Oklahoma to keep all three of its timeouts. More than that, it completely contradicted what the Jayhawks did in a similar situation just two weeks ago.
In a 29-24 loss to West Virginia, Kansas opted not to call a timeout when West Virginia lost eight yards on a three-and-out from its own 18-yard line around the two-minute mark in the second quarter.
No punt returner for Kansas
It was an unusual situation. After a pair of huge losses on that same drive, Oklahoma ended up punting the ball on 4th-and-goal from KU's 49-yard line.
Just as abnormal, though, was KU's decision not to have a punt returner in that situation. Oklahoma punter Reeves Mundschau, who had punted a total of eight times in the first four games, was able to put the ball right where he wanted.
The punt landed on the 8-yard line before taking one hard bounce and landing on the 1-yard line. Mundschau also pinned the Jayhawks deep in their own territory on his first punt, though they responded with a 98-yard touchdown drive in the first quarter.
"Not wanting to mishandle the ball was the key piece to it," Miles said about not using a returner. "We'll leave it there and then bring it out may well have been the call of the day as opposed to a lateral run. So there are some things that we have to fix."
Three-and-out on three runs
In the end, it all culminated in a three-and-out by the Jayhawks. They netted 0 total yards on three consecutive runs, while the Sooners used all of their three timeouts to get the ball back.
With the fear of getting a safety, Kansas was conservative on its three run calls. The first was a quarterback sneak by Carter Stanley out of a bunch formation, which resulted in a three-yard gain.
Document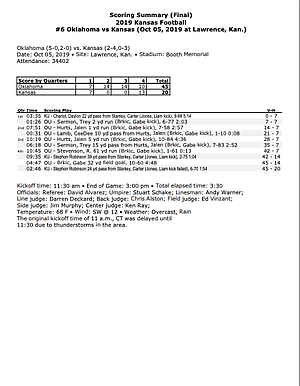 Pooka Williams then received a toss out of the I-formation for a gain of 2 yards. On 3rd-and-5, Williams was hit for a five-yard loss on a run to the left in which he was nearly brought down in the end zone.
"We fought with everything in us in the first half," Williams said. "The second half is when everything got away from us."
A misleading halftime score
Oklahoma took the ensuing punt return, with the help of a penalty by Kansas, all the back to KU's 10-yard line. The Sooners scored one play later, taking a 21-7 advantage before intermission.
Given the final score, it would be easy to say that the Jayhawks never had a chance. However, that is simply not the case. For 29-plus minutes, KU was within one touchdown of the No. 1 offense in the nation and a team that has been to the College Football Playoff in each of the last two years.
One could even argue that the Jayhawks should have led for most of the first half. A dropped pass by James Sosinski on fourth down and a dropped potential pick-six interception by Mike Lee on back-to-back plays could have completely swung the momentum.
But that sequence late in the second quarter helped remove any doubt about the outcome. And the Jayhawks will now have the whole bye week to think about how things could have gone differently for them.
"That was huge and it (was) offense, special teams and defense," Stanley said. "It was a team effort and unfortunate that it happened."
More like this story on KUsports.com