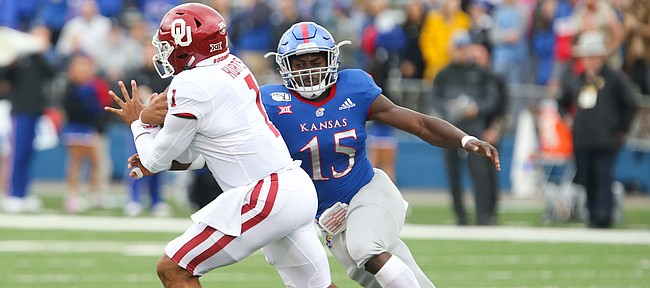 Facing a Heisman trophy contender and a top-10 team is no small feat, meaning Kansas had its hands full before the game even kicked off.
When the game did finally kick off after a brief weather delay, KU didn't quite match up in a 45-20 loss to No. 6 Oklahoma.
Initially, it looked as though the Jayhawks may have a fighting chance, taking a 7-0 lead in the first quarter with a touchdown pass from senior quarterback Carter Stanley to senior wide receiver Daylon Charlot.
However, after a failed fourth down conversion from KU, Oklahoma took control of the game by scoring 42 points from the end of the first quarter on.
Stanley finished 18-of-28 for 230 yards and three touchdowns, and sophomore running back Pooka Williams helped pace the offense with 137 yards on 23 carries. Junior wide receiver Stephon Robinson led all KU receivers with five catches for 131 yards and two touchdowns.
For the Sooners, quarterback Jalen Hurts finished 16-of-24 for 228 yards, two touchdowns and an interception. Hurts also rushed 10 times for 56 yards and two touchdowns.
Running backs Rhamondre Stevenson (five carries for 109 yards and touchdown) and Trey Sermon (11 carries for 76 yards and a touchdown) also led the rushing attack.
Document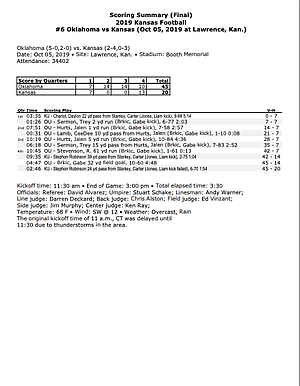 Oklahoma proved to be the better opponent once again, overcoming a slow start and taking advantage of KU's mistakes throughout the game. The Jayhawks are still searching for their first Big 12 win, now sitting at 0-3 in conference play.
Here's a quick look back at some of the action:
• The game turned when:
KU, tied with Oklahoma 7-7, failed to convert a 4th-and-2 on the Sooners' 41-yard line, turning the ball over on downs.
The Jayhawks had made up ground on third down with a 7-yard rush to the right by Williams and looked to go for it without hesitation.
Stanley rolled to his left and saw senior tight end James Sosinski had found a bit of an opening, albeit draped by two defenders. Regardless, Stanley fired a pass to Sosinski that hit the tight end in the hands, but was dropped.
This gave the ball back to the Sooners, who took a 14-7 lead on the next drive and never trailed for the rest of the game.
• Offensive highlight:
After a 58-yard Oklahoma punt and back-to-back false start penalties, the Jayhawks were backed up against their own endzone. And while this certainly wasn't enviable field position, KU managed to make the most of this offensive drive.
The drive kicked off with a 24-yard rush by Williams, followed by Stanley finding junior wide receiver Stephon Robinson for gains of 12 and 19 yards.
Finally, Stanley connected with Charlot in the endzone for a 22-yard touchdown, capping off a nine-play, 98-yard drive that gave KU a 7-0 lead over Oklahoma in the first quarter.

• Defensive highlight:
Oklahoma looked to extend its lead midway through the second quarter, as the Sooners were set up with another 1st-and-goal opportunity. However, holding penalties and a sack by KU senior linebacker Azur Kamara slowed down the Sooners.
But the real surprise came on 2nd-and-goal from the KU 25-yard line, when Oklahoma tried its second double reverse of the drive. Sooner wide receiver CeeDee Lamb was pitched the ball, but was quickly stifled by a swarm of KU defenders.
Lamb officially rushed for a loss of 20 yards, but instead of going down, flipped the ball to Hurts who was immediately sacked by redshirt sophomore safety Davon Ferguson. After the smoke cleared, the Sooners were faced with a 3rd-and-goal from the 48-yard line.
• Up next: Kansas will have a bye next week before going on the road to face Texas at 6 p.m. on Saturday, Oct. 19.
SCORING SUMMARY
FIRST QUARTER
3:35 — Daylon Charlot 22 pass from Carter Stanley. Liam Jones kick. Nine-play drive for 98 yards, in 5:14. (KU 7, OU 0.)
1:26 — Trey Sermon 2 run. Gabe Brkic kick. Six-play drive for 77 yards, in 2:03. (KU 7, OU 7.)
SECOND QUARTER
7:51 — Jalen Hurts 1 run. Brkic kick. Seven-play drive for 58 yards, in 2:57. (OU 14, KU 7.)
0:31 — CeeDee Lamb 10 pass from Hurts. Brkic kick. One-play drive for 10 yards in 0:08. (OU 21, KU 7.)
THIRD QUARTER
10:19 — Hurts 5 run. Brkic kick. Ten-play drive for 84 yards, in 4:36. (OU 28, KU 7.)
6:18 — Trey Sermon 15 pass from Hurts. Brkic kick. Seven-play drive for 83 yards, in 2:52. Seven-play drive for 83 yards, in 2:52. (OU 35, KU 7.)
FOURTH QUARTER
10:45 — Rhamondre Stevenson 61 run. Brkic kick. One-play drive for 61 yards, in 0:13. (OU 42, KU 7.)
9:35 — Stephon Robinson 39 pass from Stanley. Jones kick. Two-play drive for 75 yards, in 1:04. (OU 42, KU 14.)
4:47 — Brkic 32 field goal. Ten-play drive for 60 yards, in 4:48. (OU 45, KU 14.)
2:45 — Robinson 24 pass from Stanley. Jones kick failed. Six-play drive for 70 yards, in 1:54. (OU 45, KU 20.