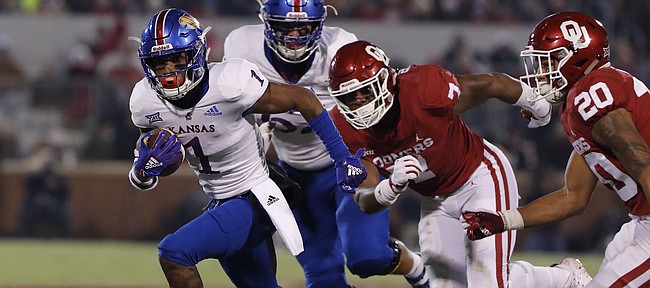 — Kansas (2-3 overall, 0-2 Big 12) vs. No. 6 Oklahoma (4-0, 1-0) • 11 a.m. kickoff, David Booth Kansas Memorial Stadium • Game-time forecast: 68 degrees, cloudy, 47% chance of rain • TV: ABC • Radio: KLWN, FM 101.7 / AM 1320
— Log on to KUsports.com for our live coverage and follow our team on Twitter: @KUSports, @BentonASmith, @mctait and @SJacksonLJW
Keys for Kansas
1. Pick up some first downs
Nothing against captain Kyle Thompson and his 46.1 yards per punt, but the less Kansas sees of him on the field against Oklahoma the better.
Thompson made regular appearances for the Jayhawks at TCU, punting nine times as KU struggled to stay on the field. A repeat of that type of showing against Oklahoma would spell complete disaster for Les Miles' team.
Facing an Oklahoma juggernaut that leads the country in total offense (668.5 yards per game) and ranks second in scoring (55.5 points per game), the way KU running back Pooka Williams Jr. put it, the Jayhawks' best chance at competing will come with long drives.
With the Sooners' absurd offensive numbers — they're averaging 10.4 yards per play this season — it doesn't do anyone on the KU offense any good to think about trying to match their productivity.
"We're just going to have to keep their offense off the field," Williams said. "If we don't keep their offense off the field, we're going to have to play back-and-forth football with them. But if we keep their offense off the field — they can't put up points if they're not on the field."
KU's offense is averaging 6.01 yards per play through five games (60th nationally) despite its 3.4 yards per play at TCU last week. However, KU ranks 118th on the season in first downs per game (17.6) and only picked up eight at TCU.
2. A 1st for 2019
Desperate times call for KU to do something it hasn't all season: win the turnover margin.
The Jayhawks didn't even do that against Indiana State, the FCS team against which the defense secured its only two takeaways of the season so far — an interception apiece for cornerback Hasan Defense and safety Jeremiah McCullough.
And while KU's defense could really help out the offense by securing a takeaway or two against the Sooners (three lost turnovers through four games), it's imperative for KU's offense to play a clean game because the Jayhawks can't afford to make things any easier for OU.
With the help of a single special teams touchdown, TCU put up 51 points against Kansas, without even having the benefit of the Jayhawks setting the Frogs up for success with a turnover. TCU, on average, started its possessions on its own 27-yard line, and the Frogs' offensive players still did as they pleased before the game got out of hand.
If KU turns the ball over even a couple of times against this OU team, the game will get ugly in a hurry.
3. Try to take advantage of OU's relative weakness
The Sooners, who in their previous three routs held opponents South Dakota, UCLA and Texas Tech to 16 or fewer points, really don't have much to complain about. But nitpicking allows one to point to their run defense as a flaw.
Oklahoma ranks 69th in rushing defense, giving up 153.3 yards per game, and 83rd in yards allowed per rush, 4.35.
Perhaps the Jayhawks can keep things interesting by not only featuring Williams but also setting him up for success by spreading the field and getting him the ball in open space instead of stacked boxes.
That's what made Williams' first meeting with OU so successful in 2018. Williams was basically unstoppable in Norman, Okla., this past November, rushing for 252 yards and two touchdowns on only 15 carries.
"I just remember it was a hard-fighting game. Everything was just picture perfect," Williams said, crediting KU's offensive linemen for his production and saying KU "played as a team" in what ended up being a 55-40 OU win.
Williams even threw a touchdown pass in the prime-time game that made people outside of Lawrence pay attention to the running back.
"You've got to make plays when your team needs you," Williams said, "and that's what I had to stand up and do."
OU was ranked No. 6 in the nation for that game, too, and Williams said the Jayhawks enjoyed playing on that type of stage.
"That's another reason I feel like we played how we played," he said, "because they were a bigger team, they were ranked — everything we wanted and gave us motivation to compete against, harder."
KU will most likely need Williams to dominate again to have any shot at making it a competitive game this time around.
Mega Matchup
Every KU defender on the field vs. OU QB Jalen Hurts
It will take next-level performances from all 11 Kansas defenders on the field to limit the stunning talents of OU's latest Heisman Trophy chaser, senior quarterback Jalen Hurts.
Not only is Hurts destroying opponents through the air (323.3 yards per game), completing 77.6% of his 85 passes, with 12 touchdowns and one interception, Hurts also averages 110.8 rushing yards per game and has scored five TDs on the ground.
Last week against Texas Tech, Hurts went 17-for-24 passing, for a career-high 415 yards and three touchdowns, and he ran nine times for 70 yards and a score — with all of that production coming in the first three quarters, before he rested the fourth.
Is it even possible to stop this man?
The Jayhawks will try. In the secondary, Defense said they will have to win one-on-one matchups, and inside KU's defenders must either keep a spy on Hurts or keep him in the pocket.
"We all know he has great running ability," Defense said. "We know he wants to escape. Even if there is someone downfield his legs are what keeps the team going, makes it another threat as far as what we have to deal with."
Watching video of this year's OU offense, Defense said he grew even more impressed by what head coach Lincoln Riley does with his system, making it possible for Hurts and other playmakers to shine.
"There's three or four plays inside the one play," Defense said. "He'll have a screen going on over here, a post going on over here, with a bubble. His scheme, there's a lot going on. Most of the time when you see them it's receivers running free right down the middle."
Without giving away any type of game plan, Defense said defensive coordinator D.J. Eliot introduced some new concepts and looks for the unit this week, in preparation for Hurts and OU.
"Not saying we're going to be able to contain him," Defense said, "but we're going to do a pretty damn good job."
Jayhawk Pulse
Over the course of the past several days, KU lost running back Khalil Herbert four games into the season as the senior decided he wanted to redshirt. It made for a bizarre week, if not a trying one.
Still, most of the players seem to have dealt with it fine.
"There's been a lot going on," Defense said. "Just a shocking loss and a lot going on in house. Our goal is to focus on next week, being 1-0 every week. At the end of the day that's our job."
For the most part, the Jayhawks feel nothing has changed about their preparation, and Defense called Miles' leadership "great" coming off the loss of Herbert and a blowout defeat at TCU.
"He's coming down on us even more, letting us know our one goal is victory," Defense said of Miles' message. "Even if it's ugly, however the case may be, our one job is to win. If we're not doing that, things have to continue to change and continue to get better."
Tale of the Tape
KU ….. OU
KU run D vs. OU run game √
KU pass D vs. OU pass game √
√ KU run game vs. OU run D
KU pass game vs. OU pass D √
√ Special teams
Prediction
OU 52, KU 20