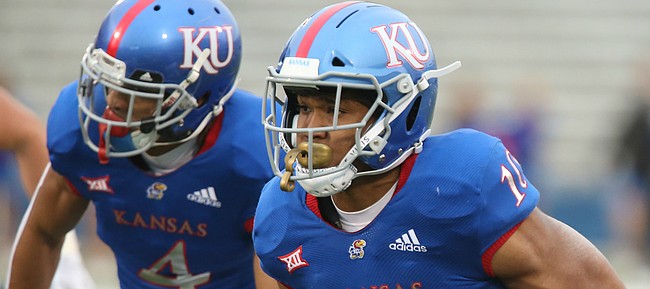 Former Kansas running back Khalil Herbert on Thursday evening shared his side of what led to him leaving KU's football program.
In a letter Herbert posted to Twitter and Instagram, he wrote that it wasn't initially his intention to leave the Jayhawks when he decided to redshirt.
"I intended to come back for my redshirt senior year, not to transfer or to leave my teammates," Herbert wrote. "Redshirting had many unforeseen consequences that my family and I did not know would result from this decision. Although things did not work out the way either side intended, I want you to know my intention was not to hurt the university, Jayhawk Nation, or my teammates."
Herbert addressed his letter to the University of Kansas, Jayhawk Nation and "My Bruddas."
The running back, who was the team's leading rusher at the time of his decision, which was on the eve of KU's Week 5 game at TCU, wrote to his teammates, "I love and miss you all already. I'm sorry things turned out the way they did because this was the last thing I wanted."
According to a KU spokesperson, Herbert remains enrolled at KU. Head coach Les Miles announced Wednesday that Herbert was no longer with the program. Miles hasn't described what kind of conversations Herbert and KU coaches had about him redshirting.
In KU's first four games, Herbert provided 8.9 yards per carry, 96 yards per game and two rushing touchdowns. His abruptly shortened season concluded with him contributing 384 yards on 43 carries.
As a potential graduate transfer, Herbert could play for another program in 2020 without sitting out a year.