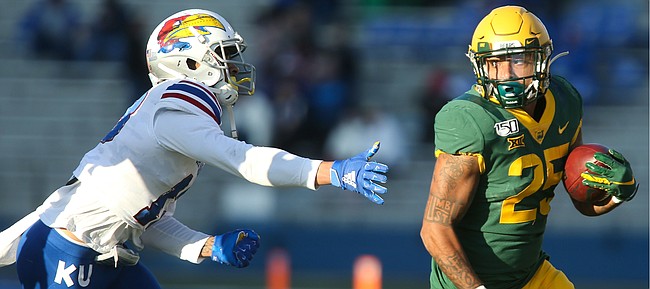 You are what your record says you are.
For Kansas, a 3-9 clip in Year 1 of the Les Miles era should be considered a step in the right direction. After all, it matches the best win total of any season by the Jayhawks this decade. And there were plenty of positive moments regarding the program both on and off the football field.
But Saturday's 61-6 loss to No. 11 Baylor at David Booth Kansas Memorial Stadium was a harsh reminder that Kansas still has a long way to go.
"We have work to do," KU head coach Les Miles said. "We will take every mistake that we made in this season final and we will dot the instillation with exactly why and how it happened."
Since Miles took over the program this past offseason, he has often stated that Kansas will play in meaningful games in November at some point.
Photo Gallery
Kansas football v. Baylor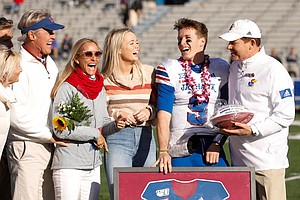 View a gallery of images from Saturday's game between the Jayhawks and Bears at Memorial Stadium.
Yet the Jayhawks were outscored 171-60 during an 0-4 clip in his first November with this team, which were bookended by blowout defeats at home to Kansas State and Baylor. The former was a 38-10 drubbing in front of KU's first sellout crowd in a decade, while the latter will have a lingering impact this upcoming offseason.
"Everybody is going to have this taste in their mouth," junior receiver Andrew Parchment. "Two weeks later, we are back to work. The 2020 season is upon us, and we can't wait around again or else we are going to have the same result as tonight."
In a lot of ways, though, Baylor was the perfect measuring stick for Kansas (3-9, 1-8 Big 12) to end Miles' debut season.
The Bears will be playing in the Big 12 Championship Game next weekend, which comes just two years after the program went 1-11 in Matt Rhule's first season at the helm. Baylor (11-1, 8-1) is the first Power 5 program to win 10 games within two seasons of winning one game or less.
While that type of turnaround might be unrealistic for Kansas, this team knows it is capable of performing better than it did in the regular-season finale.
"It hurt me deep just because I told Carter (Stanley) we were going to send him out with a win," sophomore running back Pooka Williams Jr. said. "We ain't really compete as much as we should have to send the seniors off with a victory."
Nearly every statistical category accurately reflected how lopsided this Big 12 affair was from the opening kickoff.
Baylor scored 48 points before Kansas finally got on the scoreboard in the final minutes of the third quarter. BU had 507 yards of total offense, while Kansas finished with just 280.
The Bears scored seven rushing touchdowns with five different players. The Jayhawks, meanwhile, committed six different turnovers as a team. Just about any way you slice it, Kansas was overmatched from start to finish by Baylor.
"I can tell you today certainly wasn't a reflection of the progress that this program has made," senior quarterback Carter Stanley said. "It's so many things internally that these coaches have done that's been incredible for this program."
That progress was evident at times throughout the 2019 season. Kansas toppled Boston College, 48-24, in the third week of the season. The Eagles (6-6) will be competing in a bowl game in December.
Kansas suffered a narrow loss at Texas after a last-second field goal but then won on a game-ending kick against Texas Tech just one week later.
"We have done a lot this year," Williams said. "Coach Miles is a great coach. He knows what he is doing, and he knows what he is talking about. We just have to go out there and execute and be on the same page."
For now, though, the Jayhawks will have the taste of Saturday's blowout loss in their mouths all offseason. And, in a way, that could prove to be a good thing before the team returns to action in 280 days for the 2020 season opener against New Hampshire.
"I look forward to the challenge," Parchment said. "I'm excited for this week off and then just get back to work."