It was not the ending to the 2019 season that Kansas had hoped for.
From start to finish, KU was overwhelmed in every aspect of its 61-6 loss to No. 11 Baylor Saturday afternoon at David Booth Kansas Memorial Stadium. The Jayhawks concluded Year 1 of the Les Miles era with a 3-9 record, which included four consecutive losses to close out the season.
Baylor, meanwhile, finished the regular season with an 11-1 clip just two years after the team went 1-11 in 2017. The Bears, who have now matched their program record for wins in a season, are the first Power 5 program to win 10 games within two seasons of winning one game or less.
It was an impressive performance Baylor, considering the team had already locked up a trip to the Big 12 championship game entering the weekend. To avoid any sort of letdown, though, BU jumped out to a 21-0 lead in the opening quarter. The Bears scored 48 unanswered points to remove any doubt about the outcome.
KU's first points of the game came with 1:29 left in the third quarter, when Manny Miles delivered an 11-yard touchdown pass to Andrew Parchment.
The Jayhawks lost all four games in November by double-digits to end the season on a sour note.
Here's a quick look back at some of the action:
• The game turned when: In reality, this game was over when it started.
These two teams are not on the same playing field, and that was evident from the very beginning. Baylor scored three touchdowns on its first three drives of the game, while KU's offense average just 3.3 yards per play through three possessions.
All three scoring drives by the Bears took a total of seven plays. Gerry Bohanon scored on 6-yard rushing touchdown to cap a four-play drive to help BYU strike first. On the next drive, the Bears needed one play for Charlie Brewer and Tyquan Thornton to link up for a 51-yard touchdown pass.
JaMycal Hasty added a 13-yard rushing touchdown at the 1:08 mark in the opening period, giving the Bears a 21-0 advantage.
• One highlight: It was a tough day for KU's defense in the regular-season finale.
Baylor utilized two different quarterbacks early on, and were able to keep Kansas off balance by doing so. One of the rare highlights took place late in the second quarter, when junior linebacker Kyron Johnson blitzed Baylor quarterback Charlie Brewer on third down.
Johnson hit Brewer for a 13-yard loss, forcing the Bears to punt from inside their own 5-yard line.
https://twitter.com/Jifhawk/status/1200898704070316038
• Up next: Kansas (3-9) will now enter the offseason, as it begins the 2020 campaign by playing host to New Hampshire on Sept. 5.
Photo Gallery
Kansas football v. Baylor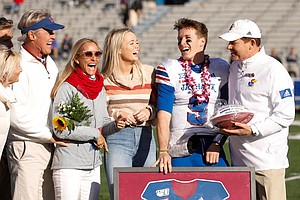 View a gallery of images from Saturday's game between the Jayhawks and Bears at Memorial Stadium.
SCORING SUMMARY
FIRST QUARTER
8:47 — Gerry Bohanon 6 run. John Mayers kick. Four-play drive for 73 yards, in 1:29. (BU 7, KU 0.)
6:48 — Tyquan Thornton 51 pass from Charlie Brewer. Mayers kick. One-play drive for 51 yards, in 0:09. (BU 14, KU 0.)
1:08 — JaMychal Hasty 13 run. Mayers kick. Thirteen-play drive for 75 yards, in 4:04. (BU 21, KU 0.)
SECOND QUARTER
10:24 — Mayers 23 field goal. Nine-play drive for 29 yards, in 3:54. (BU 24, KU 0.)
5:41 — Tristan Exner 14 run. Mayers kick. Three-play drive for 30 yards, in 0:42. (BU 31, KU 0.)
0:01 — Mayers 23 field goal. Four-play drive for 14 yards, in 0:21. (BU 34, KU 0.)
THIRD QUARTER
11:16 — Hasty 12 run. Mayers kick. Seven-play drive for 75 yards, in 3:44. (BU 41, KU 0.)
5:59 — Hasty 8 run. Mayers kick. Three-play drive for 16 yards, in 1:16. (BU 48, KU 0.)
1:29 — Andrew Parchment 11 pass from Manny Miles. Miles run failed. Eleven-play drive for 65 yards, in 4:24. (BU 48, KU 6.)
FOURTH QUARTER
6:49 — Qualan Jones 7 run. Mayers kick. Fourteen-play drive for 78 yards, in 6:45. (BU 55, KU 6.)
4:13 — Jacob Zeno 1 run. Fumbled extra point. Four-play drive for 25 yards, in 1:44. (BU 61, KU 6.)