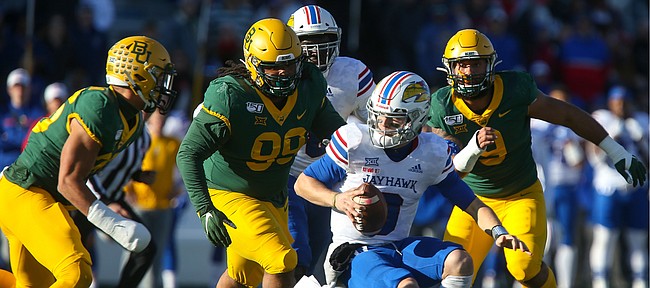 Senior Days are not supposed to look like this.
In the final college football game for nearly two dozen Jayhawks on Saturday at David Booth Kansas Memorial Stadium, the optimism and competitiveness that could be spotted during the highest points of head coach Les Miles' first year on the job were nowhere to be found.
No. 11 Baylor dismantled the lifeless Jayhawks for 60 minutes, sending the home team and its many contributing seniors into the offseason with a 61-6 pounding.
"Whatever could have gone wrong did go wrong," Miles said following the worst defeat of his debut season at KU, which played out in front of the smallest home crowd of the season, announced at 22,531.
The team's fifth-year senior quarterback, Carter Stanley trotted off the field in disappointment, with 7:15 showing on the third-quarter clock. He had just thrown his third interception on his 26th pass. His day was over and his team was down 48 points, with the offense producing next to nothing.
The Jayhawks (3-9 overall, 1-8 Big 12) clearly came out flat. But Stanley said he couldn't put his finger on the reason why.
"It was tough. That's not how we wanted to end the season," Stanley said. "That's not how the seniors wanted to go out. I don't think it was a lack of focus or anything. I think we had a great week of practice and it just came down to execution. That's a great football team, but we certainly made them look great today. It's tough."
Photo Gallery
Kansas football v. Baylor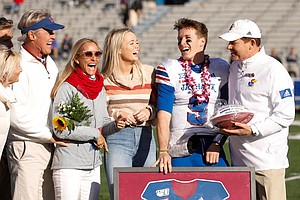 View a gallery of images from Saturday's game between the Jayhawks and Bears at Memorial Stadium.
Turnovers never had been much of an issue for the Jayhawks' under Miles' guidance. Until the finale.
When made aware during his postgame interview that KU suffered six turnovers in its fourth loss in a row, junior receiver Andrew Parchment's instant and honest response was, "Wow."
Parchment figured the "little things" that the Jayhawks didn't do contributed to their lowest point total of the season.
"I feel like we had a good first drive," Parchment noted. "Just a couple of things that we weren't able to punch in."
Already in what would have to be considered an insurmountable deficit — down 41-0 after the Bears opened up the third quarter with a seven-play, 75-yard TD drive, with their backup QB, Gerry Bohanon, handling all of the snaps — the Jayhawks had to call a timeout before their first offensive snap of the second half.
And the ensuing play call brought on KU's fourth turnover of the rout. Stanley seemed desperate to make something happen, heaving a pass deep down the middle that BU's Grayland Arnold easily picked off.
"Personally, two of them for me were just forced passes," Stanley said of his contributions to a disastrous close to the season. "We're down at that point and I was maybe trying to make too much happen to get back in the game."
Even after something went right for KU's defense in the second quarter, with inside linebacker Kyron Johnson breaking up a third-down pass, nearly intercepting Charlie Brewer's throw, a special teams flub on the punt coverage gave the ball right back to the already rolling Bears.
As a bouncing punt that KU wasn't about to field went past Kwamie Lassiter II, it touched Lassiter's hand. The Bears' Henry Black pounced on the ball at the 30-yard line.
The gift-wrapped field position gave BU its fourth TD drive of the game, and a 31-0 lead after a Trestan Ebner 16-yard run to the end zone three plays after the special teams snafu.
Incredibly, a similar scenario nearly played out in the final minutes of the first half. A three-and-out for the KU defense forced the Bears to punt from their own 12-yard line. But freshman Kenny Logan Jr. muffed his return and the Bears recovered at KU's 39-yard line. The Jayhawks saved themselves from further embarrassment when junior safety Ricky Thomas leapt to intercept a Brewer deep pass.
However, as KU tried to get on the scoreboard before halftime, senior safety Black picked off a third-down pass, when a Stanley throw deflected off the hands of his intended receiver, Daylon Charlot.
The Bears took over 20 yards from the end zone, and the Jayhawks were fortunate BU settled for a successful John Mayers field goal, after JaMycal Hasty dropped a would-be TD on third-and-goal.
KU headed to the locker room trailing, 34-0.
"Well, certainly it's obvious why we didn't do well," Miles said during his postgame press conference. "Turned the ball over six times. That's uncharacteristic of the teams that I coach and uncharacteristic of this team. They turned the ball over twice in special teams, and I just — you can't win football games doing it that way."
A promising enough start for the Jayhawks wouldn't hold up. After third-down conversions on passes to Pooka Williams Jr. (22 carries, 116 yards) and Parchment (five receptions, 43 yards, one TD) helped get KU down the field and on the verge of striking distance, they couldn't keep the momentum going once they got inside the 30.
A strong wind blowing into the stadium from the south meant attempting a 40-plus-yard field goal with Liam Jones directly into it would likely be fruitless, so KU went for it. An incomplete pass to Stephon Robinson Jr. meant a turnover on downs.
It only took the Bears four snaps to establish their dominance. A 30-yard John Lovett run on the Bears' first play set the tone. Charlie Brewer's downfield throw to Denzel Mims would have had the Bears in the end zone in three plays had the receiver not got tripped up on a 25-yard catch. BU (11-1, 8-1) made up for it with a 6-yard rushing TD by Bohanon on the next snap.
Though the Jayhawks had a possibly manageable fourth-and-1 from their own 34-yard line on their second series, Miles and company opted for a punt into the wind.
That Kyle Thompson kick only netted 17 yards, and the Bears couldn't resist taking a deep shot with their great field position. Brewer hit Tyquan Thornton for 51 yards, and by the 6:48 mark of the first quarter the Jayhawks were down 14-0.
Though Thompson's second punt, following a 15-yard KU drive on its third series, would net 35 yards, it didn't seem to matter from where on the field the Bears began their drives. Going 75 yards for a 21-0 lead before the end of the first quarter proved to be a nonissue for the visitors, who were not looking past the underdog Jayhawks and ahead to their Big 12 Championship Game matchup with Oklahoma next week.
The Bears produced 507 yards and eight touchdowns in the drubbing.
"They have a lot of weapons. It's very difficult for any team to (slow them down). Obviously we fell short," senior safety and captain Bryce Torneden said.
Misfires in particular ruined KU's chances of slowing down one of the best teams in the nation.
"You've got to tackle, especially in the Big 12," Torneden said. "It's a pivotal part in any game, and you can't afford missed tackles."
A lack of focus seemed to be an issue for both sides of the ball, though players were quick to shoot down that theory afterward.
Miles admitted "one or two" Jayhawks may have played an unfocused brand of football.
"If somebody's having a bad day, that doesn't mean that everybody on the team is," Miles said. "But you can certainly head in the wrong direction based on one or two players that were not playing like they're capable."
Despite the way it ended, KU's coach assessed his first season leading the ever-rebuilding Jayhawks went "extremely well."
"I think they understand the commitment to a full-time football team, a team that's going to play and play and be given the opportunity to chase bowl games, et cetera," Miles said. "I know that after a game like that, you don't mention bowl games. But we do, because we're going to take some strides and we're going to make corrections and those will be the things that we would look forward to being a part of."