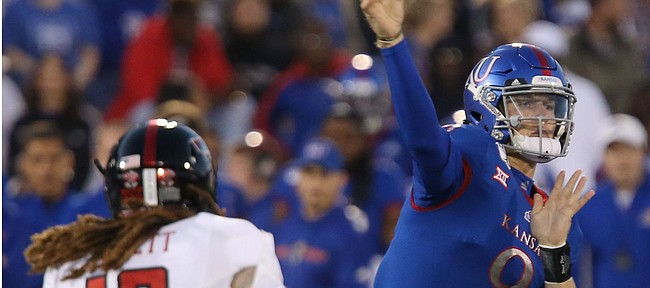 Three wins. Two wins. One win. No wins.
In a decade dominated by losses, those are the only season win totals the Kansas football program has known.
And if the current Jayhawks who haven't experienced the entirety of KU's struggles firsthand didn't already know, they now understand going into this year's finale what one more victory would mean.
It was during a team meeting just over a week ago that Les Miles addressed, among other things, the program's recent history of losing seasons.
KU hasn't won more than three games in a year since 2009, when Mark Mangino coached the Jayhawks and Todd Reesing played quarterback.
"Our coaches have made us aware of that for sure," KU senior QB Carter Stanley said of the Jayhawks' chance to finish the year with four wins — if they can upset No. 11 Baylor at David Booth Kansas Memorial Stadium (2:30 p.m. kickoff, ESPN).
"Unfortunately, we won't be making it to a bowl game, but we also still have the chance to do something that hasn't been done here in 10 years or so," Stanley said. "That's huge for us, just to have this 2019 team make their mark and be remembered for something."
Stanley said the topic came up during a meeting before the Jayhawks traveled to Ames, Iowa, for their final road game. Miles showed an auditorium full of players some individual milestones that could be achieved this year, and also pointed out that KU hadn't won four games since 2009.
"It's just given us an incentive to play harder," Stanley said. "And I don't think there will be any shortness of us playing hard."
KU began the 2018 season 3-5 before losing its final four games, two of them by 7 or fewer points, in David Beaty's final season.
In Miles' first year, the Jayhawks also got off to a 3-5 start, but have lost three in a row since defeating Texas Tech on Oct. 26. They led in the fourth quarter at Iowa State this past week, before falling, 41-31.
Said KU senior cornerback Hasan Defense: "We tried to get it that game, but it didn't work out in our favor. We just want to accomplish that, do our best and keep things rolling in the right direction."
Defense said a fourth victory would set this year's team and KU's senior class apart.
"As leaders, we want to pass the stone down to younger guys and just leave them off on a good foot," Defense said. "Four games would be the most we've won in a while."
Junior receiver Andrew Parchment said the Jayhawks (3-8 overall, 1-7 Big 12) have a couple of primary goals for their season finale versus the No. 11 Bears (10-1, 7-1).
"Not only just the four wins, but also beating a top-25 team, as well, for the seniors," Parchment said. "So that's something that we're harping on every single day and reminding us of that. We're not playing for just ourselves, but for our seniors, trying to give them something they can remember for the rest of their life."
KU hasn't defeated a ranked opponent since knocking off Georgia Tech in 2011. This year, the Jayhawks are 0-5 against teams ranked in the top 25. Dating back to that win over GT, KU has lost 37 games in a row versus ranked foes.
A KU upset of Baylor also would give the program more than one Big 12 victory for the first time since 2008.
KU football W-L totals, 2010-18
(head coach)
2010 - 3-9 (Turner Gill)
2011 - 2-10 (Gill)
2012 - 1-11 (Charlie Weis)
2013 - 3-9 (Weis)
2014 - 3-9 (Weis for four games; interim Clint Bowen for remainder of season)
2015 - 0-12 (David Beaty)
2016 - 2-10 (Beaty)
2017 - 1-11 (Beaty)
2018 - 3-9 (Beaty)