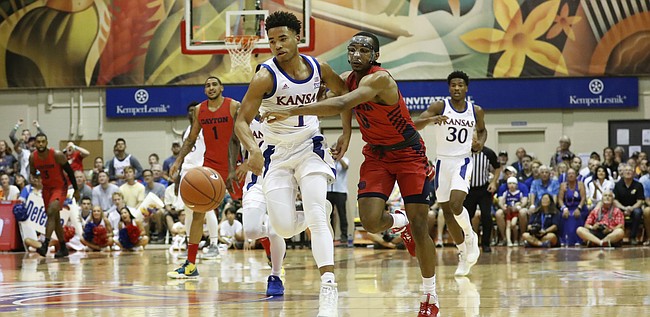 Lahaina, Hawaii — Kansas basketball coach Bill Self has one simple rule when it comes to ball handlers and this season's Jayhawks.
Regardless of the specific combination or the amount of time they play together, two of the KU trio of Devon Dotson, Ochai Agbaji and Marcus Garrett are to be on the floor at all times.
So when Garrett spent almost an entire half of Wednesday's Maui Invitational championship game against Dayton on the bench with foul trouble, it pushed the limits of what Self's lineup could do.
Not to worry. Both Agbaji and Dotson responded by playing all 45 minutes of the Jayhawks' 90-84 overtime victory over the Flyers, which was without question the most intense and physically demanding game of KU's season to date.
So how were the two sophomores able to survive such a demanding task?
"At that point, you've just got to tough it out," said Dotson, who scored a career-high 31 points against Dayton and joined teammate Udoka Azubuike in earning the tournament's co-MVP honors after averaging 21 points per game in an average of 38 minutes over three days. "I mean, I really didn't feel it. I think I could have played a little longer. With that much intensity and that much adrenaline going, you don't really feel tired. Your whole focus is to try to win that game."
Few locked in on that focus better than Dotson, who routinely attacked the basket as if he were trying to complete an "American Ninja Warrior" obstacle course. And like many of those contestants along their quest, Dotson found himself falling to the ground time and time again.
"I don't know how he has the energy to play that fast," marveled Self after the victory.
And then there was Agbaji, whose body took a beating in an entirely different manner.
Although the KU combo guard had his share of drives to the rim, most of the pounding Agbaji took during his 45 minutes of game action came while trying to guard Dayton big man Obi Toppin in Garrett's place.
At 6-foot-9, 220 pounds, Toppin had 4 inches, 10 to 15 pounds of muscle and all kinds of leverage on Agbaji.
While Dotson took his beating by hitting the floor, Agbaji got his by colliding with Toppin every time a shot went into the air. But even that kind of physical exertion did not leave Agbaji looking for help.
"The coaches just left me in there," he said. "I think I asked for a sub maybe once. And when he asked me if I needed one, I was like, 'Nope.' When you're in the course of the game, you don't really notice fatigue."
What about after?
"I mean, yeah," Agbaji said with a heavy sigh and smile. "Just my body."
By midmorning Thursday, after a postgame celebration that included the Jayhawks joining several Dayton players in jumping off the 25-foot cliff at Black Rock just down the shore from KU's hotel, Agbaji had forgotten all about the physical toll of Wednesday's game and was in search something more relaxing than the battle with Toppin.
He and teammate Christian Braun hit the beach to go parasailing on Thursday morning while the rest of the Kansas players and coaches and their families were scattered across Ka'anapali Beach enjoying one more half day in paradise.
The Jayhawks (6-1) flew home Thursday evening and will get a couple of more days to recover before getting back to work.
KU's schedule broke right for that to happen. The Jayhawks don't play again until Dec. 7, when No. 21 Colorado comes to Allen Fieldhouse for a 6 p.m. tipoff.
The Buffs play again twice before coming to Lawrence.