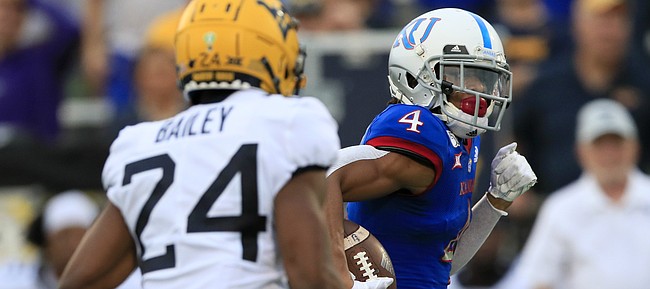 — Kansas (3-8 overall, 1-7 Big 12) vs. No. 11 Baylor (10-1, 7-1) • 2:30 p.m. kickoff, David Booth Kansas Memorial Stadium • Game-time forecast: 56 degrees, mostly sunny, 0% chance of rain • TV: ESPN • Radio: KLWN, FM 101.7 / AM 1320
— Log on to KUsports.com for our live coverage and follow our team on Twitter: @KUSports, @BentonASmith and @SJacksonLJW
Keys for Kansas
1. Make Baylor's defense cover the whole field
The peaks and valleys of head coach Les Miles' first season with KU football have coincided with the triumphs and failures of the offense.
When the Jayhawks are playing to their potential, senior quarterback Carter Stanley is able to stretch the field vertically, with deep shots to receivers such as Andrew Parchment and Stephon Robinson Jr., who can burn defensive backs with their speed.
KU can't and shouldn't spend all of its time looking for those game-swinging deep strikes, but when those are getting mixed in it opens up everything in offensive coordinator Brent Dearmon's play book.
While preparing No. 11 Baylor for its regular-season finale, head coach Matt Rhule made his Bears aware that KU has a "big-play presence" down the field.
"Parchment has beaten people on posts and has run by people," Rhule said earlier this week, during his press conference. "That's always the challenge to us: A. eliminate the big play. But if you try to get an extra guy in the box to take care of Pooka (Williams Jr.), they have the ability to go over the top of you, and they have a really good offensive line."
Rhule estimated that some of KU's best offensive players will get a chance to play at the next level.
"When they've clicked like they did last week (at Iowa State) and they did three or four weeks ago, they've put a lot of points on the board," Rhule said. "They had every chance to beat Texas at Texas. So we're going to have to play really well defensively to try to limit them with the understanding there is that conflict of trying to take away the running game, knowing they have a deep-play game, and the quarterback is really patient. He's going to take what you give him."
In the two games following the Jayhawks' 37-34 win over Texas Tech, the offense bottomed out. Late fourth-quarter touchdowns against both Kansas State and Oklahoma State belied the Jayhawks' true struggles.
Coming off a close loss at Iowa State, in which KU produced 493 yards of offense and scored 22 of its 31 points after halftime, the challenge will be maintaining some momentum against Baylor.
"I think something we've got to do is just hold each other accountable," Parchment said, "making sure that everybody understands what our game plan is and what we want to accomplish. Just making sure that everybody's on the same exact page, and just going out there to execute it. Games like Kansas State, we started really, really slow. It's just the little things that were separating us, so we've got to do little things right. It sounds redundant, but it's just the little things that we've got to do right so we can have a big result at the end."
2. Bottle up Brewer
Baylor's climb out of college football ruins really began with quarterback Charlie Brewer's first career start. Wouldn't you know, it happened in Lawrence against the Jayhawks.
BU's lone win in Rhule's first season with the Bears came in November of 2017. A true freshman at the time, Brewer completed 23 of his 29 throws, and passed for 315 yards and three touchdowns at KU, as the Bears rolled.
During a 7-6 turnaround season in 2018, Baylor again handled the Jayhawks, with Brewer throwing for 221 yards and three TDs, and rushing for 57 more yards.
Although the junior QB took a hard hit during the Bears' win over Texas this past week, Rhule said Brewer has been cleared to play at KU. This season he's averaging 250.3 passing yards, completing 66.6% of his throws, and has rushed for 351 yards while producing 29 total TDs.
While the KU defense this season has encountered many issues trying to stop QBs who can run, the Jayhawks might be catching Brewer at an opportune time, as Rhule said BU's QB also is dealing with a hurt ankle.
"We're kind of an inside zone team; that's kind of what they're built to take away," Rhule said of KU's 3-4 defensive front. "So there are some inherent challenges there, especially with Charlie being a little banged up. Probably don't want to run the quarterback too much."
KU's defenders are entering the finale with confidence, despite their issues.
"We've been learning all year from a defensive standpoint," KU senior cornerback Hasan Defense said, "that we can play with anybody, we have the talent to match up with anybody. At the end of the day it comes down to your one-on-one matchups."
3. Protect the football
Entering the final week of the regular season, Baylor leads the Big 12 in turnover margin (plus-seven). Many of the Bears' takeaways are coming in the air, with 11 interceptions in BU's past eight games and 12 picks total on the season.
Junior safety Grayland Arnold, with five interceptions, most often has delivered takeaways out of the back end of BU's 3-3-5 look.
Through 11 games, the Jayhawks have managed to avoid takeaways turning into big points for their foes. KU's season opener against Indiana State was the only time all year an opponent scored double-digit points off takeaways, as the Sycamores put up 14.
But more often than not KU has gone unscathed. The Jayhawks have only lost fumbles four times all season (tied for the 12th-best mark among FBS teams). Between those and their quarterbacks' 10 interceptions, KU opponents have only scored 37 points off turnovers all season long.
Kansas can help its cause against No. 11 Baylor by playing another clean offensive game
Seven times this season Baylor has forced two or more turnovers in a game. And Rhule's teams through the years are 27-5 when they win the turnover margin, including five such victories this year.
Six of KU's 14 giveaways on the season came in two games — the opener versus Indiana State and their loss at Oklahoma State, when three different quarterbacks threw one interception.
True, the Jayhawks enter the finale 0-4 when having no turnovers, but zero giveaways always is the goal.
Mega Matchup
KU O-line vs. BU defensive front
The Jayhawks won't have a chance at pulling off one of the bigger upsets of this college football season if they can't keep bodies on Baylor's defensive linemen and linebackers.
The Bears' D-line in particular has given opposing blockers and quarterbacks nightmares of late. Dating back to the beginning of October, when they dominated K-State up front, the Bears have racked up 26 sacks and 55 tackles for loss in their previous seven games.
Texas Tech had only surrendered four sacks in its first five games before BU bulldozed the Red Raiders for five sacks in a win.
With 6-foot-4, 295-pound junior defensive end James Lynch giving O-linemen fits, Baylor leads all FBS teams, with 20 sacks when rushing no more than three players. With 38 sacks overall, the Bears average 3.46 QB takedowns a game (tied for fifth in FBS).
The Big 12's active career sack leader, Lynch (19) this year ranks No. 1 in the league with 10.5 sacks and is third in the Big 12 with 14.5 tackles for loss.
When Stanley reviewed the footage from KU's trip to Iowa State, a road game in which KU led in the fourth quarter, he said the "incredible" work of the offensive line accounted for the Jayhawks' strong showing.
KU might need its best O-line performance of the season to keep the Bears from disrupting Stanley and containing Williams as a rusher.
Senior left tackle Hakeem Adeniji, set to start his 48th game in a row, having never missed a start in his college career, and his fellow O-linemen hope to execute against Lynch and arguably the best D-line in the Big 12.
"It would be huge," Adeniji said of ending the season with a home victory on Senior Day. "This is it. Last college game that we'll ever play, so that's a lot of extra incentive. But (BU's defensive linemen are) obviously good players and I have a lot of respect for them, having watched a little bit of what they can do. But, like I've always said, it's more on us, and if we go out there and execute and play up to our potential, then we're going to have a lot of success."
Stanley has been sacked 20 times this season, while taking the vast majority of KU's snaps through 11 games. The Jayhawks surrendered a season-high four sacks in their home loss to K-State.
Jayhawk Pulse
This season has not turned out exactly the way KU's veterans envisioned. They believed the Jayhawks had enough talent to win six games and reach the postseason. Instead, this finale versus BU will essentially serve as their de facto bowl game.
The Bears are one of the best teams in the country, making it a challenge for KU to go out on a high note in Miles' first season.
That's just fine with the players.
"To be honest, this is the team you want to play for your last game," Stanley said. "A team with great accomplishments already, but also great things ahead. Baylor's a really good team, great coaches on that staff for sure, and I think our guys are going to be so fired up for this opportunity. This is our last opportunity, and I'm really proud of our guys up to this point and I'm really excited for it."
Tale of the Tape
KU ….. BU
KU run D vs. BU run game √
KU pass D vs. BU pass game √
√ KU run game vs. BU run D
KU pass game vs. BU pass D √
√ Special teams
Prediction
BU 38, KU 23
More like this story on KUsports.com