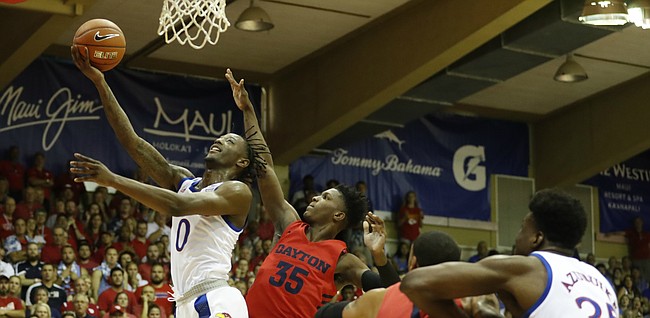 Lahaina, Hawaii — The plan was for junior defensive stopper Marcus Garrett to spend most of Wednesday's Maui Invitational title game guarding Dayton big man Obi Toppin.
But then things went horribly wrong.
Lauded for years for his defensive prowess and ability to guard multiple positions, Garrett picked up two early fouls and twice was sent to the bench for long stretches of time during the Jayhawks' 90-84 overtime victory at Lahaina Civic Center.
It was clear in the early going that Dayton (5-1) wanted no part of Garrett guarding its best player. The Flyers continually put Garrett and Kansas sophomore Ochai Agbaji in ball screens, trying to force the two Jayhawks to switch defensive assignments.
It worked most of the time, but Agbaji never allowed it to become a problem.
"Going into the game, that was our plan: that Marcus was going to guard Obi," Agbaji said after the victory. "But when we needed to adjust and things happened like that, we just followed through, I trusted my teammates, stayed aggressive and tried my best to handle him."
Toppin finished with 18 points and nine rebounds, showing his immense talent at various points during Wednesday's high-energy title game. But he did not attempt his first shot until the 5:46 mark of the first half, and Agbaji did enough while Garrett sat to keep Toppin from killing Kansas.
Garrett's first foul came at the 18:28 mark of the first half. His second came less than four minutes later, and he took a seat on the bench next to KU coach Bill Self at the 14:53 mark of the first half.
Five minutes later, with the Jayhawks and Flyers still fighting for control, Garrett was back on the floor, the rare time that Self has allowed a key player with two fouls to return to the action during the first half.
The reason was simple.
"After he was back in there, we were obviously a much better team," Self explained.
With just under two minutes to play in the first half, and Garrett still holding strong with just two fouls, Self subbed freshman Christian Braun into the game and let Garrett ride out the final 98 seconds of the half on the bench without having to worry about getting his third foul.
It looked, at the time, as if the Jayhawks (6-1) had dodged the bullet.
"For us to be down 1 at halftime, with only (13) minutes from Marcus, that was a big deal for us," Self said.
But then the second half started and Garrett quickly found himself in an even dicier situation.
A foul at the 18:55 mark on the second half's opening possession gave Garrett foul No. 3. His fourth foul, just 48 seconds later, came when Garrett gambled on a steal and was called for a foul instead.
When the whistle blew, the ever-steady Garrett reacted with more emotion in the 30 seconds that followed than he had shown throughout the season's first six games combined.
Part of it was the natural reaction of the KU junior believing he had not committed a foul. The other part of it was an intense conversation with senior guard Isaiah Moss about the defensive assignments that led to Garrett being in position to foul.
Asked after the game which session of pine time was tougher on his mentality, Garrett, who played just 29 minutes on a night when Agbaji and Devon Dotson both played all 45, said sitting early in the second half made him more uneasy.
"I feel like when you're sitting in the first half, you're just thinking the whole time, 'Well, I've got the second half,'" he explained. "But when you're sitting the second half, with four fouls, you really don't know when you're going back in. And you just have to try to stay patient."
Whether it was while playing to avoid his third foul in the first half or trying to stay away from disqualification in the second and OT, Garrett said he did not change the way he defended because he prides himself on playing defense without fouling.
"So I just tried to play defense the same," he said with a smile.
While the Jayhawks did a good enough job defending Toppin with Garrett out of the game to survive — Self said KU "kind of pieced it together until he was back in there" — it proved to be Garrett's contributions on the offensive end that saved the Jayhawks the most.
Four of Garrett's 18 points came in the aftermath of Kansas falling behind 66-58 with less than eight minutes to play in regulation.
His first bucket of the stretch, on a hard drive to the rim, pulled the Jayhawks within 4. His second, on an uncontested layup on a pass out of a double team from Udoka Azubuike, tied the game at 66 with 4:01 to play.
As if that were not enough, Garrett helped Kansas regain the lead two possessions later when he fed Azubuike for 2 of KU's whopping 52 points in the paint and a 68-66 Kansas lead with 2:25 to play.
The Jayhawks never trailed again, and seven minutes and 25 seconds of game time later Garrett and his teammates were celebrating their Maui Invitational title.