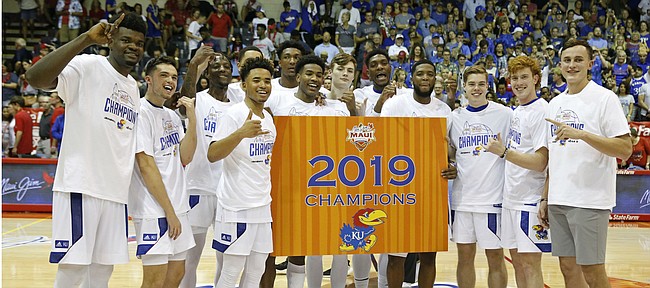 Lahaina, Hawaii — The goal of any team, entering any tournament, is to be the one hoisting the hardware on the final day.
And while that certainly was the focus for fourth-ranked Kansas entering this week's Maui Invitational, the Jayhawks (6-1) also had a few other driving factors en route to winning the 2019 Maui Invitational championship with a 90-84, overtime victory over Dayton on Wednesday.
"I think it's a great opportunity to move forward to becoming a team," Kansas coach Bill Self said of coming to Maui. "Because we're not a team yet. Nobody in America is a team yet. There's going to be some things that happen throughout a season where you actually kind of come together and become a team, and most of those things are actually done away from home where there's really not that much else going on."
There were plenty of things beyond basketball to keep the Jayhawks busy this week, with most of them coming during the team's first couple of days in paradise.
From a team luau and various adventures during their first couple of days to Silvio De Sousa representing KU in an island dance-off and a beach workout or two with strength coach Ramsey Nijem, the Jayhawks were able to successfully blend the basketball and bonding portions of the trip.
And that's to say nothing of all of the rest time the players got while recovering from one game and waiting for another to tip off.
"All that other stuff outside of basketball, you know, traveling, it always brings the team closer together," KU sophomore Ochai Agbaji said. "Especially early in the season like this."
Defense wins
Still a work in progress on the offensive end, the Jayhawks took a giant step forward this week on defense.
Not only did defense carry the day for KU's wins over Chaminade (27 turnovers and 46% shooting) and BYU (20 turnovers and 41% shooting), but the Jayhawks came away from Maui feeling like they had found something they could rely on moving forward.
"When you shoot it inconsistently like we do, you've got to have something to hang your hat on," Self said. "And hopefully (elite-level defense will) be what we hang our hat on."
The 47 turnovers KU forced in rounds one and two in Maui marked the second most by a Kansas team in a two-game span in the Self era.
The only time Self's Jayhawks recorded more came in 2006-07, when they forced Baylor (18) and Colorado (30) into 48 turnovers in two games during Big 12 play.
Kansas forced Dayton into 14 turnovers on Wednesday.
All-Tournament Jayhawks
Kansas players Udoka Azubuike and Devon Dotson were both named to the Maui Invitational All-Tournament team following their strong three-day showing and clutch championship game performance against Dayton.

Dotson, who scored 31 points, and Azubuike who tallied 29, were named co-MVPs of this year's event.

Joining the two Jayhawks on this year's Maui Invitational All-Tourney team were: Dayton's Obi Toppin, Georgia's Anthony Edwards and Virginia Tech's Landers Nolley II.
Thanksgiving 2020
While the Jayhawks no doubt would return to Maui every Thanksgiving if they could, the rules say teams are only able to make this trip every four years.
So pencil in 2023 as the Jayhawks' next journey to Hawaii for another Maui Invitational.
In the meantime, Kansas will seek out other warm-weather destinations to spend Thanksgiving week, starting with next year's trip to Los Angeles for the Wooden Legacy Classic.
The Jayhawks will join Georgetown, UCLA and Virginia in playing two games in three days from Nov. 26-28, 2020, at the Anaheim Convention Center.
Pairings have not yet been announced.
Owned by ESPN Events, the event is named for legendary UCLA coach John Wooden and was created in 2013, when the Wooden Classic merged with the Anaheim Classic.
It has been an eight-team tournament in the past but will trimmed down to four teams beginning next season.
Up next
After spending Thanksgiving in Hawaii, the Jayhawks will make the long trip home on Friday, with plenty of time to rest and recover in their immediate futures.
Kansas does not play again until Dec. 7, when former conference foe Colorado comes to Allen Fieldhouse for a 6 p.m. tipoff on ESPN2.
KU and CU were members of the Big Seven, Big Eight and Big 12 conferences before the Buffs moved to the Pac-12 in 2012.
The series, which KU leads 123-40 all-time, dates back to 1931 and includes a 62-7 Kansas advantage in games played in Allen Fieldhouse.
Colorado is coached by former Kansas forward Tad Boyle, who played for the Jayhawks from 1982-85 under both Ted Owens and Larry Brown.
Boyle is in his 10th season with CU and has the Buffs out to a 5-0 start and ranked 21st in the country.
This and that...
KU's victory Wednesday improved the Jayhawks to 18-6 all-time in the Maui Invitational, including a 16-6 mark at Lahaina Civic Center and 3-1 in title games... KU leads the all-time series with Dayton 2-1... Kansas is now 6-1 or better for the eighth consecutive season and for the 15th time in the 17-year Self era... The Jayhawks have won six consecutive Maui Invitational games and 14 consecutive in-season tournament contests... Self is now 479-107 while at Kansas and 686-212 for his career.