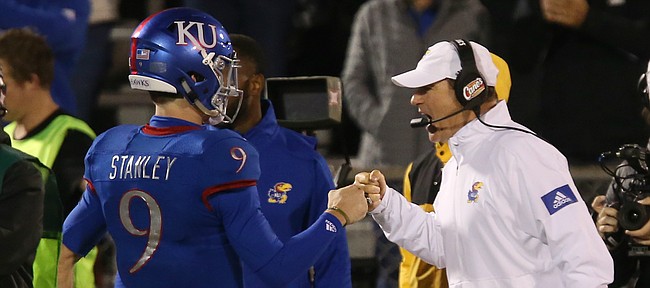 Just more than a year ago, Les Miles took over the Kansas football program. And once he moved into his office and hit the ground running the new head coach had to make sure the program's veteran leaders were on board with him.
To hear Miles describe it this week, ahead of KU's Senior Day and season finale versus No. 11 Baylor, that might have been the easiest part of his transition.
The former LSU and Oklahoma State head coach estimated it was about his third day around the Jayhawks that he thought elder statesmen such as Hakeem Adeniji, Carter Stanley and Bryce Torneden had totally bought in to his plan for the program.
Miles recalled Adeniji, now a four-year starter on the offensive line, smiling and wrapping his arm around the new KU coach.
"Hey, we've got you," Miles shared of Adeniji's message. "Let's go."
Relationships forged after coaching changes can be tricky, especially for players who will only spend one year under the new staff members. But Miles made a point to never treat the players he inherited from the previous regime as leftovers or afterthoughts.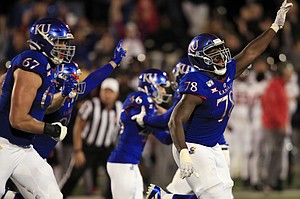 "The senior class is my senior class," Miles said during his final weekly press conference of the season. "The relationships of the people that I have met and enjoyed on this team will be for a lifetime. I expect that we'll communicate often."
According to Adeniji, who, like much of KU's senior class, was recruited by former KU coach David Beaty and/or assistants who no longer work for the program, they bought in to Miles and his direction because of "great leaders" in that group, such as Mike Lee, Torneden, Hasan Defense and Stanley.
"Guys that are willing to do a lot of things for each other, and set a goal that we wanted to accomplish," Adeniji said. "Unfortunately, a lot of the things that we wanted to accomplish on the field we weren't able to get done, but we'll still look back on our time here and see how many great moments we had together."
As Adeniji referenced, the path traveled by KU's seniors hasn't always been pleasant. Before Miles took over the Jayhawks went a combined 6-30 during the final three seasons of the Beaty era. Plus, KU enters its final game of 2019 with a 3-8 mark overall and a 1-7 record in the Big 12.
"It's a very resilient group," Stanley said. "And it's some very good football players, but just incredible people. We've been through a lot in our four to five years here and just a whole lot of adversity, and these guys are just incredible men and there's no other group that I'd want to go out with."
The hope for senior contributors such as Stanley, Adeniji, Defense, Lee, Torneden, Daylon Charlot, Andru Tovi and others is that their final year will be one that helps KU football turn a corner.
"This season it may not look like it in the win and loss columns," Stanley said, "but this program has made tremendous strides. There's everyone in this building that believes – players, coaches, staff members — and I think this this senior class has certainly laid a foundation."
A starting cornerback, Defense is glad to be able to say he played for Miles, describing his final college season as both "cool" and a "blessing."
Since Miles walked in the door about a year ago, Defense said a lot has changed within the program. Defense said players now are noticeably more focused than they were a year ago, and he added that's because there is a feeling of stability.
The senior corner said as a result the Jayhawks are more locked in than they were before Miles took over.
"Before people wanted to win but they didn't want to do what needs to be done to win," Defense explained. "Now you can honestly see people are dedicated. They're working hard. Our (scout team players) are giving us good looks, because they know they're up next. You can just feel it. It's more of a business and everybody being professional. It's going in the right direction and that's what I like about it."
Added Defense: "It's not just friendships and play all day. It's friendships and business. That's the type of bonds we need around here."
On Saturday (2:30 p.m., ESPN) the seniors will suit up for KU one last time. Their day will involve a pregame ceremony as well as the challenge of facing No. 11 Baylor (10-1, 7-1).
"I feel like everything's going to hit me after the game," senior safety Mike Lee said. "Before the game it's going to be an in the moment thing. Probably show some emotions — I don't know."
Adeniji expects he'll shed some tears as the KU seniors are honored on the field prior to kickoff. And he said they will come in large part from a place of joy, because he has "loved" playing his final KU season for Miles.
"It's been nothing short of a blessing," Adeniji said. "Coach Miles, just the person he is, the coach he has been, I've learned so much form him. If I could I'd come back and do another four years. That's my guy and that's going to be my guy for the foreseeable future."
Miles called his first group of KU seniors "great" people.
"They're quality leaders. They have made a difference, there's no question," Miles said. "They have changed the culture. It is work hard and smile doing it. I enjoy their company very much."