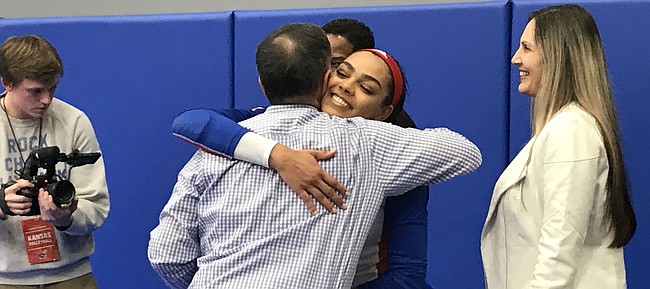 Sending its veterans out on a high note, Kansas volleyball on Wednesday celebrated senior night with a 3-2 (25-14, 25-23, 25-22, 26-24, 15-12) victory over Iowa State.
"Really happy for the resolve that these girls showed tonight and the plays they made down the stretch," KU coach Ray Bechard said. "It was a big deal."
Before the match, four KU seniors — Libero Allie Nelson, middle blocker Zoe Hill, outside hitter Ashley Smith and libero Jacqui Mostrom — were recognized for the Jayhawks' senior night. Iowa State senior Josie Herbst was also recognized as it was her last match at Horejsi Family Volleyball Arena as well.
"We've been through everything under the sun," Nelson said. "College volleyball is hard, man. Getting the chance to celebrate with them is so unreal. I love them so much."
As for the match itself, it came down to pure resilience for KU as the Jayhawks had to overcome a 2-0 match lead from Iowa State.
The first set started out tightly contested — a theme that would last throughout the match. Both the Jayhawks and Cyclones traded points to an 8-8 tie before Iowa State jumped out to a 12-8 lead, forcing a KU timeout.
At this point in the set, there were eight ties and two lead changes. But Iowa State turned the corner and continued to stretch the lead. Once the lead stretched past 8 points, the Cyclones were able to close it out for a 25-14 set victory.
The second set proved to be even more of a slugfest, with 17 ties and eight lead changes. Once again both sides traded points, but this time it was the Jayhawks who were able to find an advantage early on.
KU jumped out to a 15-14 lead over Iowa State, forcing a timeout from the Cyclones. This stretched to a 20-15 lead thanks to a 6-1 run from the Jayhawks, with momentum steadily building for KU.
However, the Cyclones fought back to cut the Jayhawks' lead to 20-18, forcing another timeout from Bechard. And once Iowa State regained the lead at 21-20, KU was once again forced back to the drawing board.
Finally, a service ace from Iowa State freshman Michal Schuler proved to be the difference and secured the 25-23 set victory and 2-0 match lead for the Cyclones.
"(At that point) I'm just saying, 'We're down 2-0, let's see what we're made of," Bechard said. "'Are we going to stick our nose right back in there and stay true to our training?' And they did."
The Jayhawks still put up a fight, though, as an early 11-9 KU lead in the third set forced an Iowa State timeout. KU extended that to a 19-16 lead, albeit with some controversy.
An attack error from Iowa State junior Candelaria Herrera was challenged by Iowa State but was ultimately upheld after a long discussion between the Cyclones' coaching staff and the referee.
Regardless of that ruling, Iowa State did manage to tie the set back up at 19, leaving the Cyclones within striking distance. But the Jayhawks had just enough to take the third set 25-22, thanks to a kill by freshman outside hitter Morgan Christon.
The momentum kept building into the fourth set, as KU stormed to a 20-12 lead. But once Iowa State went on an 8-1 run to cut the lead to 21-20, the Jayhawks had to regroup once again.
But KU rallied, and an attack error from Schuler secured the fourth set for KU 26-24. And, more importantly, tied the match at 2.
"We don't give up," Nelson said. "We've had an up-and-down season, obviously, but right now we're in a mode where we're going straight up. And it's great to see."
That momentum carried on through to the decisive fifth set, as KU held on for a 15-12 victory and sealed the come-from-behind win.
"I just think we're moving in a really good direction," Bechard said. "A win against a really, really good team late in the year speaks well of the direction we're trying to go. And how bought in this team is."
After playing in her final home match, Nelson said she's grateful for the opportunity to represent KU volleyball.
"These have been the best four years of my life," Nelson said. "I've gained so many sisters, best friends, bridesmaids. I would not trade this for the world."
KU will finish the regular season with a road match against West Virginia on Saturday.