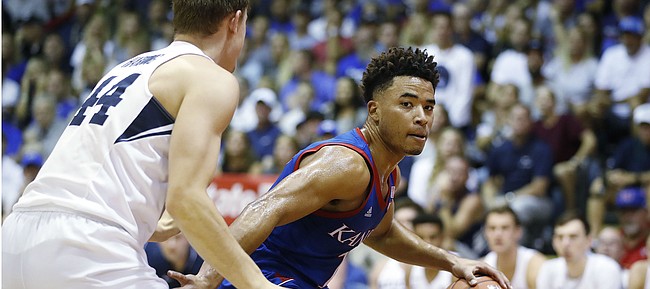 No. 4 Kansas will be playing for a tournament title on Wednesday.
Behind a strong defensive performance, KU secured a 71-56 win over BYU during the semifinals of the Maui Invitational Tuesday night at Lahaina Civic Center in Maui, Hawaii. The Cougars, who were coming off a 78-63 win over UCLA, were unable to get much going offensively against the Jayhawks.
With the win, Kansas notched its fifth victory in a row since falling to Duke in the Champions Classic to start the 2019-20 campaign. The Jayhawks, who won the Maui Invitational in 1996 and 2015, are now 17-6 in the history of this event.
KU will now face Dayton (5-0) in the championship game, which is slated to begin at 4 p.m. Wednesday. BYU (4-3) will take on Virginia Tech in the third-place game, which will start at 10:30 p.m. on Wednesday.
Here's a quick look back at some of the action:
• The game turned when: A 9-0 run in the second half gave the Jayhawks all the cushion that they would need.
David McCormack started things off with a dunk at the 17:39 mark, giving KU a 35-31 advantage. Marcus Garrett then drilled a 3-pointer a couple minutes later. After a free throw by Udoka Azubuike, Kansas added three more points on a triple by Ochai Agbaji.
The stretch gave Kansas a 42-31 lead by the 14:04 mark in the second half, and the Jayhawks were in control for the most part after that.
• One highlight: No amount of words will do this sequence justice, but let's give it a shot.
Starting center Udoka Azubuike was forced to guard along the perimeter, as he went out to block the a 3-point attempt by TJ Haws. The BYU senior paused to draw contact when he noticed the 7-foot Jayhawk flying toward him.
Azubuike ended up with the ball near midcourt, and he was off to the races after that. He finished the sequence off with a ferocious breakaway slam in transition.
• Key stat: KU's size didn't prove to be much of an advantage in the first half.
In fact, Kansas and BYU didn't have a single second-chance basket in the first 20 minutes of action. Azubuike, who was three inches taller than any BYU player that saw the floor, attempted just three shots in 14 minutes during the first half.
Azubuike was visibly frustrated with the lack of post-entry passes early, and that has been a problem for KU's offense amid this four-guard vs. two-post conundrum that has been a major talking point so far this year.
But that changed in the second half, as Kansas found a way to get the posts more involved. BYU never had a chance once the Jayhawks made a concerted effort to get their big guys more opportunities.
• Up next: Kansas will face Dayton in the championship game at 4 p.m. Wednesday. Dayton earned an 89-62 win over Virginia Tech in the semifinals just before KU's win over BYU.https://www.youtube.com/watch?v=S-Urk...