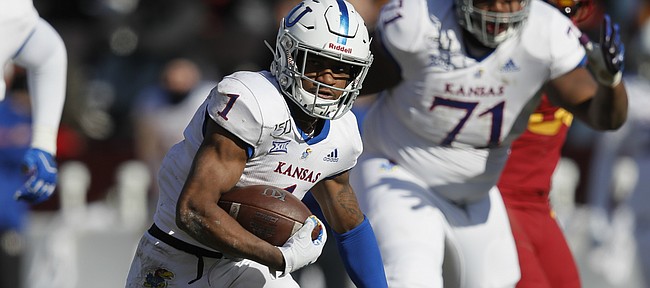 Head coach Les Miles couldn't say that he personally saw his Kansas football team's star running back grow frustrated when the Jayhawks could not get Pooka Williams on track three games in a row.
"I could understand it though," Miles conceded.
KU's preseason All-Big 12 rusher wouldn't be impeded for a fourth consecutive outing, however.
After a three-game span during which he totaled 156 yards on 47 rushing attempts (3.3 yards per carry), Williams sprinted out of KU's run game slump at Iowa State, putting up 154 yards on 19 rushes.
The chunk plays that have earned him recognition through his first couple of seasons at KU were nonexistent in the three games leading up to the Jayhawks' loss at ISU. But against the Cyclones, Williams delivered his best individual plays since KU's near upset win at Texas. Williams rushed for gains of 48 and 33 yards at ISU, and also hauled in passes of 27 and 25 yards.
A third of the running back's 12 plays of 20 or more yards this season came at Iowa State.
Miles said after KU's road finale that Williams was healthier in the team's 11th game than he was in some previous weeks.
Still, Williams, who has rushed for 945 yards and three touchdowns and caught 24 passes for 187 yards and two TDs this season, said other factors accounted for him producing at a higher level.
"The O-line, receivers and coaches," Williams said deserved credit. "There was great play-calling all day and we executed all our plays."
Kansas senior QB Carter Stanley, too, pointed to the offensive linemen and their blocking for a return to normalcy with the run game. KU had totaled 112 yards as a team on the ground in a win over Texas Tech, just 61 yards against K-State and 39 at Oklahoma State, before netting 165 yards on 32 carries at ISU.
"It starts up front," Stanley said. "They opened up some great holes for him and that's where you get to see Pooka Williams be Pooka Williams. So he he did some incredible things today. And that's what we've got to get out of him."
Miles described Williams as both "unselfish" and a "team guy," while explaining how the sophomore running back from Louisiana handled a few rough weeks.
"When he's getting the ball and he's getting yards, it makes a difference," Miles said, "and it makes a difference to the team and makes a difference to him."
The former Oklahoma State and LSU coach had some more enlightening praise for Williams when asked to assess the back's season overall.
"All you need to do is watch Pooka run one run and you realize that he's a special individual," Miles said.
"Everybody says he's got a quick first step. His change of direction is better than I have ever seen," Miles went on. "You know, his strengths are speed and change of direction. ... I don't know that he's just not one of the best backs at those two criteria that I have been around."
With one game left to play this season — 2:30 p.m. Saturday versus No. 11 Baylor (ESPN) — Williams already has rushed for 2,000 yards in his career. He could top the 1,000-yard mark for the second year in a row with 55 rushing yards against the Bears.
"My mindset and the team's mindset is really finishing," Williams said. "We need to be consistent in finishing and showing we can compete with anybody."