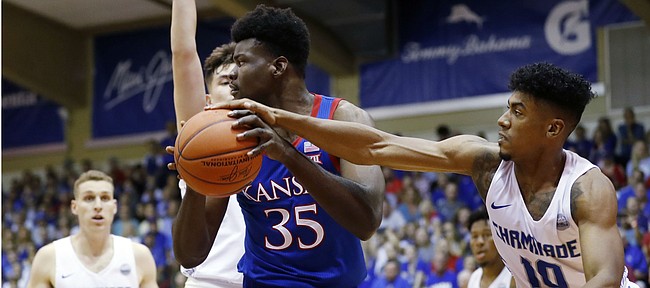 Lahaina, Hawaii — Sometimes advancement in any given tournament is as simple as the luck of the draw.
That was crystal clear on Monday in Maui, where No. 3 Michigan State dropped a 71-66, first round decision to Virginia Tech and No. 4 Kansas rolled into today's semifinals with a 93-63 victory over Division II Chaminade.
"Well, I've said this for 20 years; upsets happen," Michigan State coach Tom Izzo began in his postgame meeting with the media. "That's no insult to (Virginia Tech), but it is an upset. … I thought they played harder than us and better than us."
With that, the potential meeting of Top 5 teams in Wednesday's championship game was eliminated.
But Kansas coach Bill Self had no issue with catching the more fortunate matchup in the Round 1 pairings this year.
"I don't mind it at all," said Self, when asked if he, like other coaches in the past, would rather not have faced the lower-level team because such a matchup does nothing for a team's RPI and strength of schedule. "I think coaches like to get the Division I win, as much as anything, if they win or to get the opportunity to get one. But, in this situation, our schedule's plenty tough. I don't think it's going to help or hurt either way."
That was as long as the Jayhawks (4-1) took care of business. And Self was aware of that, as well.
"Now, (it would have crushed us) if we (weren't) successful," he said. "But I don't think it hurts us at all."
Chaminade is now 8-93 in 35 years at the Maui Invitational, including 4-31 in the opening round.
No Wilson
Kansas freshman Jalen Wilson, who broke his left ankle within 30 seconds of checking into the Jayhawks' 74-62 win over UNC Greensboro on Nov. 8 at Allen Fieldhouse, did not make the trip to Maui with the team.
Wilson, who had surgery a couple of days after suffering the injury, instead went back home to Denton, Texas, where he plans to spend the Thanksgiving break with his family.
Wilson's injury, which is expected to keep the 6-foot-8 forward sidelined until at least February, has made it easier for Self to manage a clear rotation behind his starting five of Devon Dotson, Ochai Agbaji, Marcus Garrett, David McCormack and Udoka Azubuike.
Self said this week that one thing he hopes to get out of this trip to Maui is a strong three-day performance from reserves Isaiah Moss, Tristan Enaruna, Silvio De Sousa and Christian Braun.
"I would love to see us be able to go nine deep and have confidence in those nine," Self explained. "Because you're not going to win the tournament playing six guys."
KU history in Maui
The Jayhawks are appearing in their seventh Maui Invitational Classic and fourth under current KU coach Bill Self, who also brought the Jayhawks to the islands in 2005 (seventh), 2011 (second) and 2015 (first).
KU's first appearance in the iconic event came in 1987. A few months before winning the NCAA Tournament, Danny Manning and the Jayhawks took fourth in Maui with a 1-2 record.
In 1996, Kansas won the Maui Invitational, defeating LSU, California and Virginia. Former KU great Raef LaFrentz was named the tourney MVP.
The Jayhawks finished third at the event during their next trip in 2001, when Drew Gooden earned all-tournament team honors and helped lead Kansas to a 2-1 record.
Thomas Robinson (2011), Wayne Selden Jr. (2015) and Frank Mason III (2015) and Perry Ellis (2015) were also named to the all-tourney team during their respective appearances, with Selden and Mason earning co-MVP honors.
KU stays at 4th in AP poll
There was not a much movement at the top of the polls this week, with the top four teams retaining their rankings from last week.
That included Kansas, which remained at No. 4 when the new poll was released Monday, and Michigan State, which held strong at No. 3. Duke and Louisville remained 1-2 in this week's poll. In fact, the only change in the top 16 spots in this week's poll was at No. 5 and No. 6, where Maryland jumped one spot to fifth and flip-flopped spots with North Carolina.
Three Big 12 teams are ranked in this week's Top 25 (Texas Tech is 12th and Baylor 19th) and Colorado, KU's first opponent after the Maui Invitational (Dec. 7 in Lawrence) jumped two spots to No. 21.
This and that...
KU's victory over Chaminade improved the Jayhawks to 4-0 all-time against the Silverswords, with all four wins coming at the Maui Invitational... Kansas is now 13-6 in games played in Maui and has won four in a row dating back to 2015... The Jayhawks are now 4-1 or better for the eighth consecutive season and 15th time in Self's 17 seasons in charge... Monday's victory helped the Jayhawks continue their roll in in-season tournaments, where Kansas now has won 12 consecutive games... Sophomore forward David McCormack was in the starting lineup at the 4 spot for the fourth time in five games this season during Monday's win.
---
Correction: A previous version of this story misstated which year the Jayhawks first played in Maui. Danny Manning and the Jayhawks played in November 1987.