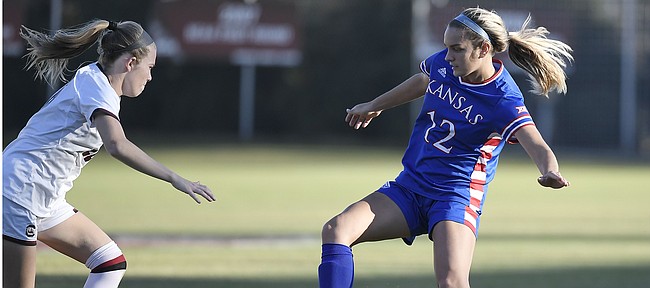 It didn't end the way the Jayhawks had hoped, but 2019 will always be a special season for the Kansas women's soccer program.
No. 11 Kansas surrendered a pair of second-half goals in a 2-0 defeat at No. 5 South Carolina during the Sweet 16. KU's season came to an end at 17-5-3, which was just one win shy from tying the all-time program record in wins and earning its first trip to the Elite Eight.
Yet the message after the game was about focusing on what the Jayhawks had accomplished this year, rather than the way it all ended at Stone Stadium in Columbia, S.C., on Sunday.
"I know this is a tough loss. South Carolina is a very, very good team," senior Katie McClure told the Journal-World in a phone interview after the season-ending defeat. "But this team has done so much. In the long run, I think we look at the positives and the history that was made by winning the Big 12 Tournament for the first time and just the standard that we set for the returners."
McClure, who recorded a hat trick in the team's 3-0 win over Xavier just two days earlier, discovered how tough it is to score on South Carolina. Kansas posted a 6-4 shot advantage in the first half, while also coming up short on three corner attempts during a scoreless first half.
South Carolina finished with four saves, denying all four of KU's shots on goal, in the win. The Gamecocks finished with 13 shots, including eight attempts on goal. KU couldn't convert on any of its five corner chances.
The Gamecock notched their seventh consecutive shutout on Sunday, as they haven't given up a goal since Oct. 27.
"They are very, very good," McClure said. "You are not going to get 10-12 opportunities on a team like this; you are only going to get about two or three. We couldn't finish our opportunities."
South Carolina ended the scoring drought in the 62nd minute on a free kick. Grace Fisk scored on the assist by Lauren Chang. The Gamecocks then created some cushion on a goal by Riley Tanner, who beat a pair of KU defenders on her way to a score in the 75th minute.
Kansas goalkeeper Sarah Peters finished with six saves in the loss. Ceri Holland led the Jayhawks with three shots on goal, while McClure finished with two.
In the end, the loss ended an impressive run by the Jayhawks. It snapped an 11-match unbeaten streak, a new program record, which also included the team capturing its first-ever Big 12 Championship title.
Sunday also served as the final match for seven seniors: McClure, defenders Madison Meador, Addisyn Merrick and Elise Reina, forwards Eva Elíasdóttir and Mandi Duggan and midfielder Sophie Maierhofer.
"I think our girls had the strongest relationships on our team," McClure said. "I think you could tell the way we played for each other and just trusted each other. I think that's the biggest takeaway, just our relationships on and off the field were so strong."