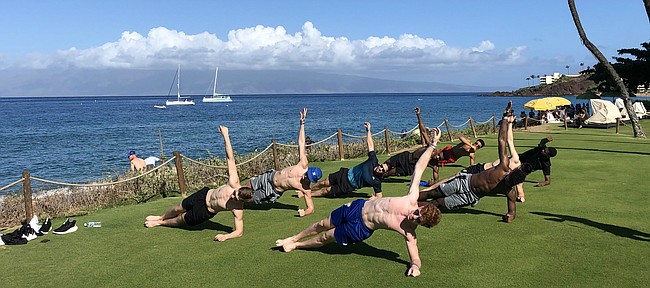 Lahaina, Hawaii — Saturday night, after an "exhausting" day of snorkeling, sight-seeing, practice and family adventure, Kansas basketball coach Bill Self declared the fun part of fourth-ranked KU's escape to Maui finished.
But by 9 a.m. the next day, a handful of Jayhawks found a unique way to blend fun and business by going through a 45-minute beach workout with new strength coach Ramsey Nijem.
Running through everything from dynamic stretching and yoga to explosive jump training and recovery, eight Jayhawks made their way through the morning workout in the glistening sun with the ocean and beach as their back drop and an ever-increasing group of KU fans stopping to watch them work.
While Sunday's arrival brought about the regular portion of KU's game routine, Self said it was important to let his players have a little fun Friday after they arrived and again on Saturday.
"A week is too long to stay locked in," Self said Sunday morning. "So our locked in will be four days. I didn't want them to think about basketball. I didn't want them to think about Chaminade (Saturday) because that's not how our normal routine works. We can work on things in practice, but our normal routine is the day before the game this is exactly how we do it and I want to keep it as a normal routine."
Sunday's workout was optional and featured a way for several members of the squad to soak in some of the island vibe during their busiest prep day of the week.
After the workout, the Jayhawks who weren't already resting went back to their rooms to get some rest before an afternoon practice at Lahaina Civic Center, site of Monday's 8 p.m. clash with Chaminade.
"Just like a conference tournament, you have to pick and choose when you go," Self explained. "And you've got to stay off your feet as much as possible, which is harder to do in Maui than it is in Kansas City."
With that said, Self added that he, too, was soaking up the experience of seeing his players go through the Maui experience for the first time.
Even Self's granddaughter, Ella, made her first trip to Maui to root on grandpa's team.
"I'm enjoying this," Self said. "There's firsts all around us. I actually enjoy taking our team places where they can get away from everything else. … Even though people say there's distractions here, there's more distractions playing at the Garden in New York City. You've got Kevin Durant sitting in the first row. You've got 56 tickets to go around amongst your players and you need 71. … I think there won't be any type of that stuff. Here, I think you just go play."
Self on Chaminade
Self on Sunday made no secret about how he felt about his Round 1 opponent.
"They're a lot better than the (Chaminade) teams we've played over here in the past," he said. "They're capable of giving us a hard time."
There were a couple of reasons Self believed that, and one of them was the Silverswords' unselfish nature.
"They're a tremendous passing team," Self said. "And I'm not just saying that. They got 30 and 28 assists in their first two games, and they make the extra pass. They really play the right way."
Part of the reason for that is the experience on head coach Eric Bovaird's squad. In addition to several upperclassmen filling the rotation, Chaminade has a handful of players who started their careers at Division I programs, including senior point guard Kendall Small, who played his freshman season at Oregon.
"He's got guys who have been around and played against some quality competition," Self said. "It should be a fun game, but certainly isn't one we can overlook."
Travel trouble for the home team?
While the Jayhawks made all of their connections to get to Maui with ease on Friday, the host school, Chaminade, needed 10 hours to make its trek from nearby Oahu.
What should have been a 30-minute plane ride turned into a wild wait, with the team loaded up on the plane and waiting on the tarmac while mechanical issues were addressed.
"I was thinking I should've called a buddy and loaded everyone up in a boat instead," joked Bovaird, who said everyone in his camp was in good spirits by Sunday morning despite the delay.
As for how the travel trouble impacted his team's chances, Bovaird said the mishap did nothing to change his young children's opinion of who will win tonight's game.
"That's a prediction by my kids," Bovaird said of the Chaminade pick by his daughter, Jane, and sons Brooks and Blaine. "But not necessarily their dad. Let's make that clear."
Told of the prediction, Self joked that his 2-year-old granddaughter Ella probably would pick the Jayhawks to beat the Boston Celtics.
Early competition
Self and local elementary school student JC Villa teamed up to make four of six shots in the charity free throw contest after Sunday morning's press conference.
Villa, who made all three of his attempts after the practice shot, watched Self make just one of his three to take the duo out of the running for the title.
UCLA coach Mick Cronin and Mason Teraoka won the event, breaking a four-way tie after regulation by draining both sudden-death free throws in the shoot off.
On Saturday night, at the team festivities after the luau, Michigan State won the team cornhole championship.
"Getting all the coaches together and the teams (Saturday) night, I think it does pump some energy into this," Self said.