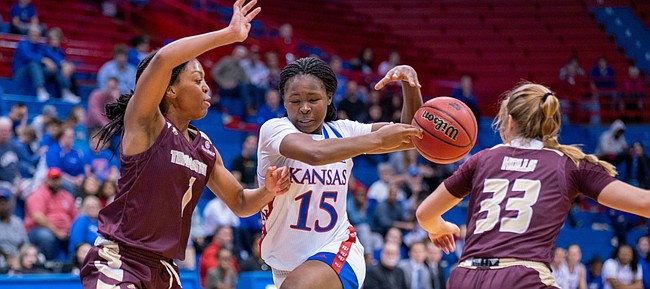 Senior forward Mariane De Carvalho stepped into a 3-pointer with under a minute to go, stretching the Kansas lead to 20 and putting an exclamation point on what proved to be a more stressful game than anticipated.
While KU women's basketball defeated Texas State 68-48 Sunday, the final score doesn't quite indicate how close this game truly was for the first three quarters.
The Jayhawks did heat up early, though, particularly De Carvalho. The senior scored 8 of KU's first 11 points and jump-started the Jayhawks' offense. De Carvahlo finished with 19 points.
"I think, especially in the beginning, that was something I wanted to work on," De Carvalho said. "(In) past games, I've been starting not as good as I've wanted to."
It also helped that KU finished the half shooting 5-of-8 from 3-point range, with De Carvalho hitting two in the first quarter.
And while the Jayhawks' lead eventually ballooned to 25-10 midway through the first quarter, Texas State wouldn't go down without a fight. The Bobcats cut the lead to 25-17 at the end of the first quarter, led by sophomore guard Kennedy Taylor. Taylor scored 14 points, all in the first half.
A quick 5-0 run from Texas State at the beginning of the second quarter cut that KU lead even further down to 25-22. All of a sudden, KU cooled off from outside and missed layups started to catch up to the Jayhawks.
"Part of that was them playing better and part of that was us getting out of character and not being near as disciplined defensively as what we started the game," KU coach Brandon Schneider said.
Despite this, the Jayhawks did manage to stretch the lead back out to 33-22 thanks to free throws from freshmen guards Holly Kersgieter and Zakiyah Franklin, as well as a contested layup from junior forward Tina Stephens.
The Bobcats bounced back once again, though, with an 8-0 run to cut the lead to 33-30 at halftime.
Texas State also shot 13-of-32 from the field in the first half, with KU shooting 11-of-29. Every time KU started to feel comfortable in the first half, Texas State was right there to hit another 3-pointer or get a contested layup to go.
This was certainly the case immediately after halftime, too, as a steal and layup from sophomore guard Aniya Thomas was countered with a jumper from Texas State forward Da'Nasia Hood.
But the Jayhawks settled back in shortly after that sequence, jumping out to an 8-0 run thanks to a few fast-break opportunities. All of a sudden, KU stretched its lead back out to 43-32 midway through the third quarter.
"I thought we played tougher," Schneider said of KU's second-half performance. "We really wanted to try to take control of the game on the defensive end."
After a layup in transition from Kersgieter to extend the lead to 48-34, Texas State was forced to call a timeout to regroup.
"Obviously if it's a good game, it's going to go back-and-forth," Kersgieter said. "But it comes to a point where you have to take control and not let it get too close. We just had to kind of put our foot down."
For the first time all game, KU was able to hold on to a double-digit lead, as the Jayhawks held a 52-40 lead at the end of the third quarter. The main drawback heading into the fourth quarter, though, was that Stephens (three) and junior center Bailey Helgren (four) were in foul trouble.
"I think (me playing the five-spot) is something we work on in practice because it's a very common scenario," De Carvalho said. "So I was comfortable doing it."
However, the guard play of KU proved to be enough to stay the course and secure the victory for the Jayhawks.
While it wasn't their highest-scoring quarter, the Jayhawks finally managed to maintain the double-digit lead throughout the fourth quarter. KU outscored Texas State 17-9 in the final quarter, and the Jayhawks shot 15-of-31 from the field in the second half.
Even though at times Schneider felt KU was either out of position or lacked discipline on defense, he was still proud of the Jayhawks' efforts on both ends.
"All night, I was pretty proud of how we defended their front-line guys," Schneider said. "We knew that that was going to be a challenge."
KU will next face Wright State at the FAU Thanksgiving Tournament on Friday.