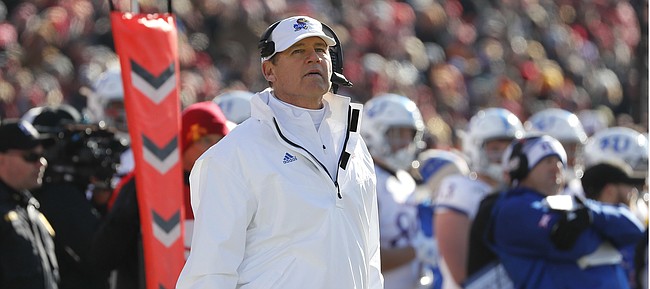 Kansas traded punches with Iowa State down the stretch, but ultimately suffered a 41-31 loss Saturday afternoon at Jack Trice Stadium. The Jayhawks claimed a lead on two different drives in the final 16 minutes, though it was unable to hang on for what would have been the team's first road win in Big 12 play since 2008.
The Jayhawks fall to 3-8, including 1-7 in Big 12 play, with one game left during Les Miles' first year at the helm. Iowa State improved to 7-4, including a 5-3 clip against conference foes. The Cyclones have now won nine of their last 10 meetings with the Jayhawks, including five in a row.
Considering the previous two games against Kansas State and Oklahoma State, it was an impressive performance by KU. The offense came alive once again, finishing with 493 yards of total offense. The Jayhawks even had to settle for three field goals in the first half, which led to a 14-9 deficit at the intermission.
Leading 34-31 with 1:09 remaining, Iowa State went for it on fourth down on the KU's 4-yard line. ISU quarterback Brock Purdy threw a 4-yard touchdown pass to Sean Shaw to give the Cyclones a 41-31 advantage.
Here's a quick look back at some of the action:
• The game turned when: When the Jayhawks took their first lead on the road.
It set the stage for a thrilling finish between conference foes. Out of the I-Formation, KU quarterback Carter Stanley faked the handoff and rolled to his right. He hit Spencer Roe, who is from Lawrence Free State, for a 2-yard touchdown connection.
The score gave the Jayhawks a 24-21 advantage with 13 seconds remaining in the third quarter. Iowa State answered, but Kansas responded right back as well. ISU eventually claimed a 34-31 lead with 5:10 remaining on a 5-yard touchdown run by ISU quarterback Brock Purdy.
• Offensive highlight: This game featured a number of Pooka plays.
KU's sophomore running back piled up 121 yards on 11 carries in the first half alone. He broke free for multiple explosive runs as well. His longest run came on a 48-yard gain on a play that started deep in KU territory.
Williams had to hesitate to find an open running lane, but was able to dart through the Iowa State defense for a big play.
Later in the game, Carter Stanley delivered a touchdown strike to Stephon Robinson that was also worthy of a mention in the offensive highlight section. Stanley hit Robinson in stride, as he got behind the ISU secondary for the go-ahead score in the final quarter.
• Defensive highlight: All things considered, KU's defense turned in another solid effort this weekend.
That was evident from the start, when Kansas forced Iowa State into a pair of three-and-outs on the first two possessions. It allowed the Jayhawks to take a 3-0 advantage, which marked the second time that they led out of the gate during Big 12 play.
For comparison, Iowa State ranked second in the Big 12 in scoring during league play entering this weekend.
But the top defensive play occurred In the second half, when Mike Lee notched KU's first takeaway of the day off a tipped pass by Jay Dineen. Stanley threw a touchdown pass to Roe just four plays later.
• Up next: Kansas will play host to Baylor in the final game of the 2019 campaign.
SCORING SUMMARY
FIRST QUARTER
6:25 — Liam Jones 36 field goal. Ten-play drive for 40 yards, in 3:19. (KU 3, ISU 0.)
3:44 — La'Michael Pettway 25 pass from Brock Purdy. Connor Assalley kick. Five-play drive for 75 yards, in 2:41. (ISU 7, KU 3.)
0:49 — Jones 37 field goal. Eight-play drive for 49 yards, in 2:49. (ISU 7, KU 6.)
SECOND QUARTER
3:44 — Breece Hall 1 run. Assalley kick. Fifteen-play drive for 80 yards, in 6:04. (ISU 14, KU 6.)
0:10 — Jones 30 field goal. Ten-play drive for 85 yards, in 1:26. (ISU 14, KU 9.)
THIRD QUARTER
11:12 — Pettway 4 pass from Purdy. Assalley kick. Eight-play drive for 59 yards, in 2:46. (ISU 21, KU 9.)
1:30 — Pooka Williams 27 pass form Carter Stanley. Jones kick. Ten-play drive for 62 yards, in 2:59. (ISU 21, KU 16.)
0:13 — Spencer Roe 2 pass from Stanley. Parchment pass from Stanley. Four-play drive for 38 yards, in 1:10. (KU 24, ISU 21.)
FOURTH QUARTER
13:42 — Hall 24 pass from Purdy. Assalley kick blocked. Four-play drive for 57 yards, in 1:21. (ISU 27, KU 24.)
10:42 — Stephon Robinson 40 pass from Stanley. Jones kick. Seven-play drive for 73 yards, in 2:54. (KU 31, ISU 27.)
5:10 — Purdy 5 run. Assalley kick. Nine-play drive for 71 yards, in 5:27. (ISU 34, KU 31.)
1:09 — Sean Shaw 4 pass from Purdy. Assalley kick good. Seven-play drive for 37 yards, in 3:05. (ISU 41, KU 31)