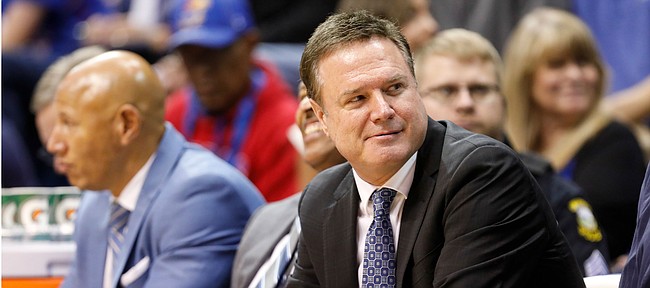 Paradise aside, Kansas coach Bill Self is looking forward to KU's run in the upcoming Maui Invitational simply because he enjoys the format so much.
Three games in three days. An early-season event that feels like March. And fans from all eight programs on the islands packing the 2,400-seat Lahaina Civic Center morning, noon and night to cheer on their teams and enjoy some high-energy, high-exposure college basketball.
"I just think it's fun and cool," Self said this week before departing for Hawaii. "Whenever you get eight teams together and you've got a small venue and you're sharing locker rooms. … We're sharing the same locker room as the team that plays before us, and they're sharing the same one as the team that plays after us."
The Jayhawks arrived in Maui on Friday and will tip off in the event at 8 p.m. Monday against host school Chaminade. The winner will play at 9:30 p.m. Tuesday against the winner of the Monday matchup between BYU and UCLA.
Although their team hotel will overlook the ocean and the sights and sounds of the tropics will be all around them, Self and his players referred to this journey as a business trip.
"You may think, 'Well Maui, there's a lot going on,'" Self said. "But there won't be a lot going on Monday, Tuesday and Wednesday and really Sunday. All that's going on will be preparing to play. I don't think the distraction bit will be near as great as what some people think."
Competing in the event for the fourth time in his 17-year Kansas career — KU won it in 2015, finished second in 2011 and took seventh in 2005 — Self said this year's field was as tough as any of the others he had faced.
"I think it's terrific again," Self said of the field that includes Dayton, Georgia, Michigan State and Virginia Tech on the opposite side of the bracket. "It's a good field, and I'm certainly looking forward to it."
While his attention thus far has been on Chaminade, BYU and UCLA, Self said he, and others, were well aware of the potential championship matchup that looms between No. 4 Kansas and No. 3 Michigan State in the final on Wednesday if both teams win their first two games.
"Most people will point to Michigan State because they're rated so high," Self noted. "But it's a great field," Self explained.
UCLA enters the tournament at 4-1, with wins over Long Beach State, UC Santa Barbara, UNLV and Southern Utah. The Bruins lost their most recent game, 88-78, to Hofstra at home on Thursday.
"(First-year UCLA coach) Mick (Cronin) has got them off to a fast start," Self said when looking ahead to potential KU opponents.
BYU arrives in Maui with a 3-2 record, with wins over Cal State Fullerton, Southern Utah and former Jayhawk Quentin Grimes and Houston. The Cougars' two losses came to San Diego State and to Boise State, in a game that Self described as "a heartbreaker."
Monday's opponent, host school Chaminade, is 2-0, with a pair of wins over Alaska schools, 90-64 and 85-56. Chaminade also faced Hawaii in an exhibition game to open the 2019-20 season.
Kansas is 3-0 all-time against Chaminade, with all three victories coming at the Maui Invitational, two of them (2005 and 2015) under Self.
KU's average margin of victory in those three meetings is 42 points (105-63), and the Jayhawks' most recent clash with the Silverswords resulted in a 123-72 win in 2015.
There is just one loss total on the other side of the bracket, with Virginia Tech and new head coach Mike Young (who coached against KU in Allen Fieldhouse with Wofford last season) out to a 5-0 start, Dayton is 3-0, Tom Crean's Georgia Bulldogs at 4-0 and Tom Izzo's Michigan State squad at 3-1, with the Spartans' only loss coming to Kentucky in the Champions Classic.
Kansas owns an all-time record of 26-19 against the seven other schools that will be represented in Maui. The Jayhawks have never faced Virginia Tech and are 7-7 all-time against Michigan State.
UCLA is the only team in the field with a winning record against KU in the all-time series. Dating back to 1958, the Bruins have won 10 of the 18 meetings with Kansas. However, KU has won eight of the last 10 games against UCLA.
While Self knows all of the coaches in the field, he has only faced a few of them in competition and did not immediately recall every matchup when looking at the lineup.
"Some familiarity," Self said. "But I've never coached against Mick (Cronin), I've never coached against Mark Pope — I actually coached against him when he played, but never as a coach — never played (Dayton's) Anthony (Grant), never played Tom Crean..."
Self paused. His Jayhawks actually did face Crean during the opening game of the 2016-17 season when Crean, now at Georgia, was still coaching at Indiana.
The Hoosiers won that game in overtime, 103-99, in the Armed Forces Classic in Honolulu, and Self is already eyeing revenge if the Jayhawks happen to face Georgia in Maui.
"See, I don't remember losses," Self joked after remembering the matchup with Crean. "That's the sign of a good shooter. He doesn't remember his misses. So we owe him one."