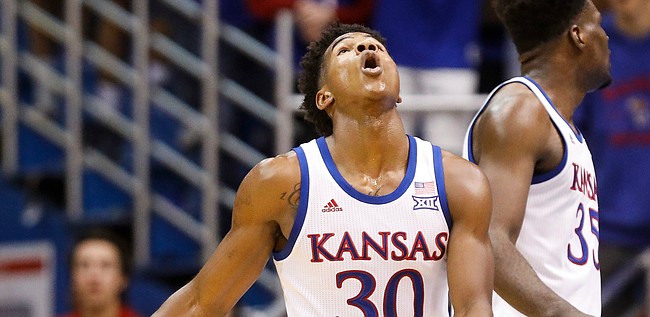 Despite a 3-for-17 shooting mark in his past two games, Kansas sophomore Ochai Agbaji remains as upbeat and confident as ever.
Still, just in case he wasn't, Kansas coach Bill Self met with his starting guard Thursday morning to make sure everything was fine.
"The biggest thing is he just needs to go out and be Ochai," Self said. "Just play with a free mind and have fun and not worry about consequences or what happens. Just go out and play. And enjoy it."
Self pointed to the red-hot NBA start by former Jayhawk and current Charlotte Hornets guard Devonte' Graham as an example of what that mentality can do for a player.
On Wednesday night, Graham became just the fourth player in NBA history to dish 100 assists and make 50 3-pointers in the first 15 games of a season. The only three to do it before him were James Harden, Steph Curry and Baron Davis.
"He's a perfect example of playing with a free mind," Self said of Graham. "Now we've got to get Ochai playing with a free mind similar to that."
That was the theme of Thursday morning's meeting between Self and Agbaji, and the KU guard said he learned a few things about what it would take to get there.
The biggest came from a suggestion from Self to worry less about others and more about his own enjoyment.
"He's the nicest, sweetest, (most) conscientious kid that you could possibly coach," Self said of Agbaji. "But he just needs to understand that what others think and him trying to please others is totally irrelevant. Just play for yourself and your teammates and see what happens. Good things will happen."
As much as Agbaji said he realized that was the way to go and genuinely wants to do it, it might not be quite that easy for a player who has prided himself on being unselfish throughout his career.
"Yeah, yeah, yeah it is a challenge," he said. "I know I have to be better; I'm definitely putting that on me."
The lesson of how to focus on his own game while still operating within the context of what's best for the team often comes with experience. And, according to Self, Agbaji simply does not have enough games and practices in his scrapbook to fully benefit from that type of knowledge and wisdom.
Self communicated that to Agbaji on Thursday.
"He sees me still as being younger," Agbaji explained. "And I kind of took that, you know, not really in the wrong way, sort of in a good way, that, you know, I still have more room to improve and grow and there's a lot more experiences that I haven't really been through."
After starting last season planning to redshirt, Agbaji was pressed into action midway through the season after injuries trimmed the KU rotation.
Because of his big personality, explosive athletic ability and set of fresh legs that led to highlight alley-oops, Agbaji instantly became a fan favorite and one of the faces of the program.
But he closed the season in a bit of a slump and is still working through parts of that 24 games into his college career.
"Everybody looks at him as a veteran or a returning starter or whatever, but he's the least experienced returning starter out there because he's only played two-thirds of a season," Self explained. "The other thing is he didn't have many of the experiences before he got to college (in AAU basketball) that a lot of guys have had."
"He's just young," Self added. "And he's going to go through this, and it's good he's going through it. It's a necessary step for him to become great, and we all know he'll take that (and make the most of it)."
Said KU point guard Devon Dotson, when asked if he had seen Agbaji pressing during his mini-slump: "Nah. He seems fine. Still smiling. Same Ochai. We're not making a big deal about it. It's fine. It's still early in the season, so it's all good."
As for what advice he might offer his running mate that could help him return to his smooth-scoring ways, Dotson had a simple solution.
"Just keep shooting," he said. "You can't really get into all that, stats or whatever. You just keep letting it fly and don't worry about it."
Through four games this season, Agbaji is averaging 9 points and 3.8 rebounds on 37% shooting in 32.2 minutes per game.
While Agbaji and his teammates would like all of those numbers to be higher — and expect that they soon will be — it's the minutes-played total that has them most confident that Agbaji will work his way through his shooting slump.
Even without putting up big point totals, Self has had Agbaji on the floor 80% of the time so far this season.
"His play of late has not been poor," Self said. "But it hasn't been great either. He's just kind of been out there. He hasn't made shots the last two games and he's pressing a little bit to do that, but I'm not worried about that. I want him to shoot it when he's open and I want him to be aggressive and I think he's going to be a terrific player."
Agbaji said that message came through during their recent meeting and added that he's looking forward to playing three games in three days in Maui next week to try to help him get back on track.
"It kind of takes me back to AAU," Agbaji said of the Maui Invitational format. "... Our games are so close together, we play so much, that I have another opportunity to go out and have a fresh start."
Kansas tips off play in Maui at 8 p.m. Monday against host school Chaminade. The winner will face the winner of BYU-UCLA on Tuesday in the semifinals.
AGBAJI BY THE NUMBERS:
vs. Duke: 38 minutes, 6-10 FG, 2-3 3PT, 15 pts
vs. UNCG: 35 minutes, 5-11 FG, 3-8 3PT, 13 pts
vs. Monmouth: 22 minutes, 1-9 FG, 0-5 3PT, 4 pts
vs. ETSU: 34 minutes, 2-8 FG, 0-4 3PT, 4 pts