Friday, November 22, 2019
The third-seeded Kansas women's soccer team is still alive and on the brink of history.
Powered by a hat trick off the strong right foot of senior forward Katie McClure, the Jayhawks knocked off Xavier, 3-0, in the second round of the NCAA Tournament on Friday afternoon in Columbia, S.C.
The victory moved KU into the Sweet 16 for the first time since 2003 and put the Jayhawks (17-4-3) in position to reach the first Elite Eight in program history.
"I think it was a tremendous win for our team and program," McClure told the Journal-World in a phone interview shortly after the victory. "We're not looking ahead or anything. We're just now focusing on the round of 16. But to have that in the back of our minds that we can make history and we've already made history with winning the Big 12 Tournament, I think we're ready."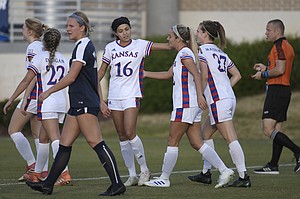 To do so, they'll have to win again on Sunday, when they'll face No. 2 seed South Carolina (18-1-3).
Playing in her third NCAA Tournament, McClure treated Friday's match like all the others. That is until the game started.
Entering Friday with three NCAA Tournament goals in four games on her resume, McClure picked up her first goal just five minutes into the match.
This one, she pretty much did on her own. After corralling a ball played into the Xavier zone by midfielder Ceri Holland, McClure simply outran the defender to the post and then cut a wicked shot across the goalie and into the far corner of the net.
McClure said the early goal helped calm KU's nerves and allowed the Jayhawks to embrace playing from ahead.
"To score five minutes in shows that we came here to play and it set the tone for the rest of the game, as well," McClure said. "Once we get one goal, we just don't stop."
That proved to be true, just 15 minutes later, when McClure put Kansas ahead 2-0 on a nifty give-and-go goal assisted by forward Mandi Duggan.
"I was looking to slip Mandi in (behind the defense)," McClure said. "But she was posted up right there on the defender and I just played her and she played me a great ball back."
A diving Duggan barely got a foot on the ball while attempting to get it back to McClure. But, as McClure pointed out, Duggan's toe touch "was all she needed" to set up the second goal.
McClure called the second of her three goals easily her favorite of the day, saying, "It was just a great combination with me and Mandi. It was just a good goal overall."
KU led 2-0 at halftime and added to that lead three minutes into the second half.
McClure's third goal also featured her speed and competitive nature. After outracing her defender to the near post and hitting a shot toward the net with her left foot, McClure pounced on the rebound and quickly ripped a second shot past the goalkeeper with her right foot to give the Jayhawks what proved to be an insurmountable 3-0 lead.
McClure now has 17 goals this season, two shy of KU's single season record held by Caroline Smith, who scored 19 in 2003.
"Katie has done it all year," KU coach Mark Francis said after Friday's victory. "She has come up with goals in clutch situations and obviously she has been double-teamed and things like that all year, but she still finds a way to get it done."
McClure called Friday's outing a total team victory and applauded the strong play of the KU back line and goalkeeper Sarah Peters, who recorded her 11th shutout of the season — tying KU's all-time single-season mark — and made a few crucial saves throughout the second half.
At a time of the season when many games are decided by a single goal or require overtime or penalty kicks to be settled, McClure said KU's strong performance on Friday showed how hungry this team is.
"I think it says a lot," McClure noted. "We're here to win, we're not here to stop going. Just to put three goals up in the second round shows that we're not here just to win 1-0 and sit back and relax after we get that one goal. We're capable of more than just 1-0 in any round no matter what. No matter if it's 1-0, 3-0 or if it goes to overtime and PKs, we're ready to take on anybody."
KU's Sweet 16 match against South Carolina will kick off at 1 p.m. Sunday.