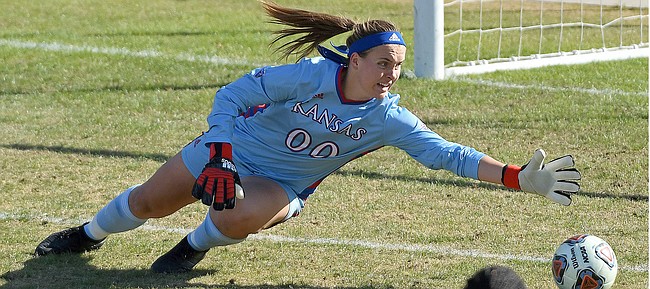 Kansas goalkeeper Sarah Peters has made 75 saves during a sensational sophomore season. Yet one stop in Big 12 play perfectly illustrated the growth she has made in just one year.
Peters started all 21 matches as a freshman in 2018, but she was still pulled on penalty kicks. After a commitment to her craft in the offseason, Peters was trusted in such situations this season. And it has been the highlight of her prolific campaign.
In a 0-0 draw against Texas Tech on Oct. 13, Peters made a lunging stop to her right on a penalty kick to help preserve the tie. It came on the second match of a now 10-game unbeaten streak by the Jayhawks, who will take on No. 24 Xavier at 2 p.m. Friday in Columbia, S.C., for the second round of the NCAA Tournament.
"This year, I wanted to prove that I can save a PK," Peters said. "We had an in-game PK against Texas Tech, and it was a big environment. Just making a save against one of their players was a big moment for us because we shut them out. That was a big moment for us."
Peters has given up 17 goals in 2,110:50 minutes of action this season. Her goals-against average of 0.72 is the second-lowest by a Jayhawk keeper. Peters' 10 shutouts are the second-most in a single season, and she is one behind tying the all-time mark.
The defensive play has been especially impressive during this 10-game unbeaten streak. Over that span, the Jayhawks (16-4-3) have allowed only five goals for an average of 0.46 goals given up per match. Peters gave up one score in the Big 12 Tournament, helping KU capture its first-ever conference title.
And much of that can be attributed to Peters' growth this season. She spent all offseason improving her technique with associate head coach Kelly Miller. It has helped Peters make more diving saves this season.
"We really worked on my angle play, where I need to be at and my technique when I dive," Peters said. "We hammered down on my footwork. Last year, I let in a couple goals where I should have been in a certain place. This year, I have done a lot better job on where I need to be when the forwards shoot the ball."
It illustrated Peters' willingness to get better, especially considering how well she has performed throughout her soccer career. Peters tallied 57 saves and notched nine shutouts in her first collegiate season.
This came after an impressive three-year high school career at Lee's Summit North, in which she was named the Class 4 Missouri Goalkeeper of the Year following her junior year in 2017. Peters then elected to forgo her senior season to spend a year with Sporting Blue Valley's Developmental Academy.
"You can't make the adjustments as a freshman when they are playing because as a goalkeeper you overthink stuff," KU coach Mark Francis said. "Sarah is very coachable. She wants to be good and wants to be better."
Peters was introduced to goalkeeper at 7 years old, when it was her turn in the net on her youth team. It didn't take long for her coaches to realize she was good with her hands, so Peters has basically been between the posts ever since.
After that, Peters devoted most of her free time to soccer with her twin brother, Garret. They had many battles in the backyard growing up, as Peters attempted to stop her brother's shot attempts. The two even squared off in FIFA and went to a number of Sporting KC games together.
"We are a big soccer family," Peters said. "He just likes to tell me how good I do. He likes to hype me up, he's really sweet. He's one of my biggest fans."
It has all culminated into a special season for Peters and company. But the Jayhawks hope that it will continue past this weekend. No. 11 Kansas will face Xavier (17-3-2) at 2 p.m. at Stone Stadium. The game will be broadcast on ESPN 3.
"It should be a good matchup," Peters said. "They like to high press, so we are going to have to be able to play the ball out the back and keep the ball on the ground."
With a win, KU will compete in the third round on Sunday against the winner of Notre Dame and South Carolina. That game is slated to begin at 1 p.m. Sunday at Stone Stadium.