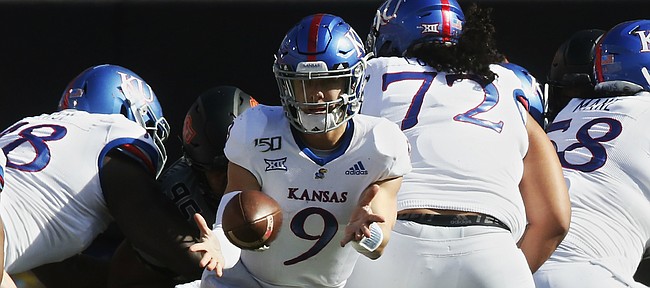 Sometimes the Kansas football offense runs a play that seems doomed before the ball is even snapped, leading one to wonder why the Jayhawks' quarterback, Carter Stanley, didn't audible out of the call.
Well, in some situations he can't.
A glaring example of how that rule can handcuff Stanley and the offense showed up early in the Jayhawks' loss at Oklahoma State.
It was 3rd and 2 for the Jayhawks, who lined up only one wide receiver, with two tight ends and a fullback on a toss play for running back Pooka Williams on their second offensive series.
The call was designed to have Williams run to the left. But not only did the Cowboys line up with 10 defenders in the box, they also stacked it heavier toward the side of the field where Williams was about to run.
After the snap, the rush attempt played out predictably, with OSU enveloping Williams for a two-yard loss.
During an interview session on Monday, Stanley was asked whether offensive coordinator Brent Dearmon said anything to the players about running on 3rd and short into a crowded defensive box.
"No, he wasn't able to say anything about it," Stanley responded. "But, you know, I know on one of them for sure it wasn't an ideal box, was not an ideal look for us. They definitely had a lot of guys to the left, to the side that we were running the play. So it's kind of unfortunate, but we've just got to go execute."
So what can Stanley do in that situation? Can he audible to another play? Call a timeout?
"It's tricky," he explained. "Some plays I can change. That particular one, no. And it's definitely one that, you know, right before the ball is snapped I'm sure everyone on the offense wished it could have been changed. But, no, it's just kind of random."
College football players often are instructed and/or coached not to reveal much during interviews. But Stanley was able to provide some insight for the rules he has to follow regarding audibles.
"It's tough," Stanley said. "It really just depends. There's some plays in those heavy sets where I make the check and I make the call. On that particular one, again, I wasn't able to do anything about it. You know, I still had trust in our guys that we could get it done and get the two yards or whatever it was, but it just all kind of depends on the look. When we're in the spread sets, I think I definitely have more freedom to check out of it or check a route or something."
Asked about that failed toss play in particular, and whether Dearmon, known for his expertise with RPO plays and a more modern, spread-out offensive approach, was the one that dialed it up, Stanley said he wasn't sure.
"I think kind of historically the bigger sets are more of Coach Miles' plays," Stanley said. "But, I'm really not sure."
Those heavier formations, which include a fullback and two tight ends, showed up numerous times during KU's 31-13 loss at OSU, with the Jayhawks coming off a bye week. When asked why that was, Stanley said there was "no telling on my part."
KU's QB suggested it stemmed from "something that our coaches saw, whether it's personnel wise or just based off (OSU's) base defense. Just tough to tell."
After KU (3-7 overall, 1-6 Big 12) ran the ball 15 times for 27 yards and attempted 16 passes for 69 yards in the first half, falling behind 24-0, Stanley was benched for the third quarter.
Once he returned for the fourth, KU finally scored after being shut out for three quarters. The Jayhawks attempted just two run plays and passed 22 times on their final two drives, both of which ended with a touchdown.
Stanley, who said the team's huge deficit led to a shift toward a spread-out passing approach, explained what he liked about the plays executed on the final two drives.
"It was definitely more pass heavy, but it was was all the calls that we've had this whole week, or the last two weeks, I guess," he said. "It's not like we kind of just threw in some new stuff. It was all plays that we repped and our guys just continuing to fight for 60 minutes."
KU assistant coaches aren't made available for interviews during the season. Stanley said Dearmon, who took over as offensive coordinator and quarterbacks coach six weeks into the schedule, had a "it's back to work" message for the team after its second ineffective offensive showing in a row.
"It wasn't our week," Stanley added of what players heard from Dearmon. "We definitely came up short. And I still have full faith in this coaching staff and these great people we have in this building. But it wasn't our week."
KU plays at Iowa State (6-4, 4-3) on Saturday (11 a.m. kickoff, FOX Sports Net).