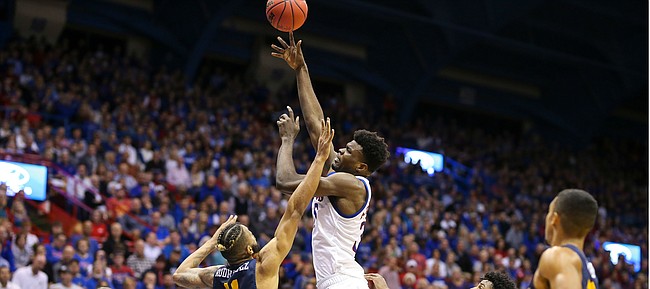 Officially, No. 4 Kansas' 75-63 victory over East Tennessee State on Tuesday was the Jayhawks' first game in the 2019 Maui Invitational.
But even with a trip to paradise looming, the Jayhawks were not focused on anything other than protecting their home court on Tuesday night.
"We haven't even mentioned Maui yet," KU coach Bill Self said. "So if they're thinking about it, (it's not because we've talked about it)."
Kansas, which will leave for Maui on Friday and match up with Chaminade in the first game in Hawaii at 8 p.m. Monday, has a combined 14-6 record in the Maui Invitational (counting home games that are part of the tournament). KU is 12-6 in games played at Lahaina Civic Center.
KU has appeared in the Maui Invitational three times under Self.
In 2005, the Jayhawks placed seventh, losing to Arizona and Arkansas before defeating Chaminade.
In 2011, KU finished as the runner-up, defeating Georgetown and UCLA before falling to Duke in the title game.
And in 2015, Kansas won the event with victories over Chaminade, UCLA and Vanderbilt.
"We may talk about this being the opening game to the Maui Invitational," Self said of Tuesday night's matchup with ETSU. "But otherwise that hasn't even been discussed yet. Not even at all."
Photo Gallery
Kansas basketball v. East Tennessee State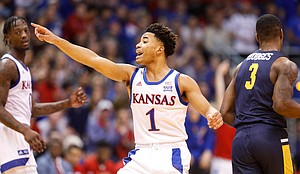 View a gallery of images from Tuesday night's game between the Jayhawks and the Buccaneers at Allen Fieldhouse.
The Jayhawks, who are eligible to play in Maui every four years, typically bring a big crowd to the islands, packing the 2,400-seat arena.
KU will play three consecutive days in Maui, with the Jayhawks facing either BYU or UCLA on Tuesday and playing their final game on Wednesday.
The most appealing potential matchup of this year's event is a possible meeting with No. 3 Michigan State on the final day.
Reunion time
Tuesday's game was a reunion of sorts for former Barton County Community College coach Steve Forbes, now in his fifth season at East Tennessee State.
"Steve's done a great job," Self said of his good friend. "We've known Steve forever, going back to the Barton County days, when he was running the show out there with (KU volleyball coach) Ray Bechard as the volleyball coach. So he's been around. He's terrific."
Between Barton County and ETSU, Forbes spent time on Gregg Marshall's staff at Wichita State, making him plenty familiar with the Kansas program and Allen Fieldhouse.
"I always appreciate coming here," Forbes said Tuesday. "I know a lot about this program and am real happy to be here."
As for how that familiarity with Kansas might have helped his team, Forbes said it was critical in warmups as much as anything.
"I told them about the pregame video and said, 'Don't you be looking up there now,'" Forbes joked, adding, 'You're going to see Wilt Chamberlain up there.' And then I realized my guys might not all know who Wilt Chamberlain is."
For the record, even though the Buccaneers kept a tight huddle during the video, a couple of players and staff members took a peek up at the scoreboard during the video.
Document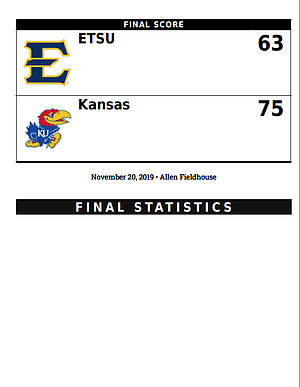 Dutch flavor
Tuesday's game featured a pair of players originally from the Netherlands in KU freshman Tristan Enaruna and East Tennessee State big man Lucas N'Guessan.
N'Guessan, who started his career at Oklahoma State and played two years with the Cowboys beginning in 2016-17, hails from De Lier, Netherlands.
Tuesday marked his fourth trip to Allen Fieldhouse; he'd visited twice as a player with OSU and once more during his redshirt season in 2015-16.
Enaruna's hometown of Flevoland, Netherlands, is approximately 80 miles northeast of De Lier, with Amsterdam halfway between the two.
This and that ...
KU's victory on Tuesday improved the Jayhawks to 4-0 all-time vs. East Tennessee State and 13-0 against teams from the Southern Conference ... Kansas has now won 24 consecutive home games, including 23 of those at Allen Fieldhouse ... For the second game in a row, Kansas freshman Jalen Wilson, who broke his ankle in the Jayhawks' home opener, was on the end of the KU bench with a scooter to elevate the cast on his left ankle.