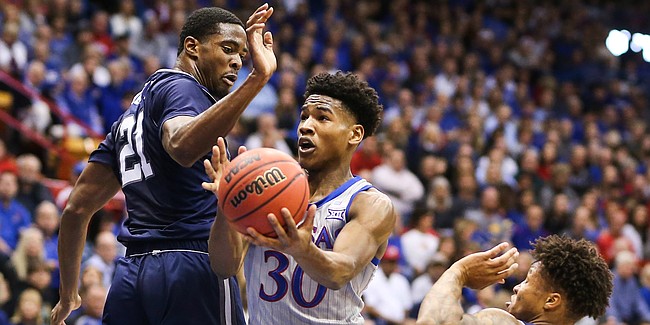 No. 4 Kansas Jayhawks (2-1) vs. East Tennessee State Buccaneers (3-0)
Time: 7 p.m. | Location: Allen Fieldhouse, Lawrence, Kansas
TV: Big 12 Now/ESPN+ | Radio: IMG Jayhawk Radio Network
Sign up for ESPN+ and watch your Jayhawks on the go.
Log on to KUsports.com for our live game blog coverage and follow the KUsports.com staff on Twitter: @KUSports @mctait @bentonasmith @SJacksonLJW & @ByBradenShaw
Keys for Kansas
1. Agbaji bounce back
Even with one of its starting guards and top scorers shooting just 1-for-9 last Friday night, the Kansas offense still managed to put up 112 points.
So even though the team was not impacted by a rough scoring night by sophomore Ochai Agbaji, the hope during the past few days was that the real Agbaji would reemerge in time for this one.
"I'm believing it's just one of those nights," KU coach Bill Self said of Agbaji's off night against Monmouth. "Ochai has been pretty consistent for us thus far and if he worries about his misses then I'll be real honest with you, he's not the scorer I thought he was. Scorers, they only remember their makes."
Self continued: "I'm hopeful that he won't even remember. He went 1-for-9 the other night and I'm thinking he thinks he's on fire because of the one he made. That's how I think scorers should think about it."
Agbaji enters this one shooting 40% from the floor, 60% from 3-point range and third on the team in scoring at 10.7 points per outing.
One area in which he has left points shy of the rim — both for himself and his team — is in transition, where he has had difficulty taking care of the ball at times.
"I think it's been OK in transition when he's finishing," Self said. "I don't think it's been very good at all if he's passing. And we have numerous examples of that."
Asked what Agbaji could do to become better in transition, Self described the type of scenario that young players learn about as far back as middle school.
"I want him to make a defender commit and then you make the play based on the defender committing," he said. "Or I want him to give it up early so he has a chance to get it back, which I think everybody who can finish above the rim should always do that."
2. Defense wins
While the Buccaneers have done most of their damage so far this season with a balanced, efficient and effective offense, it can't be overlooked that their three opponents have shot the ball miserably in all three games.
Credit the ETSU defense for some of that, with the Buccaneers' quickness and relentless effort forcing opponents into field goal percentages of 35.4, 40.3 and 46.3 for an average of 40.7% against in three games.
That number includes a 29.6% clip from 3-point range, where the Jayhawks are shooting 43.1% on the season and 49.7% overall.
KU's defense, meanwhile, has been just as stingy as the Buccaneers', holding its opponents to 34.9% shooting from the floor and just 26% from 3-point range.
In the opener, a 2-point loss to Duke at the Champions Classic in New York, Kansas lost despite holding Duke to 35.9% shooting.
Both teams also have benefited from their defense creating offense. East Tennessee State has forced 50 turnovers and scored 52 points off of them, good for 17 a game.
Kansas, meanwhile has forced 40 turnovers and scored 53 points off of those, good for 18 a game.
Whether you're talking contested shots, defensive rebounding or steals that lead to transition buckets, the team that fares better on the defensive end in this one will have the opportunity to play the game at the pace and style it prefers.
"We approach every game the same," freshman Christian Braun said Monday while looking ahead to ETSU. "We don't really take anybody lightly or look past any opponents. We know this team's going to be tough. And we're going to come out and play hard like we always do."
3. Finish strong at the rim
This type of game seems tailor-made for players like Agbaji, Devon Dotson and Udoka Azubuike. The reason? Because it's going to take the type of attack-the-basket mentality that those three players possess to have success on offense in this one.
East Tennessee State enters tonight's game with 20 blocked shots on the season, putting them at a mark of 6.7 blocks per game. That number ranks 13th nationally and is eight total blocks and nearly three blocks per game better than Kansas thus far.
Four different Buccaneers players have at least three blocks on the season, with 6-foot-5 wing Bo Hodges leading the way with six rejections, while 7-footer Lucas N'Guessan and 6-4 guard Vonnie Patterson recording four apiece.
Those three players perfectly embody the type of relentless style and effort ETSU plays with every time out.
While mostly playing man-to-man and taking on personal challenges to hold their own on defense, the Buccaneers do play some zone and have recorded a few blocked shots from their help defense.
"I don't think that they'll be different unless they do some things that they haven't shown in a game yet," Self said. "Now, they may throw something new at us, but, for the most part, they're going to be who they are."
Marquee Matchup
KU bench vs. East Tennessee State bench
The Buccaneers have shown in the early going that they have more than enough firepower on their bench to come in and impact a game.
After getting 37 bench points in a season-opening victory over Newberry, ETSU got 37 more from its reserves in a game 2 win over UT-Martin. The Bucs followed that up with a 22-spot off the bench — this time from just three players — in last week's win over Winthrop.
What makes the ETSU bench most impressive is that it has multiple players capable of providing an offensive lift. In the opener, senior guard Tray Boyd III went for a game-high 20 points on 7-of-15 shooting. The very next time out, Boyd scored 8 points and watched junior guard Patrick Good put up 24.
This is a tough, seasoned team with veterans up and down its roster, and it will be interesting to see how the relatively young Kansas bench matches up.
Freshmen Christian Braun and Tristan Enaruna have shown the ability to play big for extended minutes so far this season. And their length and athleticism allows them to match up with just about anybody from a physical standpoint. Matching the experience of the ETSU reserve guards will be the true challenge here.
Helping with that is the presence of KU senior Isaiah Moss, who fared well off the bench himself in KU's last game, exploding for 21 points in 15 minutes in a 112-57 victory over Monmouth last Friday night.
It remains to be seen who KU's final key reserve will be in this one. After starting the first two games of the season, David McCormack yielded his spot in the starting lineup to Silvio De Sousa last Friday night. The move resulted in increased production from both players.
While Self did not say on Monday which one — if either — would be in the starting lineup, both are legitimate options off of the bench for Kansas because of their size, strength, scoring and rebounding abilities.
ETSU is averaging 32 bench points per game compared to 30 for Kansas, which received a season-low 8 points off the bench in the loss to Duke and a season-high 66 bench points last time out.
Jayhawk Pulse
Although it will be played on KU's campus, 3,800 miles from Maui, Hawaii, site of next week's completion of the 2019 Maui Invitational, this one figures to have a real tournament feel to it.
The Buccaneers enter this one with depth and experience and the kind of lineup that could give Kansas a true test. With no real size beyond 6-7 starter Jeromy Rodriguez and 7-foot center Lucas N'Guessan, who transferred to ETSU from Oklahoma State, the lineup is loaded with guards who are quick, tough and willing to play whatever style it takes to get the job done.
Picked to win the Southern Conference — one spot ahead of recent KU foe UNC Greensboro — East Tennessee State is ranked No. 68 in the KenPom.com rankings, third nationally in the Collegeinsider.com Mid-Major Top 25 poll and 51st nationally in Adjusted Offensive Efficiency, per KenPom.
Asked Monday if he thought ETSU's status as the team picked ahead of UNCG would have his team's full attention, Self said he was hopeful that would be the case.

"If they're better than Greensboro, we know we have our work cut out for us," he said. "They're going to be scrappy. I'm not familiar with exactly what rankings there are, but as far as a mid-major poll, they would have to be up there towards the top."
Kansas enters this one on the heels of one of its biggest blowouts in years, a 112-57 drubbing of Monmouth last Friday night at Allen Fieldhouse. But it's been made crystal clear inside the Kansas locker room that the team the Jayhawks face tonight will be much tougher in all aspects of the game than their most recent opponent.
Kansas leads the all-time series with ETSU 3-0, but the two programs have not faced one another since 1996.
The Jayhawks are a 14-point favorite according to Las Vegas oddsmakers, 1 point less than the 15-point spread for the matchup with UNC Greensboro. Kansas won that game by 12 after leading by just 4 at halftime.
Probable Starters
No. 4 Kansas
G – Devon Dotson, 6-2, 185, Soph.
G – Ochai Agbaji, 6-5, 210, Soph.
G – Marcus Garrett, 6-5, 195, Jr.
F – Silvio De Sousa, 6-9, 245, Jr.
C – Udoka Azubuike, 7-0, 265, Sr.
East Tennessee State
G – Bo Hodges, 6-5, 210, Jr.
G – Patrick Good, 6-0, 175, Jr.
G – Isaiah Tisdale, 6-1, 195, Sr.
F – Jeromy Rodriguez, 6-7, 230, RS-Sr.
C – Lucas N'Guessan, 7-0, 230, Sr.