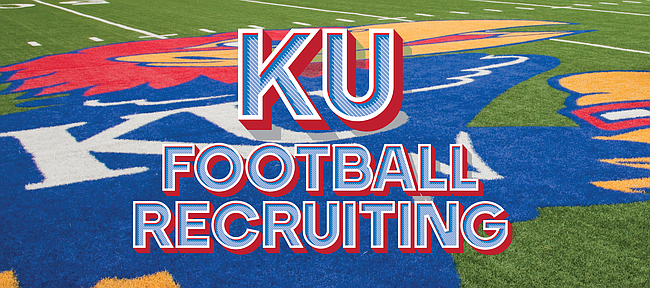 A month out from the early December signing period, the Kansas football staff continues adding to its crowded 2020 recruiting class, with the latest commitment coming from the Lone Star State.
Tristan Golightly, a consensus three-star tight end, who reportedly also is being recruited by Georgia Tech, Houston, Louisiana Tech and Purdue, announced Tuesday evening he plans to sign with KU.
"I'm coming home," Golightly tweeted out, along with a note detailing his choice.
Listed at 6-foot-5 and 205 pounds by 247 Sports, Golightly, like every other player currently committed to KU from the 2020 class, is a high school senior.
A native of Mesquite, Texas, Golightly became the fourth prospect from the state to pledge to KU's class. He told Scott Chasen of Phog.net that KU receivers coach Emmett Jones, who used to work at Texas Tech, has recruited him since his freshman year of high school.
"(Jones) and the love that he showed and the love that all the Kansas coaches showed was just great," Golightly told 247 Sports. "They treated me like I was family from the beginning." 
The idea of playing in the Big 12 also appealed to the tall passing target.
"You know, they throw the ball around," Golightly said. "And then Les Miles is just Les Miles. Les Miles has always had a winning culture," the prospect added, citing Miles' time at LSU. "Everybody knows about Les."
Previously, Golightly also gained scholarship offers from Louisville, Nebraska, Iowa State, LSU and other programs.
As of Tuesday, KU has 25 recruits — the maximum number the Jayhawks could both sign and add to the roster for next season — in place.
All verbal commitments, of course, are nonbinding. Football recruits in the 2020 class have the opportunity to sign at the earliest between Dec. 18 and Dec. 20. National Signing Day is on Feb. 5, 2020.
-KU football 2020 verbal commitments
• Brennon Scott - 4-star LB from Texas
• Duece Mayberry - 3-star CB from Oklahoma
• Trevor Kardell - 3-star TE from Missouri
• Will Huggins - 3-star TE from Kansas
• Krishawn Brown - 3-star LB from Oklahoma
• Khari Coleman - 3-star DE from Louisiana
• Garrett Jones - 3-star OL from Michigan
• Ja'Cobee Bryant - 3-star CB from Alabama
• Malik Johnson - 3-star WR from Texas
• Caleb Taylor - 3-star DE from Missouri
• Kenean Caldwell - 3-star DT from Louisiana
• Jaylin Richardson - 3-star athlete from Kansas
• Taiwan Berryhill - 3-star LB from Louisiana
• Lawrence Arnold - 3-star WR from Texas
• Chris Jones - 3-star DE from Florida
• Tanner Hooker - 3-star CB from Louisiana
• Alonso Person - 3-star LB from California
• Steven McBride - 3-star WR from Louisiana
• Tristan Golightly - 3-star TE from Texas
• DaVonshai Harden Jr. - 2-star QB from Kansas
• Luke Grimm - 2-star WR from Missouri
• Juan Jarrett - 2-star LB from Ohio
• Nicholas Martinez - 2-star OL from California
• Kyler Pearson - 2-star WR from Oklahoma
• Daniel Hishaw Jr. - 2-star athlete from Oklahoma