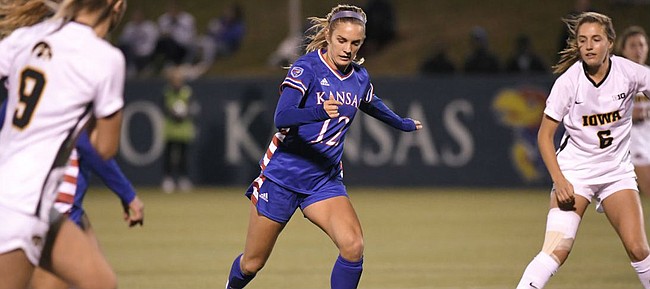 There's been a steady momentum building around Kansas soccer over the last 10 matches, especially given the start to the 2019 NCAA Tournament.
KU defeated — or what may better be described as outlasted — Iowa 1-0 in the first round Saturday night at Rock Chalk Park. The Jayhawks will take on Xavier in the second round on Friday.
"I think our confidence is really high right now, obviously winning the Big 12 Tournament," senior forward Katie McClure said. "And knowing that we don't have to go to North Carolina in the second round is kind of a good sign for us."
In the 2018 NCAA Tournament, the Jayhawks lost to UNC 4-1 in the second round. This year's second-round match will take place in Columbia, S.C.
"This group all year has battled," KU coach Mark Francis said. "The best teams I've coached have been able to do that. (And) I think this is definitely one of them."
Not only have the Jayhawks rolled through the last month of the season, but it's been a group effort with all hands on deck. McClure said the coaching staff has been key in scouting and making sure KU has the right, confident mindset entering each match.
"I mean, they want to win just as bad as we do," McClure said. "So I think they put in the time and effort like we want to, to get us to where we want to be. They know anything is possible, and they believe in our team."
And that idea of "anything is possible" has propelled KU through a 10-match unbeaten streak, a Big 12 Championship title and onto the second round of the NCAA Tournament.
"It's been really helpful," senior defender Addisyn Merrick said. "(Francis has) just been really encouraging in practice and just focusing on little details because that's what's going to get you to the championship."
That's also translated to various moments of adversity throughout the season. Whenever KU has trailed — such as the Big 12 Championship semifinals against Oklahoma State — the mindset has been to respond instead of shy away from a challenge.
Take Saturday's match against Iowa. In a physical match, 32 total fouls were called, Merrick went down with an injury just before halftime and it took 70 minutes for KU to break through with the go-ahead goal.
Regardless of circumstance, the Jayhawks have formed a certain stick-to-itiveness that's proven dividends on the field.
"And I feel like that's been our key to success, just staying true to our team and staying true to ourselves," Merrick said. "That's what's been the best thing for us."
Whether it's a new mindset or positive reinforcement from the coaching staff, KU has shown to be a different team than previous seasons in late-game situations.
"(Our coaches are) helping you, they're setting you up (for success)," McClure said. "With their confidence, it brings us so much more confidence than you could even imagine."