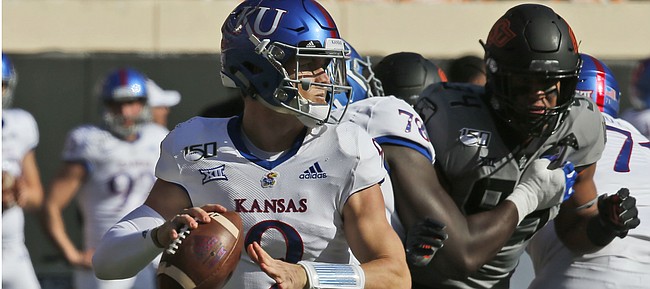 Stillwater, Okla. — Carter Stanley wasn't injured. Nor was he demoted. But for the entire third quarter Saturday at Boone Pickens Stadium, the Kansas football team's starting quarterback watched from the sideline.
"We were just looking for a spark," KU head coach Les Miles said of the surprise move to Manny Miles at quarterback to open the second half. "See if we could get something going."
Following the Jayhawks' 31-13 loss at No. 25 Oklahoma State, Stanley told the Journal-World offensive coordinator and quarterbacks coach Brent Dearmon came up to the QB near the end of halftime inside the visitors' locker room to tell him about the coming switch.
"He originally told me Manny was going to get the first possession of the second half, just to try to get a spark going," Stanley explained.
It ended up being a three-drive stay for Manny Miles at QB during the third quarter.
"I kind of get it," Stanley said. "But it was tough. I was still locked in for every play. Just kind of bummed I couldn't help my team out there."
As Stanley, who has started every game for KU this season, watched, he didn't know for certain that he would get a chance to return to the lineup at OSU.
"I didn't get like a definitive thing," Stanley said, "but it was kind of like 'let's see how this goes.'"
KU (3-7 overall, 1-6 Big 12) went three-and-out the first two series with Manny Miles at QB. On the graduate transfer's third possession, the Jayhawks picked up a couple of first downs before Miles threw an interception, the third of the day for KU, with one apiece attributed to Stanley, Miles and reserve Thomas MacVittie, who threw one on a botched trick play in the second quarter.
Asked whether Stanley will remain KU's starting QB moving forward, head coach Les Miles responded with two words, "Oh, yeah," and emphasized that the team likes Stanley at the position.
"Carter's good. We were just trying to see if we could shift his mood some," Miles said. "It didn't work out either."
Thanks to a pair of successful touchdown drives in the fourth quarter, after Stanley was reinserted, the starting QB finished with 226 passing yards, completing 22 of his 37 throws, with two touchdowns and one interception.
Manny Miles went 4-for-8, with 25 yards and an interception.
The son of the head coach told the Journal-World he hoped to come in and help the KU offense put together some type of rally.
"It's not the spot you want to come in, down 24," Manny Miles said. "But when your number's called you don't get to be picky about it. I came in and didn't get the spark we wanted."
Miles returns to OSU
It had been 15 years since Les Miles was inside Boone Pickens Stadium for a game, and although the former Cowboys head coach was met with some boos when introduced as KU's coach prior to kickoff, he was pleased to be back in Stillwater.
"I really like this place," Miles said after the Jayhawks' loss. "These people here were awfully kind to my family. I had two children born here. I always look back at this time being pretty special to our family. I wish we had the opportunity to be a little bit more competitive."
Facing OSU for the first time as a head coach, Miles got to catch up with the man who replaced him, Mike Gundy.
"I think we should plan to get together and not necessarily play for just a little bit, like a day or two. No, it was nice," Miles said of the reunion.
Gundy served as Miles' offensive coordinator when he was the head coach from 2001-04. Before that, they also worked side by side at OSU, when Miles was an OC and Gundy coached quarterbacks.
"We had some wonderful times," Miles said. "He's a great coach. He's done a great job here. It was fun catching up."
Miles went 28-21 while leading the Cowboys, before leaving to become the head coach at LSU.
Clark misses most of loss
It has become commonplace during recent KU games to see starting left guard Malik Clark getting checked out by training staff after he gets banged up on a play.
It happened on the first series at OSU, too, meaning Jacobi Lott came in at left guard in his place. Like previous weeks, Clark would return to the field. But unlike his recent recoveries, Clark couldn't stay healthy enough to keep competing. By the second quarter he was on the sideline without his helmet when the offense was on the field
A 6-foot-4, 320-pound freshman, Lott played most of the day instead of Clark, a 6-4, 315 junior.
Lott has started every game at left guard so far this season.
No Harris
Sophomore cornerback Corione Harris, who got hurt early in KU's loss to Kansas State two weeks ago, missed the Jayhawks' game at OSU due to injury.
Harris started six games earlier this season. Kyle Mayberry started in Harris' usual spot for the third time this year.
Klusman out
KU's best long snapper, Logan Klusman, also missed Saturday's trip due to injury.
With Klusman out, Kolin Hayes became the long snapper for the KU punting unit.
When KU tried its lone field goal of the loss, Luke Hosford came in to be the long snapper.
Big 12 road losing streak lives on
If the KU football program ends its longstanding conference road losing streak in 2019, it will have to come in the Jayhawks' road finale.
Kansas hasn't won a Big 12 game in an opponent's stadium since its 2008 trip to Iowa State. With Saturday's loss at No. 25 Oklahoma State, the Jayhawks' league road losing streak reached 48 games.
KU, of course, at least put its true road game losing streak to rest in 2018, with a win at Central Michigan. The Jayhawks also won on the road at Boston College earlier this year.
OSU's special uniforms
Oklahoma State commemorated Veterans Day during its matchup with KU by wearing special gray uniforms that incorporated various military and ROTC elements into the design.
The official military base crest of the Cowboy Battalion appeared on the right sleeves of the uniforms. The use of the crest represented the historical roots of service fostered by the university. OSU's ROTC program originated with the establishment of the school itself. Founded in 1890, military instruction was part of the curriculum.
The back of the uniforms featured the words Cowboy Battalion instead of player names.