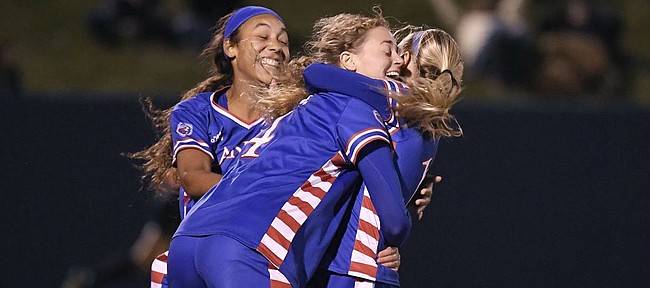 It took almost 70 minutes for Kansas soccer to break through, but a quick strike inside the box from sophomore Kailey Lane proved to be the difference between keeping a season alive and going home early.
And with that lone goal, KU escaped with a 1-0 victory over Iowa in the first round of the NCAA Tournament Saturday night at Rock Chalk Park.
"This group all year has battled, and that's really kind of been one of our traits, I would say, as a unit," KU coach Mark Francis said. "We battle and we've won some games this year where it hasn't been pretty and we haven't played necessarily how we want to, but we figured out a way to win."
As one could imagine in an NCAA Tournament match, things got a bit chippy in the first half.
It didn't take long, either, as 46 seconds in, Iowa forward Devin Burns fired a shot on goal. As soon as sophomore goalkeeper Sarah Peters corralled the shot, senior defender Addisyn Merrick motioned with her hands for the Jayhawks to calm down.
Surprisingly, that was the lone shot on goal in the first half, as what followed was a medley of missed opportunities.
In the 10th minute, KU senior forward Katie McClure received a pass over the top. She snuck behind the Iowa backline on a breakaway, but after taking a touch to her right, fired a shot that sailed wide right of goal.
Later in the 25th minute, junior forward Mandi Duggan was in a similar situation on a breakaway. Duggan sent the ball out wide to McClure, who sent it back to the top of the box to sophomore midfielder Sam Barnett. However, Barnett sent a shot wide right.
Two more opportunities came before halftime, but neither McClure (31st minute) nor Lane (41st minute) could get a shot on target. This became a pattern for KU in the first half, with the Jayhawks failing to land a single shot on goal.
If that wasn't enough, 11 fouls were called in the first half — nine on Iowa and two on Kansas. The most notable came in the 44th minute when Merrick was fouled near the right sideline.
At first, she just looked shaken up. However, it soon became apparent Merrick was hurt, as she eventually limped off the field.
Senior defender Madison Meador then attempted to come on as an injury substitution, but she wasn't granted approval by the center referee to come on and was issued a yellow card.
"I'm not sure (what happened) to be honest," Francis said. "Obviously we brought (Merrick) off and usually when you bring somebody off you can put somebody else back in. Then somebody wasn't ready, so we tried to put somebody else in."
However, Merrick did join the team to start the second half.
"It was kind of all kind of going on, but we eventually figured it out and fortunately Addy was OK," Francis said.
Amid that chaos, KU and Iowa went into the halftime break tied 0-0.
After the break, the Hawkeyes picked up right where they left off, firing two quick shots in the first two minutes.
The physicality of the match also continued, as both sides continued to accumulate fouls. Duggan was even issued a yellow card near midfield in the 60th minute. Iowa finished with 20 fouls, while the Jayhawks finished with 12.
"Trust me, we play in the Big 12 conference (so) we're used to physical play," Francis said. "I didn't think it was a dirty game by any means, but I did think it was a physical game. We talked a little bit about how we have to compete with them because that's a big part how they're successful."
Later on a KU counterattack, Iowa defender Sara Wheaton tackled Duggan from behind just outside the box in the 66th minute. However, junior midfielder Ceri Holland's free kick didn't find its intended target, instead sailing out of bounds.
Shortly after, the Jayhawks finally broke through in the 70th minute with Lane's goal. Freshman defender Ellie Prybylski sent a pass up the left sideline to McClure, who promptly sent in a low cross into the box.
While it initially looked like a save, Lane found a tight window and sent the ball into the back of the net.
The goal came from a "perfect ball" over the top from Prybylski, something KU specifically talked about at halftime.
"I was in (one-on-one), but I saw Kailey darting across the 6-yard box, so I knew I needed to play her," McClure said. "And I knew she'd be able to finish it, just like she did."
Even with surrendering the decisive goal, Iowa kept the pressure on the KU backline. In the 84th minute, Peters bobbled a cross off an Iowa free kick with the Hawkeyes charging in the box.
And in the 88th minute, Iowa secured another free kick just outside the box. And while the shot was on target, Peters made not one but two saves to cling onto the lead in near identical fashion to the end of the Big 12 Championship final against TCU.
"Our defense did great once again and were able to block those shots," Peters said. "I had a save at the end, but other than that our defense was steady today."
Which proved to be just enough as KU held on for the 1-0 victory.
With this being the 10th-straight match in which KU has either won or secured a draw, McClure feels like the Jayhawks are growing more confident by the day.
"We're excited to take on Xavier, and we're excited to take on anybody we have (to face)," McClure said. "I think our confidence right now is setting us to the standard that we have."
The Jayhawks will next face Xavier in the second round of the NCAA Tournament on Friday in Columbia, S.C.