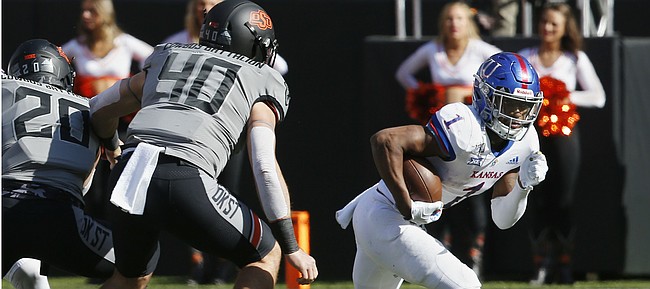 Stillwater, Okla. — With two weeks to lick their wounds and mentally recover from an alarmingly ineffective offensive outing, the Kansas Jayhawks arrived at Oklahoma State intent on proving that what happened the last time they took the field was a blip.
By the end of 31-13 loss to the No. 25-ranked Cowboys at Boone Pickens Stadium, though, KU's offense hogged the spotlight for all the wrong reasons once again, in front of an announced crowd of 55,388.
"It's definitely concerning," KU senior quarterback Carter Stanley told the Journal-World after the Jayhawks were outgained, 481-290, in total yardage and turned the ball over three times at OSU.
True to form, Stanley said "a lot" of the concerning results or lack thereof fall on KU's players.
"I think football is the ultimate team sport. You've got to get 11 guys on the same page all doing our job. If one even kind of messes up a little bit then your whole play can be ruined," said Stanley. "I saw a lot of that today. Playing with 10 guys."
At times, Stanley was the one out of the 11 off-kilter. By halftime he was 7-for-15 passing with only 69 yards and an interception.
A miserable first half for KU (3-7 overall, 1-6 Big 12), which featured two interceptions (one on a trick play) and a 13-yard punt, went so poorly that when the KU offense took the field to open the third quarter it was grad transfer Manny Miles at quarterback instead of Stanley.
KU head coach Les Miles said during his postgame press conference he didn't know what led to Stanley's difficult start.
"I couldn't really put my finger on it. If I could I'd be coaching a lot of places as an advisor, right?" Miles said. "We just needed him to come out of where he was at. And to his credit he did. He had two drives," the head coach added, referencing two late KU scores that helped the Jayhawks avoid a shutout.
While OSU (7-3, 4-3) enjoyed offensive success early, thanks to mobile quarterback Spencer Sanders (12-for-18 passing, 168 yards, 37 rushing yards before leaving the game in the third quarter with an injury) and one of college football's best rushers, Chuba Hubbard (23 carries, 122 yards, two touchdowns), the Kansas offense went three-and-out three times during eight first-half possessions. Another series also lasted three plays but ended with a pick instead of a punt.
So much for all that fast start talk. After the KU offense took the field for the first time in two weeks and promptly went three-and-out, the Cowboys' offense didn't show even a speck of rust.
On OSU's second offensive snap since coming off a bye week of its own, Sanders hit Dillon Stoner for 34 yards and an invigorating chunk play to get the Cowboys rolling. On the next play, Sanders took off for a 14-yard run. OSU's fourth play from scrimmage was a 15-yard touchdown run from Hubbard.
Even when the Jayhawks caught an early break on the road, they weren't able to get any points out of it. The KU defense, which unlike the offense was able to deliver the Jayhawks some semblance of momentum in the first half, responded ideally to a 53-yard Kyle Thompson punt that backed OSU up, 5 yards away from its own goal line.
Tackles by Hasan Defense, Gavin Potter and Jay Dineen keyed a three-and-out. And when OSU punter Tom Hutton's punt only netted 25 yards, the KU offense took over 33 yards away from the end zone.
But for the second time in the still young game, the KU offense only ran three plays, with a Pooka Williams Jr. rush on third-and-2 going nowhere. Liam Jones' 42-yard field goal try, which would prove to be KU's best chance to get on the scoreboard in the opening half, banged off the left upright.
Sanders and the OSU offense responded by putting the Jayhawks in a two-touchdown hole with a 12-play scoring drive. The first quarter hadn't even ended and KU trailed by at least 14 points in the second half for the sixth game in a row.
The Jayhawks never got their best offensive skill player, Williams, going, either. The sophomore running back finished with 26 rushing yards on 12 carries.
"I don't know that it's the backfield," Miles said, indicating blocking breakdowns up front also contributed. "(Starting left guard Malik Clark) got nicked and we took him out. I'll have to see the film. I can't tell you that right now," Miles added of what kept Williams from being productive.
A 14-point deficit isn't insurmountable. Still, early in the second quarter the Jayhawks' offense dialed up a disastrous trick play indicative of their day.
With junior backup quarterback Thomas MacVittie lined up wide right, after Williams took the ball on handoff, the running back pitched it to the ideally incognito QB. But when MacVittie looked in front of him down the right sideline, his decision to throw to Williams, who ran a route after tossing it back, proved to be a bad one. Trace Ford easily snagged the interception.
By halftime, the Jayhawks trailed 24-0. Especially considering how much the offensive players had discussed the need for faster starts, they hoped to come out at OSU and once again look like the type of team that can compete in the Big 12, the way the Jayhawks did against Texas and Texas Tech.
"Looking back at it, really discouraging," receiver Stephon Robinson Jr. told the Journal-World about KU's slow offensive start. "During the game you try to put it behind you, just move forward with the next drive."
But it wouldn't be until the final two possessions, already down 31-0, that the offense finally put up some points, with receivers Robinson and Quan Hampton each catching a TD pass from Stanley.
"When we get back in here after a loss like that some heads are down," Robinson said. "But we've got leaders on this team that are picking everyone's head up. We're looking forward to our next game."
KU's defense, led this day by safety Mike Lee's nine total tackles, obviously wanted much more out of its return to action, too.
"It's real tough," Lee said of falling into such a large hole. "But all we can do is go back next week and just work, work. Come game time we've just got to be prepared."
A native of Oklahoma, junior cornerback Kyle Mayberry described KU's showing as disappointing.
"Just because of the amount of hard work we put in all week. For two weeks straight," Mayberry said. "And just coming in with the mindset of 'let's get this win.' We just didn't get it done today."
Miles admitted the November bye week didn't help the Jayhawks as much as they would have liked.
"They don't like losing," Miles replied, when asked how discouraged the players were by the result. "Finishing second's not any fun. So I told them it's their decision. They have to. And they will. They'll buckle down and get it."
So how exactly do they regroup, with only two games left on the schedule?
"We've just got to play better as a team," Stanley told the Journal-World. "I thought the defense did a really good job today — like really good. I'm really proud of those guys. If you can hold a team in the Big 12 to 31 points you should be right in it, if not win it. It was tough, but me personally I just think we played like we had 10 guys on the field a lot of the day. Just getting everyone to do their job."
KU travels to Iowa State next Saturday.