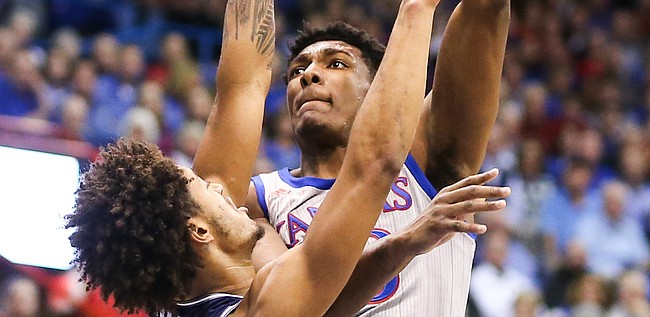 After starting KU's first two regular season games and delivering solid numbers, Kansas forward David McCormack found himself coming off the bench during Friday's 112-57 pasting of Monmouth.
But the sophomore from Virginia did not let Friday's reserve role stop him from delivering his best game of the young season and KU coach Bill Self said he thought the new role might have played a part in McCormack's 17-point, 11-rebound outing that came in just 16 minutes.
"I think he was probably a little more turned up because he probably wasn't real happy coming off the bench," Self said after Friday's lopsided victory. "He didn't say that, but, I mean, he tried to block every shot and he looked more explosive today. So whatever motivates him to be more explosive is good."
The 6-10 forward who started the final 13 games of his freshman season finished 7-of-8 from the floor, 3-of-4 at the free-throw line and added four assists before his night was finished.
All of that after recording just 4 points and three rebounds in six first-half minutes.
McCormack's one block came when he emphatically rejected a shot out of bounds in the first half, much to the delight of the Allen Fieldhouse crowd. He came close to doing the same on two other occasions and played a key part in the play of the night when he ripped down a defensive rebound, quickly pivoted and delivered a dart of an outlet pass to Tristan Enaruna, who outraced everyone to the other end and delivered a left-handed, windmill jam that blew the roof off the place.
Photo Gallery
Kansas basketball v. Monmouth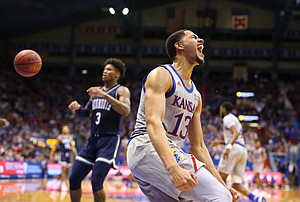 View a gallery of photos from Friday night's game between the Jayhawks and Hawks at Allen Fieldhouse.
As KU continues to search for an answer at the 4 position in its two-big man lineups, Self elected to give the starting nod to junior forward Silvio De Sousa, hoping to light a fire under De Sousa, who had looked sluggish and struggled in limited minutes during KU's first two games of the season.
Like McCormack, De Sousa also responded to the role change.
Despite doing very little on the stat sheet in his 13 first-half minutes, the 6-9 forward scored KU's first 8 points of the second half and played with more intensity, purpose and passion throughout the night.
In 22 minutes, De Sousa logged 11 points and six rebounds while shooting 4-of-8 from the floor. But those numbers were purely secondary when it came to assessing De Sousa's night.
"I thought he played great," senior shooting guard Isaiah Moss said of De Sousa. "His energy is great for us. We definitely need that from him every night. I know he's gonna continue giving that to us, so I'm looking forward to it."
Whether that comes in a starting role or as the first big man off the bench remains to be seen.
Self said he still had not made a decision about a permanent starter at the 4 and did not know when he would.
"David has had a chance to start the last three games, counting the exhibition, and Silvio just started the first one," Self said. "I just wanted to see how he looked, and I thought he did fine. I was hoping Monmouth would set a lot of ball screens so we could work on it, but they didn't hardly set any ball screens. We didn't get a chance to work on our ball screen defense. If I was playing us that would be something I would, probably, look to try to do."
As a result, the fact that both KU big men were able to worry less about defense may have freed up their minds to focus on playing a high-energy style that emphasized rebounds.
Together, McCormack and De Sousa combined for six offensive rebounds, and both did their part to control the defensive glass, as well.
De Sousa said that was by design.
"(Coach always tells me), if you play hard, you can do whatever you want to do on the court, as long as you try hard," De Sousa said. "Today, I was just trying to play defense to see what's going on in the front so I can help me teammates. It just came natural."
Asked if he felt he had been overthinking things too much during the early portion of the season, De Sousa said that was not to blame for his slow start.
"Lately, not really," he said. "When I'm on the court, I just let it go and whatever happens happens."
As for whether the starting nod on Friday night energized him and allowed him to better plug himself into the action, De Sousa said that had no bearing on his performance.
"It really doesn't matter to me," he said of starting or not starting. "I'm just always ready for whatever."
The next chance for both players to build on Friday's strong effort comes Tuesday, when Kansas welcomes East Tennessee State to Allen Fieldhouse for a 7 p.m. tipoff on Big 12 Now/ESPN+.