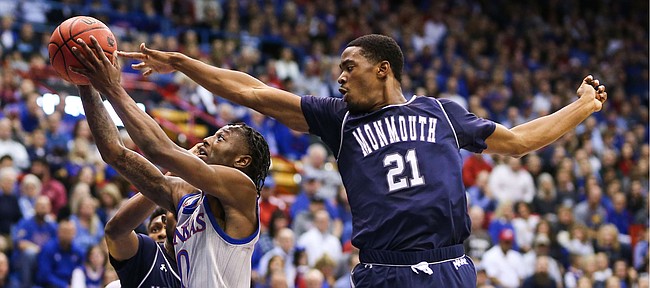 Heading into Game 3 of the 2019-20 season, Kansas coach Bill Self had expressed concern over one of the most basic aspects of the game: free throw shooting.
Entering Friday's 112-57 victory over Monmouth, the Jayhawks had made just 57.8% of their free throws in the first two games of the season, knocking in 26 makes in 45 attempts.
While that percentage in and of itself is a concern, it looks even more alarming when you take sophomore point guard Devon Dotson's 14-of-16 clip out of the equation.
Outside of Dotson, the rest of the Jayhawks had made just 12 of 29 free throws for 41.4% in KU's first two games.
"We've been awful," Self said on this week's "Hawk Talk" radio show. "The other night (vs. UNC Greensboro) we go 2 of 11 except for (Dotson). And we were bad in New York, too. And decent shooters are missing them, too. We've got to get better and tighten that up."
Ask and you shall receive.
The Jayhawks opened Friday's victory by making eight of their first nine free throws. Even notoriously poor free throw shooter Udoka Azubuike connected on his first trip to the line Friday night, drawing a massive roar from the home crowd.
Kansas finished the night 24-of-31 at the free throw line and is now up to 66% for the season.
It was just one of the many areas where Kansas performed well and overwhelmed Monmouth on Friday night.
"We can't expect to be a 75% free throw shooting team," Self recently acknowledged, noting that Azubuike's presence inevitably will bring down KU's numbers. "I don't think that's a realistic thing. But I think it is realistic to shoot 70 as a team, regardless of who's up there."
First timer
Former North Carolina standout J.R. Reid, who starred for the Tar Heels from 1986-89, was in Allen Fieldhouse for the first time on Friday night.
Reid is in his first season as a member of King Rice's coaching staff at Monmouth.
After averaging 16 points per game in 96 appearances and earning consensus All-American honors for the Tar Heels, Reid played professionally for 14 seasons. He also was a member of the 1988 USA Men's Basketball Olympic Team that featured former KU great Danny Manning.
Asked about his first trip to the Fieldhouse before Friday's game, Reid said simply, "This is nice, man. All kinds of history in here. Pretty cool."
Jossell officially a Jayhawk
After getting three letters of intent from commitments in the 2020 class earlier in the week, the Kansas basketball program received a fourth letter on Friday, this one from three-star point guard Latrell Jossell.
The 5-foot-11 prospect from Keller, Texas, near Fort Worth, committed to Kansas on Thursday night, two days after
receiving an official offer from the Jayhawks. After celebrating with his family following the commitment, Jossell was up bright and early on Friday to sign and send his letter to Lawrence.
The move officially made Jossell a Jayhawk and brought KU's total haul in the 2020 recruiting class to four, leaving little work left for Self and company to complete the class.
"After having a chance to visit with Latrell and his family, I knew he was the type of young man we want in our program," Self said in a Friday news release announcing the signing. "He's very impressive. He's far better than his rating. He's extremely fast and can really shoot. He would challenge to be as good a shooter as anyone on our team right now."
It remains to be seen exactly what role Jossell will have with the program in the future, but he projects favorably as a backup point guard and player capable of finding a spot in KU's guard-heavy rotations.
"Latrell is very aware we were recruiting other guys," Self said. "He's happy with whatever role he will have early in his career. We see him as being a player that will help us by his energy and by his presence in our program. We think he's going to develop into a really solid Big 12 player."
Date to watch
Four-star guard K.K. Robinson, of Oak Hill Academy, has identified Nov. 28 as the date of his college announcement.
Robinson, who visited KU in early October and has been on the Jayhawks' radar for a while, narrowed his list of finalists to two on Thursday night.
In a little less than two weeks, the 6-foot, 170-pound guard will pick between Kansas and Arkansas. Although he is finishing his prep career at Oak Hill in Virginia, Robinson originally hails from Little Rock, Ark., and most recruiting analysts expect the talented guard to pick the Razorbacks.
This and that...
Junior forward Silvio De Sousa started Friday's game in place of David McCormack... Kansas now leads the series with Monmouth, 1-0, and is 16-1 all-time against programs from the Metro Atlantic Athletic Conference... The Jayhawks now have won 23 consecutive home games and are 790-113 all-time at Allen Fieldhouse, including a 252-13 mark under Self... KU is 2-1 for the seventh time in the Self era... Next up, KU will host East Tennessee State on Tuesday. ETSU was picked to win the Southern Conference, one spot ahead of recent KU foe UNC Greensboro, which the Jayhawks defeated, 74-62 on Nov. 8.