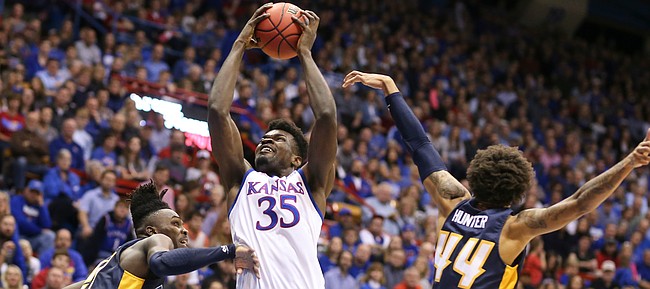 No. 5 Kansas Jayhawks (1-1) vs. Monmouth Hawks (1-2)
Time: 7 p.m. | Location: Allen Fieldhouse, Lawrence, Kansas
TV: Big 12 Now/ESPN+ | Radio: IMG Jayhawk Radio Network
Not going to be home for the game? Sign up for ESPN+ and watch your Hawks on the go.
Log on to KUsports.com for our live game blog coverage and follow the KUsports.com staff on Twitter: @KUSports @mctait @bentonasmith @SjacksonLJW & @ByBradenShaw
Keys for Kansas
1. Offensive flow
Kansas coach Bill Self said Thursday that his team's four-guard look has created better offense for the Jayhawks at this point in the season.
As a result, you can expect to see a lot of what the Jayhawks showed in the second half during last Friday's win over UNC Greensboro.
Isaiah Moss and Tristan Enaruna played extended minutes, and Silvio De Sousa and David McCormack received less time on the floor as a result.
While the journey to figuring out how all of this year's pieces fit together remains ongoing, Self emphasized again on Thursday that he had not given up on playing the two-big lineup.
With that said, when asked how the Jayhawks matched up with Monmouth, Self smiled and said simply, "I see them playing four around one. But I told our guys, '(With) most nonconference, mid-major games, you're going to see that, where, when you get into (conference) play you won't see that as much."
"We're still going to start two bigs," Self added.
Another part of finding the flow, particularly on offense, depends on the vision of KU's perimeter players. With those two big men on the floor, the Jayhawks want to take advantage of their size inside as often as possible. And through two games, they haven't exactly excelled at that.
"I feel like if we get them the ball in the right spots, it'll be easy for them to score," junior guard Marcus Garrett said Thursday.
Self said Moss has had no setbacks since scoring 8 points in 27 minutes during his debut last week. And he was optimistic that Moss would be able to handle a similar workload in this one, if needed.
"Isaiah's doing well," Self said. "He's moving fine, he's not had any setbacks at all. I still don't think he's 100%, but he's closer to it."
2. Get on the glass
Self's decision to stick with the two-big man lineup will only last if the big men KU puts on the floor do what big men are supposed to do.
"If we don't dominate the glass and we can't defend the arc, why play two (big) guys," Self noted on Thursday. Those two guys that are out there (De Sousa and McCormack) need to dominate as far as being able to rebound and protect and be good ball screen defenders. That's not anything Earth-shattering, that's just how it is."
McCormack did just that in the opener against Duke, grabbing 13 rebounds in 28 minutes. But he followed that up with four rebounds in 11 minutes last Friday in KU's home opener against UNC Greensboro.
De Sousa, meanwhile, has recorded six rebounds in just 14 minutes. Six Jayhawks, including all three starters in the backcourt, recorded more rebounds than De Sousa during KU's first week of action.
"Playing with two bigs, I think our advantage is rebounding the ball," Garrett said. "Coach was saying if we can't rebound, why not just play four guards."
3. Get out and go
After a dogfight first half last Friday against UNC Greensboro, the Jayhawks brought increased intensity to the start of the second half and started using ball pressure and transition buckets to hurt their opponent.
That strong start gave Kansas an early cushion and the Jayhawks went on to win the game by a dozen.
A similar thing happened in Manhattan on Wednesday night, when K-State used the start of the second half to erase a 9-point halftime lead by Monmouth and take control.
At Allen Fieldhouse, early in the season, with so many parts of this team still being put together, the easiest thing for this team to do is to use its defensive pressure to get out and go.
That leads to fast-break points and gets the crowd going, and those two things quickly can eliminate any hopes of an upset by the visiting team.
Monmouth, ranked No. 247 in the current KenPom.com rankings — KU is 10th — has turned it over nine more times than its opponents so far this season and is averaging 17 giveaways a game.
Marquee Matchup
KU junior Silvio De Sousa vs. Himself
It's been a slow start for KU junior Silvio De Sousa, who entered the season with high hopes of playing like a man possessed after missing the 2018-19 season to serve an NCAA suspension.
But it turns out that the year away from the action on game nights has left De Sousa in catch-up mode, playing limited minutes off the bench and looking more like a player who is thinking the game than a player who is playing the game.
Self had some advice for De Sousa during the past week, and he's hoping that it will lead to De Sousa becoming a more explosive player in the weeks ahead.
"I just think he's got to let it go," Self said. "I've told Silvio if you just play with unbelievable energy and attack the ball and things like that, that'll cover up the things that you don't do quite as well as you will two months from now. But if don't do that, then it will magnify it."
Self made sure to note that what De Sousa is being asked to do today, in the 4 spot, and what he did as a backup 5 man two seasons ago, are two different things altogether.
"He had a gear that he could get to. And so much of that gear was just having inner confidence that he can just go out there and play instead of think," Self explained. "Right now, I don't think he's at that point. We're trying to get him to do some things that are different than what he did as a freshman. Freshmen set a ball screen and run to the rim. He was Dok's backup. It wasn't that complicated. And this year he's got to learn to play with Dok or David and I think that's a more difficult thing, guard a guy that can shoot and all that stuff. That's a bit different than his responsibilities two years ago."
Jayhawk Pulse
With another tough, home test against a Southern Conference foe looming Tuesday and a trip to Maui after that, the Jayhawks welcome a Monmouth team to town that played 12 players in a recent loss to Kansas State and finished 14-21 a season ago.
After holding Kansas State to just 20 points in the first half of Wednesday's game in Manhattan, Monmouth was blitzed for 53 points in the second half of a game it led by 9 at the break and lost by 28.
Although he was unable to watch it live because he, too, is having issues accessing the Big 12 Now streaming platform, Self said simply seeing the numbers should have been enough to grab his players' attention.
"K-State locked them up pretty good in the second half," Self said of a Monmouth team averaging 65 points per game. "That tells you K-State is a terrific defensive team. For them to get that many points in the first half and control it for at least 20 minutes tells you they are more than capable."
Monmouth enters this one on a two-game losing skid after opening the season with a road win at Lehigh.
This is the first ever meeting between the two schools and Monmouth, coached by King Rice, was picked to finish fourth in the MAAC in the preseason polls.
The visiting Hawks return their two top scorers from last season and also feature two preseason all-conference selections in junior guards Ray Salnave and Deion Hammond.
According to oddsmakers in Las Vegas, Kansas is a 25-point favorite in this one, by far its biggest spread of the young season.

Probable Starters
No. 5 Kansas
G – Devon Dotson, 6-2, 185, Soph.
G – Ochai Agbaji, 6-5, 210, Soph.
G – Marcus Garrett, 6-5, 195, Jr.
F – David McCormack, 6-10, 245, Soph.
C – Udoka Azubuike, 7-0, 265, Sr.
Monmouth
G – Samuel Chaput, 6-0, 175, Soph.
G – Marcus McClary, 6-3, 195, Jr.
G – Deion Hammond, 6-4, 200, Jr.
F – Mustapha Traore, 6-8, 210, RS-Sr.
F – Nikkei Rutty, 6-8, 225, Soph.