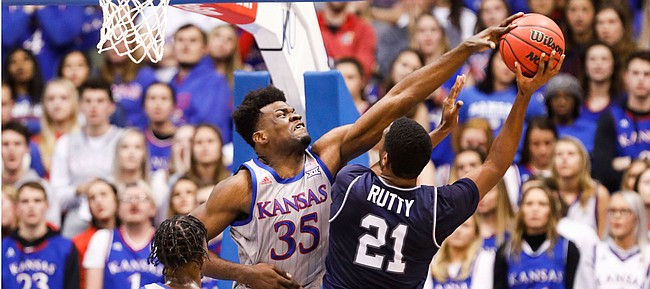 After two games filled with plenty of drama to start the season, Kansas men's basketball was given a bit of a breather in game three.
From the very start, the Jayhawks took control, scoring at will as KU rolled to a 112-57 victory over Monmouth at home Friday.
Really, the only surprising thing came from junior forward Silvio De Sousa getting the start.
The score really does reflect how one-sided this game was, as the Jayhawks never let up throughout the first half. Transfer senior guard Isaiah Moss and freshman guard Christian Braun hit threes, sophomore point guard Devon Dotson ran the fast break, and the defense was stifling on the other end.
There wasn't much that went wrong as KU went into the halftime break up 59-21. Monmouth shot just 6-of-26 from the floor in the first half, while the Jayhawks shot 20-of-32.
Scoring-wise, Dotson (13 points) and Moss (14 points) led the way in the first half, with Moss shooting 4-of-5 from 3-point range.
The second half was more of the same, as the lead just continued to grow for KU. Everybody got in on the action, with Moss leading all scorers with 21 points and Dotson close behind with 17 points. Junior center Udoka Azubuike (12 points, eight rebounds) and sophomore forward David McCormack (17 points, 11 rebounds) controlled things down low.
Even junior guard Chris Teahan hit a 3-pointer from the corner to put KU up 101-45.
Simply put, pretty much everything was working as KU took care of Monmouth Friday.
Here's a quick look back at some of the action:
• The game turned when:
Kansas went on a 9-0 run to start the game.
Even though the Jayhawks failed to get the opening tip, it didn't take long for KU to get things going. Senior center Udoka Azubuike immediately threw down a dunk on the first possession, followed by a three-point play from sophomore point guard Devon Dotson on a contested layup.
Before anyone could take a breath, KU was up 9-0 at the under-16 minute timeout and completely in control. And it just got worse from there for Monmouth, as the Hawks couldn't get into any sort of rhythm on either end of the court.
• Offensive highlight:
There were plenty to choose from — that tends to happen when a team is up 59-21 at halftime en route to a [score] point victory. But one that put an exclamation point on the night came midway through the second half.
McCormack grabbed a defensive rebound and quickly looked up court for a transition opportunity. He found freshman guard Tristan Enaruna racing down the court past Monmouth defenders.
Once he received the pass, Enaruna had a wide open lane, which he fully utilized for a windmill dunk to erupt Allen Fieldhouse and add another offensive highlight to KU's explosive night.
Photo Gallery
Kansas basketball v. Monmouth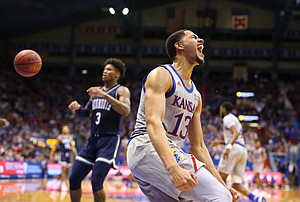 View a gallery of photos from Friday night's game between the Jayhawks and Hawks at Allen Fieldhouse.
• Defensive highlight:
As potent as the offense was Friday night, the defense was just as dominant. There were plenty of steals (11 to be exact), as well as multiple blocks from the likes of Azubuike and McCormack down low.
With 2:39 left in the first half, Braun ran his own fast break thanks to another Monmouth turnover. Braun snatched the ball from Monmouth guard Marcus McClary, and quickly raced down the court, Euro-stepped a defender and got the layup to go.
Braun's steal and fast break was just one of the many instances where KU turned defense into offense and showed how the Jayhawks controlled both ends of the floor.
• Up next:
Kansas next will take on East Tennessee Tuesday night at Allen Fieldhouse.