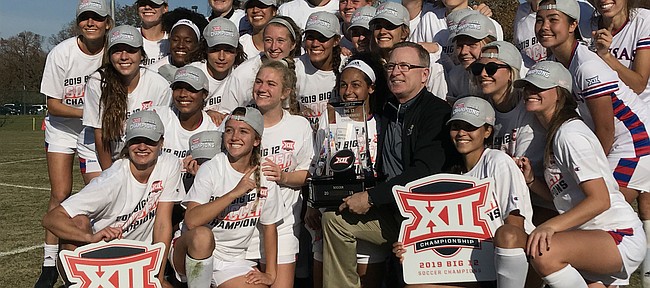 Coming off the first Big 12 Championship title in school history, there's a growing confidence among Kansas soccer coaches and players heading into the NCAA Tournament.
And while the Jayhawks' play has continued to improve down the stretch this season and wins stack up, senior forward Katie McClure said it's important to keep things in perspective.
"But I think we have to take it one game at a time and look into it as that," McClure told the Journal-World Wednesday. "Now it's the NCAA Tournament — one (loss) and you're done. We do have a good chance of going far this year with the team that we have and the personnel we have."
KU (15-4-3) is the No. 3 seed in its quadrant for the 2019 NCAA Tournament, which kicks off Saturday against Iowa (15-4-1) at Rock Chalk Park. This is the third time in four years the Jayhawks have reached the NCAA Tournament, and the first time KU has received a seed since 2004.
"Everyone was like, 'Guys, we're going to be seeded some way.' Then we saw we're a three seed and we were like, 'This is crazy,'" senior defender Addisyn Merrick said. "We worked for it and we got what we deserved. I'm proud of us."
But McClure said the seeding doesn't add any unnecessary pressure or change the focus of Saturday's match.
"I think it's just a number that's there," McClure said.
The Jayhawks are coming in on a nine-match winning streak, with the last defeat coming against Oklahoma State in a 5-2 road loss on Oct. 3. Merrick said this recent run has come down to a new mindset that's been instilled in the team.
"If we're all on and stay focused the whole 90 minutes, we'll be good," Merrick said.
They've also been recognized with several awards, with Merrick and McClure being named to the All-Big 12 First Team, and junior midfielder Ceri Holland named to the All-Big 12 Second Team. Merrick was also named Big 12 Defensive Player of the Year.
But as McClure and Merrick have said, they're more focused on team accomplishments, which leads to the first round matchup against Iowa.
The Hawkeyes — who finished the regular season winning three of their last four matches — most recently lost 2-0 in the first round of the Big Ten conference tournament to Penn State. KU last faced off with Iowa in an exhibition prior to the 2017 season, resulting in a 1-0 loss to the Hawkeyes.
"We've played them before in the past," Merrick said. "They're a pretty good team. I know they're pretty physical."
The Jayhawks are also 7-2-1 at home in 2019, and last season defeated St. Louis 2-1 in double overtime in the first round of the 2018 NCAA Tournament. But after a 4-1 loss to North Carolina in the second round, KU is looking to settle some unfinished business in the postseason.
"I'm excited for Saturday — I know all the girls are," McClure said. "We're excited to see where we're going."
Building off last year and a successful season once again in 2019, Merrick said Saturday will come down to "playing our soccer again."
"That's the biggest thing I can emphasize: if we play us, then we'll be fine," Merrick said. "I just know we'll have to bring our energy and bring our focus. We'll do our thing."
KU takes on Iowa at home on Saturday, with match time set for 5 p.m.